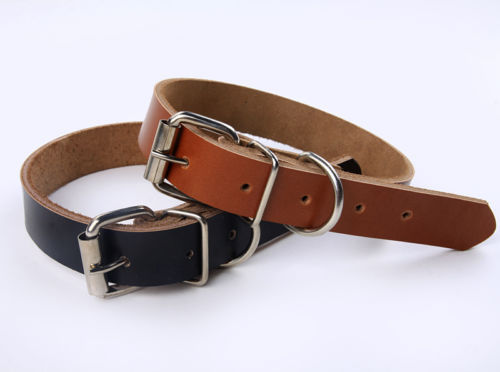 Whatever the type or size of dog, collars are an invaluable part of their safety and help their owner control them while they are out amongst other people and other dogs. Dog collars have been in existence for centuries in different forms, and can be made out of numerous different materials, including Metal, Leather and Synthetic fibre.
This guide will guide the reader through many aspects of dog collars on eBay, including:
* Origins of dog collars
* Features of dog collars
* Materials used in dog collars
This guide will also outline some of the main advantages and disadvantages of different materials of dog collars. It will then conclude by giving the reader advice on how to buy the right dog collar from eBay in the suitable material.
Origins of Dog Collars
Dog collars can be traced back to the Egyptians. In ancient murals, it is evident that people would pull their dogs along with some kind of string or material made from a strong natural substance like reed. In Greece, dogs were harnessed in leather collars with small spikes in it, so that they could be controlled easily. In Rome, people were depicted in paintings as using dog collars to control large animals and pets.
After those times, dog collars became more substantial and were used to train dogs to fight. For example, it has been said that Henry VIII tied a bait collar around his dog's neck, made of sharp prongs of metal that could kill other animals if they decided to attack.
Since then, dog collars have become more flexible and soft in their material. For example, most dog collars on eBay are either made out of bendy material that can be tightened and loosened depending on the size of the dog's neck. This guide will help to explain the main features of the materials used in dog collars in the next section.
Features of Dog Collars
Before this guide details the types of materials used in dog collars, it will be useful to explain more about the role and purpose different dog collars serve.
| | |
| --- | --- |
| Type of collar | Brands include: |
| | 3 Peaks , Ancol, EzyDog |
| Muzzle dog collar | Halti, Nuts About Mutts, Trixie |
| Coloured dog collar | Ancol, EzyDog, Ferplast |
| Plain dog collar | 3 Peaks, LondonTan |
| Collar with light reflection | EzyDog, Home Fusion, Orvis |
Neck dog collars on eBay are used in most scenarios, because they can control the dog's movements in busy places like parks or around traffic. In normal situations, a neck dog collar is attached to a dog's lead in order to keep them under the control of the owner. Types of neck dog collars include 3 Peaks, Ancol and EzyDog.
Muzzle dog collars are attached around the dog's muzzle, and the lead hook is underneath their chin. Muzzle dog collars are adjustable in size and can be tightly fixed round the dog to stop them biting other people or animals. Muzzle dog collars do, however, let the animal pant and drink as normal. Types of muzzle dog collars include Halti, Nuts About Mutts and Trixie.
Coloured dog collars on eBay are used when the owner needs to identify their animal from a distance, for example when the animal is let off the lead but needs to be identified and retrieved from far away. Coloured dog collars are increasingly becoming the norm as well because of their aesthetic appeal. Types of coloured dog collars include Ancol, EzyDog and Ferplast.
Plain dog collars, by contrast, are usually black, brown or grey and designed to blend in with the dog's fur and not stand out. Types of plain dog collars include 3 Peaks and LondonTan, who specialise in leather, neutral collars.
Other collars are fitted with light-reflective strips of material to make them more visible in the dark or dimly lit conditions. Types include EzyDog and Home Fusion.
Materials in Dog Collars
The previous section has outlined some of the most common types of dog collars and their features. This section will explain more about the common materials used in the manufacture and sale of dog collars available on eBay.
Materials used in dog collars include:
* Leather
* Polypropylene webbing
* Rope
* Metal
* Padding
* Elastic
* Velcro
* Light reflecting fabric
* Fabric e.g. bandana style dog collars
Main Types of Material Used in Dog Collars
Leather dog collars are durable and strong, and are designed to cope with boisterous dogs who may tug at their lead. Leather is also a long-lasting and waterproofed material that withstands rain and wind. This makes it one of the most popular choices of material when it comes to buying dog collars. Leather dog collars include those by Malwera, who sell manufactured hand-made collars on eBay.
Some dog collars are made out of Polypropylene webbing, which is a kind of woven fabric with the same tensile strength as rope. The material is meshed together and is very strong, as the fibres overlap and pull the material together. Polypropylene collars are clipped together and adjusted using a clip. Polypropylene webbing collars are sold frequently on eBay, by a variety of different pet shops retailing online.
Rope is another popular type of material used for dog collars. Popular items come from different pet shops retailing online, and can be shipped quickly to buyers. Rope dog collars are coated in a padded material to stop chafing on the dog's skin, and they are strong and control the dog effectively. This is because the collar does not stretch under pressure.
Metal dog collars are another popular choice when it comes to choosing a material for dog collars on eBay. Metal collars normally join through links that connect each circle, and they are strong and control the dog effectively. Because metal cannot bend or stretch under pressure, metal dog collars are used for lead and obedience training and come in any size. Again, metal dog collars are sold on eBay by many of the leading pet stores retailing online.
Padding is a material frequently used in dog collars, and the user will find it in nearly all dog collars on eBay. Padding lines the collars and prevents damage or chafing on the dog's skin. Padded collars that fit around the dog's neck are made to stretch to fit the width of the dog's neck. As a result, they are designed to be elasticated or adjustable and the user can see this when it comes to brands including:
* 3 Peaks
* Ancol
* EzyDog
Padded dog collars that fit around the dog's neck often have a heavy-duty snap fastener in place to reassure the owner and keep the dog on its lead effectively.
Other Materials Used in Dog Collars
Other materials used in dog collars from eBay include:
* Elastic
* Velcro
* Light reflecting fabric
* Fabric e.g. bandana style dog collars
Elastic collars are made to stretch with the dog's movements, and can stretch away from the owner as the dog pulls it. This is useful for owners who have obedient dogs that like exploring, and for owners who want their dog to have the freedom to roam but not the chance to escape from their lead. Makes of elasticated dog collars include Canac and Patento Pet.
Dog collars made out of Velcro on eBay are useful for smaller pets who do not tug on their lead, and for dogs that are often let off their lead when in an enclosed, safe space. Velcro is easy to attach and detach from the dog's neck, and is lightweight, meaning that it can be carried easily. Popular makes of Velcro dog collars include Cosipet and Boett. Most Velcro dog collars are designed to be attached to the sturdy dog collar already worn around the animal's neck, but some can be worn on their own.
Boett creates dog collars that are made out of Velcro and also light reflecting strips. These dog collars are constructed out of reflective material that can reflect light from hundreds of yards. This is reassuring for strangers and the owner, as the presence of the dog can be seen from a distance even in low light conditions. For example, if the owner was running at night with their dog on the lead, the collar would not only keep the dog safe but it would alert other pedestrians and drivers of their movements. Other types of light reflective dog collars on eBay include those by Orvis.
Some other dog collars are made out of brightly patterned cotton on eBay. For example, Rosewood produces bandana-style dog collars, designed more as a fashion statement than a functional dog collar. These are seen on smaller dogs and are a decorative item to highlight the dog itself, and as a result are not known for their durability or strength, but for their aesthetic appeal.
Benefits of Materials in Dog Collars
There are many advantages to the materials used in dog collars.
* Rope is strong and will not give under pressure
* Velcro is easy to attach and remove
* Fabric is aesthetically pleasing
* Light-reflective strips keep both dog and owner safe
Concerns of Materials in Dog Collars
Like any product, there are a few considerations when it comes to buying a dog collar.
For example, the type of material needed depends upon the dog. A common complaint when it comes to dog collars from the high street is that many are too weak and tear under pressure if they are of poor quality. eBay stocks hundreds of different kinds of dog collars. Because there are dog collars made out of durable, high quality materials like rope, metal and leather, the chance of the collar breaking is minimal. With guarantees put in place and authorised sellers offering up their goods, the user should feel reassured and not worried.
Conclusion
Choosing the right dog collar for a pet is a simple process on eBay, and there are lots of different materials to choose from. Buying from authorised sellers gives the user reassurance of good quality products and safe delivery.
The user can also choose to buy from a local seller, making a local pickup possible. This can save time if the seller and buyer are in close proximity to each other. Moreover, there are various bundles available, including dog collars of different materials and of the same in a mass purchase. This is a cost-effective solution to those wanting to buy collars for more than one dog at a time. Often, products are available to be dispatched a few days after paying, and some offer free postage and packaging.