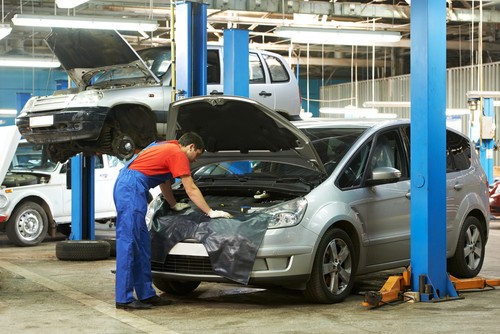 One of the most frustrating problems with owning a van or pickup truck is matching parts to the vehicle. Many manufacturers have a variety of parts that are interchangeable between vehicles. How to find the right part for your vehicle does not have to be particularly difficult, and there are many resources that can help you.
There are two basic issues when it comes to matching vehicle parts. One issue is matching parts that are often interchangeable between vehicles, such as oil filters, fuel filters, and other parts that have different manufacturers and are changed frequently. The other issue is finding body parts, engine parts, and electrical components that are cross-compatible between the different vehicles. Finding the information about matching parts can be done in a few different ways. You can call the manufacturer or visit their website, use a repair manual or publication, or if purchasing parts from a salvage yard, simply have them look for matching vehicle parts. Each way has its own benefits and issues. On the other hand, you can also search for matching van and pickup truck parts on eBay. Before purchasing matching van and pickup truck parts for your vehicle, you should know why matching parts may need to be located, and know how to find matching parts.
Finding Matching Parts That Are Frequently Replaced
Frequently replaced parts on vans and trucks are very often interchangeable between makes and models. Frequently changeable parts include: oil filters, transmission filters, air filters, gaskets, thermostats, fuel caps, fuel guards, radiator caps, oil caps, and brake fluid caps. These parts are very often cross-compatible and relatively easy to find. The majority of auto parts shops and manufacturers of these items have books that can be searched through to match parts with vans and trucks. They are often indexed by make, model, and then year of the vehicle. Then, the product that matches a particular vehicle is shown. Many of these parts are of a basic size and shape, so it is easy to make them fit into a variety of vehicles. Most vehicles have similar caps and filters. It is important to make sure that a filter or cap is compatible to your vehicle, because an improperly fitting filter and an improperly fitting cap can cause pressure to build up and seals to burst. They can also cause fluid leakage, which can cause serious engine damage.
Reasons That Matching Parts May Need to Be Located
There are several reasons why you may need to locate matching parts, rather than using a part that is from your make, model, and year of van or pickup truck. Many of these reasons have to do with the year that the van or pickup truck was built. As a vehicle ages, it is less likely that a manufacturer continues to make parts for that vehicle. In this case, parts for repairs may become scarce. Many people resort to searching salvage yards and other places that carry used or aftermarket parts for their vehicles.
Another reason that manufacturer parts may not be available is the lack of a dealership or manufacturer in the area. Auto parts shops cannot carry all of the factory parts for every vehicle. It may be a case that they do not have the part for a specific vehicle, but another make or model vehicle may use the same part. Each automobile manufacturer has different policies about making vehicles and years cross-compatible.
How to Find Matching Van or Pickup Truck Parts
If the exact match of a part for your make, model, and year cannot be found locally or through the manufacturer, the vehicle can still be repaired. There are two ways to repair it. The first is to look at a salvage yard for advice or a matching part. The second option is to consider an aftermarket part.
Salvage Yards
These salvage yards have computerised lists with the ability to look up which parts or vehicles from the same manufacturer match your van or pickup truck. They also have the ability to see if other manufacturers' parts match the part that you need. This often happens with vans and trucks that are built by different manufacturers who use the same, or similar, engines. An example of this is the Chevy S10 and the Isuzu Hombre. Several years of both of these trucks have very similar engines, and many of the same peripheral engine parts.
In this case, knowing which part, or the part number, that is needed as well as the make, model, and year of your pickup truck or van is vital. Most of the salvage yards can search by part only, if they know the make, model, and year of the vehicle that you own. Many times, you can simply call them with this information and they are able to tell you which parts match your vehicle, even if they do not have either vehicle in stock.
Aftermarket Parts
There are many outlets for aftermarket parts. Most of these outlets have charts or vehicle matches that show which of their products can be used for which vehicles. In this case, the make, model, and year of the vehicle, as well as the part needed, must be known. Aftermarket parts are often designed to fit a variety of different vehicles parts with the same shape and function. These are often a close fit, but not an exact match. Even though they do not match exactly, they usually are close enough to function, which can cause problems with installation, but is ultimately a way to match van and pickup truck parts to your vehicle.
Most aftermarket parts come with a warranty and a return policy in case the part is incorrect or does not fit properly enough to work. It is important to make sure that the part is correct by either using the matching lists or by speaking with a representative. The salvage yards have large selections of matches available to them. Not only can they tell you which parts match, they can tell you if they have the part or if they can order it.
Repair Manuals
Many of the current repair manuals for cars, vans, and pickup trucks have indexes with matching part numbers and matching vehicles. In the case of using one of these manuals, the index often tells you not only the original part numbers, but the matching parts and numbers, if the exact part cannot be located. Another benefit of using a repair manual to match van and pickup truck parts is that they usually list all known matches in both aftermarket parts and vehicle parts. These matches can be invaluable when you are doing a major repair that contains many parts that need to be matched.
Repair manuals serve a dual purpose when it comes to matching van and pickup truck parts. Many repair manuals have lists of all of the years of the same make and model of vans or pickup trucks that yours matches. They also sometimes have the matches indexed by make or model as well, which provides a person with options to check into when purchasing parts.
Buying Matching Van and Pickup Truck Parts for Your Vehicle on eBay
Many of the detailed listings on eBay provide matching van or pickup truck parts to what is being sold. Since many aftermarket retailers sell on eBay, they, too, list all of the makes, models, and years that their specific parts match. In order to find these matches, enter the name of the part for which you are looking, and hit the search button. Once the search button is hit, a list populates with all of the relevant matches to the make, model, and part for which you searched.
Take a close look at the detailed listing. The detailed listing should have a description of the part, whether or not it is aftermarket, and which vehicles it matches. If it does not, be sure to use the "ask the seller" feature on the listing to enquire which other vehicles it may match.
The eBay listing should also contain information about the seller's practices, such as shipping and return policies and feedback. Feedback is an important part of the seller's profile. It gives you an indication of what to expect.
Conclusion
There are a few ways to match van and pickup truck parts to your vehicle. Knowing the make and model of your particular van or pickup truck is important when trying to match parts. You can look through repair manuals, speak with manufacturers and salvage yards, and seek out aftermarket retailers to help you match parts to your vehicle. Most people can find matching parts for a vehicle using one of these methods. There are many parts that are automatically assumed as universal. These are easily replaceable and are parts that are replaced frequently, such as brake pads and fluid caps. Many of these can be purchased without too much difficulty when matching the parts to your vehicle. Other vans and pickup trucks have many of the same types of parts, so they can be considered universal.
While looking for matching van or pickup truck parts for your vehicle, check the popular auction website, eBay, which carries many matching parts. The sellers on eBay are also happy to answer questions regarding whether or not your vehicle matches the part that they are selling.