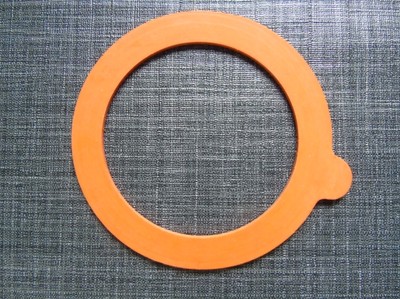 The rubber ring is a vital element in the preserving process that can often be neglected.

Although reusable, they do deteriorate over use and time and will need replacing now and then.

Before preserving you must ensure the rubber rings are a perfect fit and in perfect condition otherwise an airtight seal may not form or may fail at a later date and spoil your preserve.

If a new rubber ring is needed then it is always best to get the same make as your storage jar. When preserving acidic/vinegary foodstuffs it is best to replace the rubber ring much more frequently.

Rubber rings are designed to be smaller than the storage jar and so may appear not to fit at first but are supposed to be in a stretched state when placed on a jar so as not to come loose. Try putting hot water on the rubber ring to make it expand if you are having difficulty fitting it.

Always sterilise rubber rings before preserving, this can be done with the jars and lids, or separately.

When it is time to open your preserve the protuberance on the rubber seal is typically pulled to release the vacuum (There are tools available to do this too), or for difficult seals, it may be necessary to cut down the middle of the protuberance and pull either side to release the seal.