Introduction

The new Apple macbooks and imacs come with webcams fully integrated into the housing of the computer, which is a great idea, but what if you aren't ready to buy a new mac and want to make your existing mac webcam friendly?
Is an expensive Apple iSight camera your only option? Fortunately, the answer is no!
This guide is a summary of the questions you might face when looking into buying a webcam for a mac and suggestions of how to overcome them.
I will also attempt to debunk some popular myths about the 'compatibility' of Apple Macs and Windows pcs!

I sell a great little 'icecam' usb webcam by Macally in My ebay shop (shameless advertising, but true!)
It's designed with the mac in mind and works brilliantly. It's also really affordable, so for those who feel faint at spending the best part of £100 on an Apple iSight, it's the perfect solution.

I've been inspired to write this guide purely because of the large number of questions I get asked not only about the webcam I sell, but about Apple Macs and webcams in general. As an Apple IT specialist, I am in a postion to answer most of these questions, and rather than answer each question individually, I decided to write this guide in the form of Frequently asked Questions and Answers. I hope it's helpful!

Does this webcam work with msn messenger?
The camera certainly does work with msn messenger.

The problem is that even though it supports text chat between pcs and macs, Microsoft msn messenger for Mac does not presently support webcams (and it's about time Microsoft sorted it out: Macs are not a minority machine any more!)

This applies to ANY webcam you might buy for your mac.
However, some of our customers have had great success using amsn or msn mercury, which are free msn 'clones' which let you use your mac to talk to pc users on the msn network. A great solution for many people.
My friend and I both have Macs. What's the best interface for our webcams?
The best solution in terms of ease of use and image quality for two or more mac users is to use iChat video conferencing, provided free with all recent macs and readily updatable on Apple's website.
But I have to have an Apple Isight camera to use iChat don't I?
No you don't! The Macally Icecam will work with iChat. You just need to download the appropriate driver. There are several websites where you can do this: a quick search will find them. One piece of software which works well is called iChatUSBCam. It costs less than $10 USD, and you get a 50% off voucher if you buy a Macally Icecam (ahem, like the one in my shop).


But my friend has a PC. I have a Mac. So ichat's no good! Or is it?

Yahoo messenger is probably the best option in this case..it works brilliantly and it's free. Or try msn mercury (see above).

Also check out ivisit, a piece of freeware which enables macs and pcs to communicate with cams, swap files etc.
How about Skype video?
January 2007. Skype have just released new version of Skype video for mac OS X. It is freely downloadable at the Skype website.

How about AIM?

There was a time when AIM or AOL messenger could talk to ichat users, but the latest upgrade to AIM (Triton) has scuppered that compatibility.

How do attach your icecam to my screen?
The icecam is set on a flexible neck which can bent into any position you like: on your desk, above your screen, no need to attach it to anything!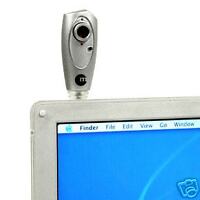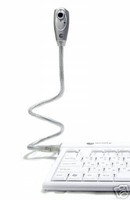 Does the macally icecam have a built in microphone?
No. This is because the cam was made for the mac and nearly all macs have built in microphones anyway. You may be surprised to find you have a mic on your mac..it's not at all obvious. The easiest way to find out: go to system preferences / sound / input. As far as I know the only mac compatible cam which has a built in Mic is Apple's iSight.