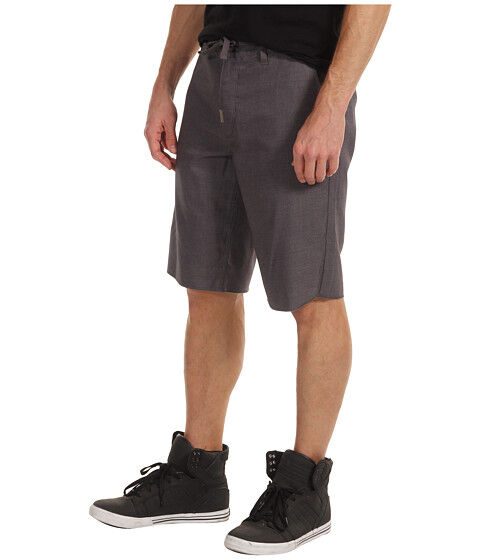 Wherever there is warm weather, there are guys showing their kneecaps in a new pair of summer shorts. However, shorts can often look unflattering on a guy. This is because most men do not know how to shop for the right pair of shorts. Men's shorts come in a variety of different styles, but not all styles flatter all body types and not all shorts are appropriate for all occasions and settings. There are flat front shorts and shorts with pleats. Shorts for the gym and shorts for playing football. For those hitting the beach this summer, there are colourful boardshorts.
For those that can pull off the look, there are denim shorts, and for those guys looking to beat the heat while looking classically stylish, there are cotton blend shorts. Regardless of the style, the shorts must fit properly if they are to flatter the wearer. They should not be too long or too short. Hitting just above the knee is just right. No matter the size of his waistline or the length of his legs, any guy can find a flattering pair of shorts on eBay.
Common Styles of Guy's Shorts
Shorts come in all lengths and sizes, and a variety of designs suited to many purposes. The best way for a guy to avoid wearing unflattering shorts is to make sure he chooses a pair of shorts that suits particular activities or occasions. Just because athletic shorts are more comfortable, does not mean they should be worn out to dinner, or to meet a girlfriend's parents. The first step to buying flattering shorts is to make sure that the style of shorts is appropriate for a particular occasion, season, or setting.
Flat Front
Flat front shorts feature belt loops and are suitable for a wide variety of situations, including causal or more dressy occasions. Flat front shorts generally have two front and two rear pockets and come without pleats. For both a comfortable and stylish fit, flat front shorts should settle just above the kneecap.
Single Pleat
Single pleat shorts are almost identical to flat front shorts, in that they share almost all of the same characteristics, like four pockets, belt loops, and a fit that settles just above the knee. The main difference is that single pleat pants feature a crease or pleat down the front of the legs. This feature gives the shorts a dressier look, making these shorts a good choice for wearing with button-down shirts, pullovers, and more formal styles of clothing.
Cargo and Combat
Those looking for comfort and utility will find a great fit in cargo and combat shorts.. These shorts are generally characterised by a slightly looser and baggier fit, as well as large side pockets, which are excellent for stowing everything from sunglasses and sun cream to wallets and music players. These shorts are designed for camping or any outdoor activities that require the wearer to carry extra items.
Athletic
Athletic shorts have a roomier fit similar to cargo shorts, but they are generally constructed of a lighter material that stretches to accommodate physical activities like running, playing football, and workout sessions at the gym. They also feature elastic waistbands. Athletic shorts do not usually come with zippers and buttons. Sports shorts are obviously best suited for sports activities. Their fit can depend on comfort, but again, a good fit is when the bottom of the shorts settle just above the knee.
Board and Surf
Board and surf shorts are made of durable materials that are meant for activities on or near water. This type of shorts usually comes with a drawstring or elastic waistband, as well a safety net pocket. Board and surf shorts are meant to be worn in the water during water activities like surfing or water skiing. These shorts can also be worn for beach day activities or just for general wear in the summer time. They are designed to be comfortable, secure, and durable. Board shorts will often come in loud, tropical patterns and colours.
Common Materials for Shorts
The most common materials used to manufacture shorts include cotton, cotton blend, denim, polyester, and jersey. Knowing what the various fabric options are and what they are used for helps the shopper decide what shorts will best meet their needs in terms of functionality, comfort level, and appearance.
Cotton
Cotton shorts are lightweight, cool, and breathable. Shorts that are 100 percent cotton can potentially shrink, so consider this when purchasing cotton shorts. They are the perfect choice to beat the summer heat.
Cotton Blend
Cotton blend shorts combine cotton with a variety of different fabric materials to create a blended material with unique features. Cotton blends are used to make shorts that stretch, wick sweat, and more.
Denim
While denim shorts have been popular in the past, and are still widely available, most fashion experts agree that denim shorts are an unflattering look for most men. Denim shorts are simply too casual and should only be worn by young boys and teenages.
Polyester
Polyester is a synthetic fabric used in athletic shorts. It is a smooth and flexible material, making it a prime choice for shorts worn for physical activities, both on land and in the water. Shoppers will find that polyester is sometimes blended with other materials like cotton.
Jersey
Jersey fabric is a knit fabric that was originally constructed of wool, but is now jersey is predominantly made from cotton blends and synthetics. It is an relatively inexpensive material. It is comfortable to wear, and is found in many men's athletic shorts.
Style Tips for Shorts
Once a shopper has decided on the type of shorts and the choice of material, the next thing to consider is how to style the shorts for the most flattering look. Below are some best practices for keeping comfortable, and ensuring that the look and feel of the shorts is a flattering one. The following list features some tips on what to do and what not to do when breaking out shorts for the summer.
Length
As previously stated, men's shorts should be long enough to stop just at or above the knee. Anything longer will look baggy and unflattering, and anything shorter will not only look uncomfortable, but the shorts may also show an inappropriate amount of bare leg. For a classy and flattering look, the wearer should make sure that the end of the shorts hit just above the knee.
Colours and Patterns
While there is no hard and fast rule about colours or patterns, they should be chosen wisely. If a guy plans on wearing shorts with a pattern, he should avoid wearing a shirt, pair of shoes, or a hat with a pattern, too. In settings that call for a smart casual dress code, avoid loud colours and busy patterns
Sizing
Along with keeping the length at an appropriate height above the knee, the wearer must ensure that the waist size is correct, and that the shorts do not appear too roomy. Shorts should fit a guy's body comfortably without being too tight as well as without being too baggy.
Avoid Cut-Offs
Cut-off shorts have been popular in the past and go through waves of being trendy, but stylists agree that cut-off shorts should be avoided. Shredded leg holes with strings and rips looks untidy and is simply not a flattering look for most guys.
Keep It Simple
While cargo shorts are expected to have extra pockets, there are many men's shorts options that have extra zippers, buttons, and pockets that can make the shorts look too busy. The best choice is to select shorts that are simple in their design, yet functional, without lots of extra bells and whistles. This will ensure a flattering look for any occasion.
How to Find Flattering Shorts on eBay
You will find guy's shorts in a variety of styles and fabrics on eBay.. To find guy's shorts on eBay, begin on the eBay homepage,, and type a few descriptive keywords into the search bar. To search the site for listings for athletic shorts,, simply type the keywords into search bar and hit "Search". On the results page you can sort through the results by material, price, style, and more.
You have the option of either buying the shorts at the list price or participating in an auction. To research a seller's reputation, simply go into their profile and note the seller's feedback score. You should also read the feedback left by previous buyers. Some eBay sellers hold the distinction of top-rated seller. You can sort listings to only show those listings for guy's shorts posted by top-rated sellers. These sellers have met and continue to meet eBay's high standards of customer service.
Conclusion
Guys that are looking to buy flattering shorts should select the right style for the physical activities that participate in and different occasions they are likely to attend. The shorts should suit the wearer's build and be made of a material that is comfortable to wear. Flattering shorts should almost always, regardless of their style, be of a length at that ends just above the knee. Comfort is key to flattering shorts, so a guy should be sure to buy shorts that are sized appropriately for both his height and waistline. This means that before hitting the high street or jumping online, a guy should whip out the soft measuring tape to get an accurate measurement of his waist. This is especially important for the guy who is prone to putting on a stone or two over the winter. When reading item descriptions online, make sure to read them carefully. If the seller does not mention the length of the shorts in the description, do not be shy to ask. Guys will find shorts to flatter every build and height on eBay.