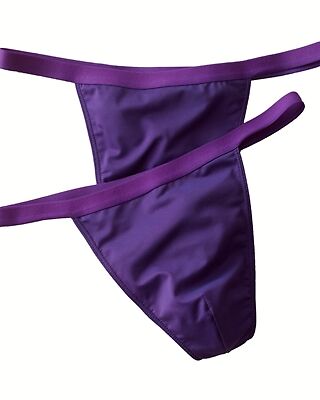 Buying underwear should be a thoughtful and conscious choice. It used to be a choice that came down to boxers or briefs. However, today's man has a variety of different types of underpants to choose from. Along with briefs, there are boxer briefs and bikini briefs, and going smaller and more revealing still, there is the thong. While briefs are a common type of men's underwear, thongs are not for every guy. Some would consider the thong to be a more exotic, dare one say, more adventurous type of undergarment. So which is it? Thongs or briefs? When all is said and done, it all comes down to a question of comfort. Thongs and briefs fit the male body in different ways. A man also has to think of the material the thongs or briefs are cut from. For those gents thinking of rocking a thong but would not be caught dead shopping for one on their local high street, there is always eBay.
What Is the Difference Between Thongs and Briefs?
Most men know and understand the basic differences between thongs and briefs, at least the visual differences. There are, however, a variety of comfort and fit attributes that differentiate these two common styles of men's underwear. Depending on a guy's personal style and needs, many men may prefer, or even strongly prefer, one over the other. Either way, these two types of underwear have their redeeming qualities. Some feel that briefs are more comfortable, while others feel that a thong gives them more confidence.
Briefs
Briefs are a very common style of men's underwear. It is a style that has been popular for decades. Briefs are a relatively tight-fitting style of underwear with an elastic waistband and elastic leg holes, which run from the crotch across the middle of the hip and back down. Most briefs feature a fly, which is an overlapping opening on the front of the briefs. The fly allows for convenient access when the wearer makes a trip to the men's room. As briefs fit quite snugly, they offer highest level of support compared to other styles of men's underwear. However, briefs can be uncomfortable when worn on hot days.
Thongs
The thong is a style of underwear many men are unfamiliar with. Thongs feature a pouch or sling at the front for support that connects via a string to the rear of the waistband. This design leaves much of a man's bum exposed. Thong underwear is not a popular choice of underwear among most men, as they provide little to no support and are very revealing. Thongs are traditionally thought of as a type of male lingerie. They are considered more exotic than functional and few men would consider wearing one all day, every day.
Choosing a Colour or Pattern
When selecting a thong or pair of briefs, many men want to add some style to their look by selecting underwear in a particular colour or pattern. While there are no hard and fast rules about colours or patterns, when choosing a colour or pattern that feels stylish and appropriate, guys should also be sure that their comfort and confidence is their first priority. Men who don't feel comfortable or confident in what they are wearing will see this reflected in the way they walk, move, and act. Regardless of the style, fit, or colour, guys should always put their comfort first, and the confidence will follow.
White
White is a classic colour for a pair of briefs, and it the most common colour of briefs. While white may have been a popular colour in the past, the contemporary guy is more likely to go for darker, solid colours when choosing briefs and thongs.
Black, Brown, or Dark Blue
Black, brown, and dark blue briefs and thongs are increasing in popularity. They have the benefit of complementing anything a guy would want to to wear, and offer a more contemporary look than white. In intimate settings, these colours would be considered stylish as opposed to more garish colour choices.
Bright Colours
For those looking to spice things up a bit when the trousers come off, briefs and thongs are available in a wide variety of eye popping colours. To keep things classy, a man should avoid colours that are too bright. For instance, neon colours are a bit too bright. Brighter colours might be fun for certain occasions or for that special someone, but for the most part, classy and stylish underwear shouldn't appear too crazy.
Patterns and Prints
While they may be widely available, patterns and prints are very similar to bright colours in that too much is always too much. Avoid patterns that look too busy. A basic tartan or checkered print works well. Generally speaking, anything too loud or busy is just unnecessary in the underwear department.
Common Underwear Materials for Thongs and Briefs
Thongs and briefs can be constructed from a wide variety of materials. As always, comfort is the first priority when it comes to underwear of any kind. Men who are undecided on what fit or material is best for them should consider buying a single pair of briefs or a single thong made from a couple different materials. This allows men to test what feels best, without investing in many pairs of one type of underwear and finding out they are unhappy with their choices later on. Once they have tested a few different fits and materials, they can then invest in more pairs to stock their underwear drawer.
Cotton and Cotton Blends
Cotton is one of the most popular materials for both thongs and briefs. It is flexible, lightweight, and breathable, making it an ideal material for underwear. Many of the most common and most popular underwear brands use cotton or cotton blends to manufacture their underwear.
Synthetics
Synthetics like Lycra or spandex are flexible, durable, and provide excellent. While they do not absorb perspiration as well as cotton, they are good a wicking sweat away from the body. This makes synthetic briefs a smart choice for athletic activities as the cotton briefs can become waterlogged.
Silk and Silk Blends
Due to the softness and quick-drying characteristics of silk, it is a popular material for underwear of any type. Silk is commonly used to manufacture boxers, but thongs and briefs are occasionally made of silk or silk blends as well.
Selecting the Best Fit for Thongs and Briefs
A guy can pick the right style, the perfect material, and a colour that suits him best, but if the underwear does not fit correctly, he will be extremely uncomfortable. Thongs and briefs come in sizes small, medium, large, extra large, and so on. Guys will want to make sure, with both thongs and briefs, that they are not too tight so as to cut off any circulation or press into the skin. Underwear should not be too loose as loose underpants can bunch or move around in unwanted or unintended ways. Most men agree, nothing is worse than a pair of underwear that rubs or chafes in sensitive areas.
All thongs and briefs have an elastic waistband, and most companies sell their thongs and briefs with a corresponding pant size for their particular version of large, medium, or small. Guys should be sure to consult information on the listing or package to match their pant size with the proper underwear size. As different brands may have slight variations in the ways their underwear fit, some men prefer to purchase a single thong or single pair of briefs to try on and wear, so as to be absolutely certain they are comfortable. After they know how the single pair fits, they will then purchase more pairs of the same underwear to wear everyday..
How to Find and Buy Thongs and Briefs on eBay
Whether it be thongs or briefs, eBay has a huge selection to choose from. To find the thongs and briefs currently available for sale on the eBay website, begin on the eBay home page. The keyword search bar is at the top of every page on the eBay website. It allows users to input keywords that describe the items they are searching for. For instance, searching for 'red mens briefs' will return listings that include those keywords in the title. You can sort the listings on the results page by size, style, and brand.
When buying underwear online it is important to remember that you may not be able to return it to the seller if you purchase the wrong size or style. For reasons of hygiene, sellers are reluctant to exchange intimate apparel of any kind, including underwear. If the seller has neglected to include the size of the underwear in the item description, you can contact the seller and ask them about the size by going into their profile and clicking on the contact link.
Conclusion
For men looking to buy thongs or briefs, remember that the first step to buying new underwear is considering comfort. The underwear that make a man feel most comfortable will also make him feel the most confident, and confidence, as they say, is key. Briefs are a classic standard in the underwear world. Guys should make sure their briefs fit properly, and also find a colour and material that best suitS their preferences in terms of style and comfort. Thongs are a less popular type of underwear, but it has its fans. Thongs do fit male bodies differently when compared to other types of underwear. They can take some time to get used to. Guys should be sure to find a comfortable fit, since thongs are inherently less supportive and more revealing. Guys can always count on eBay for their online shopping needs, as eBay's men's clothing section features tens of thousands of men's underwear options to meet any style preference or budget.