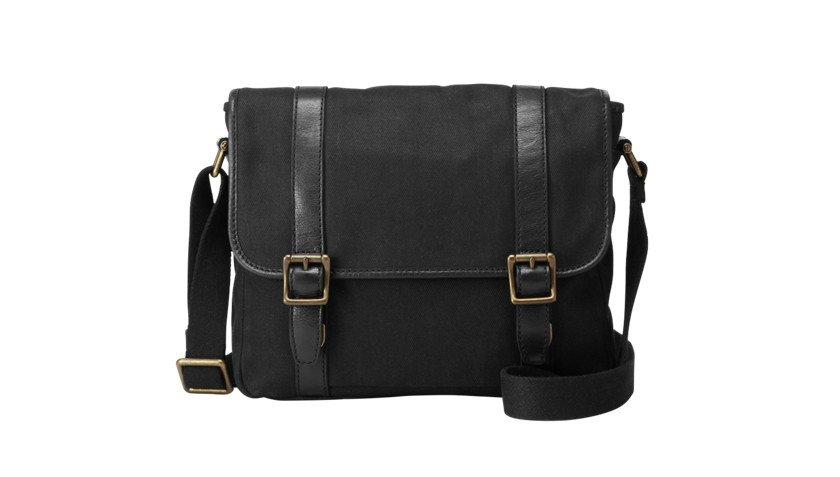 Bags are both a fashion accessory and a functional item that a guy needs to include as a part of his wardrobe. A man can carry a bag as part of his business or casual attire. With so many different types and styles of bags available, he'll likely want to have more than one available to him. Some bags are designed for carrying various items on a daily basis, while others were designed with a specific purpose in mind. When a guy is shopping for a bag, he needs to assess his needs so that he can find a bag that will meet those needs. Before shopping for a bag, a guy needs to learn about the different types of bags available to him. From there he can begin to look over the different options and sizes to find one that he likes. Whether looking for a new or used bag, shoppers can find a huge selection on eBay.
Common Types of Guy's Bags
There are many types of bags available for guys to carry. The type they'll need really depends on what the bag will be used for. A man should determine what he needs the bag for before shopping for one. Some bags are designed for multiple purposes, while others have very specific purposes. Additionally, he'll need to consider how he wants to carry the bag (i.e. on the shoulder, by hand, or on his back).
Briefcase
Briefcases are large rectangular bags that are used by professionals who need to transport documents and other materials back and forth to work or between offices. These can have hard or soft cases depending on the user's preferences. In the past, most briefcases had square edges, but they can now be purchased with rounded edges. Briefcases have a sturdy handle on the top to carry in one hand. This is standard on all briefcases no matter what the shape or size. Some have straps like messenger bags, but this is an extra feature. Briefcases are commonly made of leather or synthetic leather.
Holdall
A holdall is also known as a carryall or an overnight bag. These are multipurpose bags that are used for light travelling. These bags usually have two hand straps and one shoulder strap attached for easier carrying. Holdalls are typically soft and lightweight bags that can be made from cloth, nylon, or even leather. People who are travelling on a short trip and don't want to drag heavy luggage along may opt for a holdall.
Messenger Bag
A messenger bag is also known as a courier bag. These bags are typically the size of a briefcase, but can be found in larger and smaller sizes. Messenger bags are known for their satchel appearance with a large flap and shoulder strap. These bags are multipurpose bags that can be used by university students, businessmen, and bike couriers alike. The shoulder strap makes it easy to carry a heavy load without tiring out.
Camera Bag
A camera bag, as the name suggests, is used to carry cameras and camera equipment. Camera bags come in all shapes and sizes to accommodate all types of cameras. These bags usually have cushions on the inside to protect the delicate equipment. Some are made especially for certain types of cameras, while others are made to hold cameras of various shapes and sizes. Camera bags usually have additional pockets and compartments to hold smaller items like phones, memory cards, batteries, etc. Camera bags can have shoulder straps, handles, attach around the waist, or be worn as a backpack, depending on the type.
Tote
A tote bag is a smaller version of a carryall. It is small, rectangular, and has two hand straps for carrying with one hand. These casual bags are carried by men who need to carry small items and papers from one place to another. Tote bags can be made from leather, cloth, and other synthetic materials. These bags are meant to be worn with business casual attire, and is a modern approach to a classic briefcase.
Newsboy Bag
A newsboy bag is very similar to a messenger bag, but it is a dressed down version. Newsboy bags are made from canvas and are made to match men's casual attire. Newsboy bags may have a large flap, or they might just zip at the top. They have a shoulder strap for carrying on one shoulder or for cross-carrying. These bags get their name and design from when newspaper boys carried and delivered newspapers on foot.
Duffel Bag
Duffel bags are large cylindrical bags that are sturdily built. In the past, these bags were mainly used by military men, but they have been designed for civilians as well. Duffel bags are designed to hold clothes and personal items, but can also be used to transport sports equipment. They are usually made from a strong canvas with thick hand and shoulder straps. Quality duffel bags are usually waterproof as well.
Backpack
Backpacks are considered to be the most common types of bags in the world. They are used by children and adults alike. Backpacks have two shoulder straps that allow people to carry the bags on their backs to keep both arms free. These bags come in all shapes, sizes, and designs to meet anyone's needs. Some have extra padding to carry cameras, laptops, or other electronic equipment. They are most commonly used by students to carry books and other schoolwork to and from school. With side pockets, wearers can carry other smaller items and keep them organised.
Laptop Bag
For many businessmen, a laptop bag replaces the need for a briefcase. With more and more men transporting their laptops to and from work, instead of papers, a special case to protect the laptop is necessary. Laptop bags come in several designs, including messenger bags and briefcase style cases. These bags have extra padding to protect the laptop in transit. Some laptop bags have other pockets to accommodate additional items and eliminate the need for multiple bags.
Toiletry Bag
A toiletry bag is a small specialised bag used to carry personal care items. These can be used for travel or for for keeping the items organised at home. Toiletry bags vary greatly in size depending on the man's needs. Some are made from leather with a waterproof lining while others are made entirely from synthetic materials. These bags make it easy to transport personal care items without having to worry about shampoo spilling over the rest of the clothing in the luggage.
Characteristics to Consider When Shopping for a Bag
Once the type of bag has been chosen, there are a few other things that shoppers should take into consideration when shopping for a bag. All of the bags mentioned above come in a wide range of sizes and designs. When shopping for a bag, men should keep in mind what items they'll be carrying, where they are carrying the items to, and what kind of look they're trying to achieve. In order to do this, shoppers need to consider the size of the bag, what materials the bag is made from, and how many pockets or compartments it has.
Size
Once the shopper has determined what he'll be using the bag for, he'll be able to judge how big of a bag he'll need. Briefcases usually come in a standard size, but nearly all other bags offer a wide range of sizes to choose from. When it comes to buying a bag, a bigger bag is always better than a bag that is too small.
Material
Men's bags can be made from canvas, leather, cloth, and other synthetic materials. The material that the bag is made from not only affects its appearance but its durability. Shoppers looking for a classy look may wish to go for a black or chocolate coloured leather. Bags made from leather are also extremely durable and wear well. Those who need something lightweight may opt for a bag made of cloth. Bags that are carried as an accessory should match the clothes they're paired with.
Compartments
Some bags are simply one large pocket or a couple of large pockets. People who travel by foot or carry the bags around frequently may wish to choose a bag with more compartments or pockets. This makes it easier to organise the items so that they are more accessible. Additionally, extra compartments can help to prevent some items from being damaged when rolling around with other items in the bag.
Shopping for a Guy's Bag on eBay
eBay is a large marketplace that allows shoppers to find bags and many other items online. Shoppers won't have to travel to different shops in order to find the perfect bag. Instead, they can browse through thousands of constantly changing listings to find the perfect bag without every having to leave home. Shoppers can find both new and used bags of all types on eBay. In order to have a successful shopping experience on eBay, shoppers need to know how to effectively search for the bags they're looking for and how to spot a reputable seller.
Searching for the Right Bag
Each page on eBay has a search bar that allows shoppers to input keywords to describe the item they're looking for. Shoppers should enter words that are not too detailed but also not too broad. For example, entering the word 'bag' into the search field will return thousands of results. Instead the shopper should enter a word to describe the appearance, style, and type of bag. This returns fewer results but also results that are more relevant. The Advanced Search feature allows the shopper to perform a more refined search if he is looking for a very specific item.
Getting to Know the Seller
Before making a purchase on eBay, shoppers should take the time to get to know the seller's reputation. The feedback system is an accurate way to judge the seller's history. In each listing, the seller's username, percentage of positive feedback, and total number of transactions are listed. Shoppers can click through to read some of the comments left by previous buyers to see what they're said about the seller. Top Rated Sellers are recognised for consistently providing quality service to buyers. They are designated with a special icon within the listing. Shoppers can also sort results to show listings by eBay Top Rated Sellers only.
Conclusion
Bags are no longer just accessories for women. Many bags are designed for men to carry for business and casual purposes. Guys find that carrying these bags not only make transporting items convenient, but that bags also make great fashion accessories to complete almost any look. With so many bags to choose from, it can be hard to find the best bag for the job, especially for someone who may be a bit picky. For this reason, shoppers should take the time to learn about all of the various bags and their functions. Some are designed for multipurpose use while others are more limited. Once shoppers have determined the type of bag they'd like to get, they can begin looking over the various sizes, materials, and other options available to them. Shoppers can go to eBay to find a huge selection of bags in all types, styles, and price points.