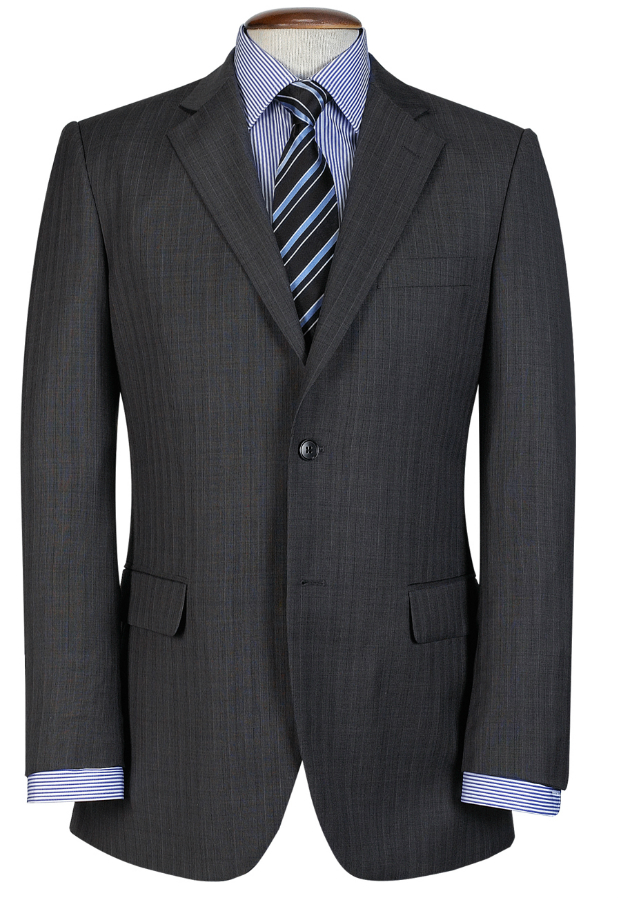 City smart or everyday casual, a well cut suit creates an instant impression about the wearer. These days there is a wide array of styles to choose from, with high street shops full of the latest designer labels. Sometimes the cloths and cuts look as though they have been deliberately chosen to break all the rules. But today's high fashion can be tomorrow's embarrassment, and for the man who wants a suit to last, there is no beating the timeless appeal of crisp tailoring and a classic cut.
This guide looks at the options available for the man who is searching for that elusive timeless suit. It examines cloth, cut, style and detail, and also looks at retailers where one can find a good quality suit at a reasonable price. Beyond high street boutiques and the major chains, the explosion of Internet shopping in recent years means that it is now possible to find excellent value suits from online retailers such as eBay, where top quality famous brand names rub shoulders with the latest fashion.
Types of Suits
Leaving aside the more esoteric offerings such as Nehru suits or suits designed for special purposes, most men's suits fall into one of two categories; single breasted or double breasted. Neither one is better than the other; they are simply different styles, each offering advantages and disadvantages.
Single Breasted
A single breasted suit has a single line of buttons down the centre, usually numbering either two or three. The epitome of the modern lounge suit, the single breasted suit can be worn with an open necked shirt or with a collar and tie, and can be as formal or as relaxed as the owner chooses. It can also be worn with or without a waistcoat. A favourite of businessmen and casual wearers alike, the single breasted suit can be kept either buttoned or unbuttoned. Although if buttoned, normally only the centre button would be closed if it is a three button coat, or the top button if it is a two button coat.
For men who are tall and thin, care needs to be taken when choosing a single breasted suit so that it does not accentuate the wearer's height too much, or make him look too bony.
Most suits sold today are single breasted. However, the range of cloths, colours, styles, and details available is so varied that the wearer can easily personalise his look.
Double Breasted
A double breasted suit has two overlapping flaps of cloth that form a smart, classic looking front to the coat. Double breasted suits typically have six buttons, three on either side, plus a concealed 'jigger' button to keep the flaps closed and properly aligned. Tailors often advise their more heavily built clients to choose a double breasted coat, as the style can do wonders to hide a bulging paunch. But even the slim and fit can benefit from the smart, commanding appearance of a well cut double breasted suit.
Double breasted suits tend to be slightly more formal than single breasted suits. Although, as with everything to do with fashion, there are always exceptions to the rule. The modern double breasted suit has a lighter, less boxy appearance that can look great when paired with a casual shirt.
Two Pieces or Three?
Whereas a two-piece suit consists of just coat and trousers, a three- piece suit also includes a waistcoat. A waistcoat is a short sleeveless coat that fits beneath the main suit coat, and buttons up down the front. Waistcoats often have flapless horizontal pockets on either side. The back of the waistcoat consists just of the lining, without additional cloth, and a smart silk or woven cotton lining can look very impressive.
Many suit wearers choose to add a waistcoat because it looks sophisticated. In winter, a waistcoat has the added advantage of keeping the back and chest warm.
Cloth
From winter weight wool, to the relaxed, casual look of linen or cotton, natural fibres are always the favourite choice for a suit for those who can afford them.
| Flannel | Gabardine | Tweed | Cotton | Linen |
| --- | --- | --- | --- | --- |
| Woven from soft wool, flannel is a favourite cloth for both formal and casual suits. | A tightly woven woollen cloth, gabardine is refined, hard wearing and has a crisp, classic look. | Hard wearing and warm, tweed is a heavy cloth which is ideal for outdoor wear and informal occasions. | Pure cotton is luxurious and laid-back, but not as hard wearing as some cloths. It breathes well and is cool and comfortable in the heat. | The ultimate informal suiting, linen sets the wearer apart, and keeps him cool and relaxed even in summer. |
They may not be quite as hard wearing as modern polyester fibres, but if looked after carefully, with frequent pressing and only occasional cleaning, natural fibres stay fresh and smart for years. Natural fibres also tend to breathe better than artificial fibres, letting perspiration evaporate for day long comfort.
Wool
For those who want the best, a top quality woollen gabardine cloth is unbeatable, offering endurance, visual appeal, and sheer class. In the days when an officer and gentleman was liable to be posted to the hottest, furthest flung corner of the Empire, Yorkshire weavers learned how to make excellent, tropical weight woollen cloths that keep the wearer cool and comfortable even in the summer heat.
Woollen flannel is another popular choice. A single breasted grey flannel suit is about as timeless as it can get. Show some cuff and a smart pair of links, don a tie, and the wearer looks smart enough to gain entrance anywhere. However a woollen flannel suit can also be informal, open-necked with casual shoes and a short sleeved shirt.
For true long term appeal, nothing beats tweed. Durable, practical, and very relaxed, this quintessentially English cloth never loses its attraction. Though often still too heavy for summer weather, today's tweeds have progressed beyond their hunting and shooting image, to deserve a place in every well dressed man's wardrobe.
Cotton or Linen
From the Oxford don who would not be seen dead in a pinstripe suit, to the young man about town out on a Saturday night, the laid-back image of cotton and linen has never been more popular. Leave the lawyers and businessmen to their charcoal greys and navy blues, and go instead for light, airy colours that emphasise the informality of the cloth. Stone, cream, light blue, or any neutral shade will do.
Cotton and linen cloths won't 'give' in the way that wool does, so make sure the fit is relaxed from the start. Although a little bagginess only emphasises their appeal. These comfortable, natural fabrics let the wearer cultivate a slightly crumpled look that shows his individuality.
Style Details
Looking for a timeless suit does not mean being bland or impersonal. It is best to avoid lapels that are 13-cm wide by all means, but there are still plenty of ways to personalise both coat and trousers.
Vents
A conventional side vented coat is comfortable to wear and looks good. It also has the advantage of being more comfortable for sitting down. The single centre vent has become a popular style too, though some wearers find it more prone to creasing. Either one is smart, practical, and stays in fashion.
Ventless coats are a continental look and are usually more informal. For a suit with enduring appeal, it is probably best to go for one of the more traditional options.
Pockets
Traditional pockets with flaps and only a modest slant are the style to choose for a timeless suit.
Sleeves
For that lasting, timeless look, go for at least three or preferably four buttons on the cuff, but no more. If the suit is going to be worn formally with links, make sure that the sleeves are short enough to show some of the shirt cuff.
Lapels
A single breasted coat should have a notched lapel, where the collar and lapel meet in an outward pointing 'v' shape that has roughly equal sides. A double breasted coat, however, should have a peaked lapel, where the tip points upwards toward the shoulder. For a timeless look, avoid 'wraparound' shawl lapels, which are are not ideal for everyday wear.
Trousers
A number of choices need to be made when it comes to the trousers. There is no right or wrong style; the options just come down to a matter of personal taste.
Belt Loops or Braces?
Braces come in and out of fashion, but they have die-hard fans who wear them regardless of the current trend. For those who prefer a more modern look the belt is perfectly acceptable. Alternatively, a very clean look can be had by choosing a suit trouser without either belts or braces, which has a flap of cloth at the front of the waistband with a traditional sliding catch, and adjustable buckles on the sides to guarantee a perfect fit. These trousers may be hard to find, but are worth seeking out.
Pleats
Pleats look great if they are well cut and fall properly, and awful if they do not. They are certainly not essential, but they can add a stylish touch.
Turn-ups
Some people loathe them and others love them, but turn-ups on the trousers have been around for generations, and they never go out of fashion. Ultimately, whether to have them is a matter of choice. But for wearers seeking a truly classic look they are a definite plus point, as long as they are not too skimpy.
Finding a Suit on eBay
For buyers who are willing to spend the money to visit a tailor and pay for a bespoke suit, achieving that timeless look is simple. Just choose the style, cloth, colour, and extras that you require, and let the tailor do the rest. For those who prefer to buy their suits off the peg, finding the perfect one may take a little more time.
When searching for that ideal suit, it is helpful to have access to as wide a range of choices as possible. One of the advantages of buying a suit on the Internet is that you can search out the various options quickly and easily, without having to drive around town visiting endless shops. eBay has a wide selection of men ' s suits on offer, including top brand names. Whether you want single breasted or double breasted,, new or used, there is a wide range of colours, cloths, and sizes available. eBay also has a wide selection of three-piece suits that include waistcoats, for that extra stylish touch. A good way to start your search is by going to the homepage and searching for men's suits.. From there you can easily refine your search by adding simple phrases like "men's suits tweed" or "men's suits cotton" and pressing the search button.
Conclusion
A good quality suit made from natural fibres like wool, cotton, or linen can provide excellent comfort and years of service. If chosen carefully and looked after well, it can amply reward its owner for his initial investment. Achieving the timeless look with a suit that can be worn year after year means avoiding the dictates of the latest trend. However, classic style never goes out of fashion.
When looking for the perfect suit, the buyer first needs to settle on the style that he prefers, either single or double breasted, two-piece without a waistcoat or three-piece with one. Then select the colour, size, and style details that most appeal. Armed with this image of the perfect suit, it is time to start shopping. For those unwilling to go to the expense of having a suit tailor-made, it is still possible to find the perfect suit by reviewing the widest range possible. Online retailers such as eBay can make this process faster and easier.