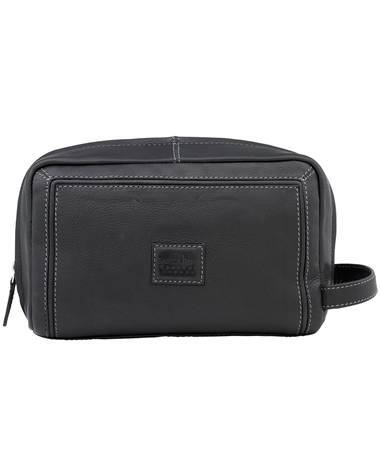 Whether travelling abroad or organising toiletries at home, guys need a way to store and transport their everyday care items. A toiletry case is designed to carry all of these items in a convenient and stylish way. Not all toiletry cases are created equally, so it is important for guys to put some thought and consideration into the purchase. With several types of toiletry cases to choose from, guys should have no problem finding one that suits their needs. When it comes to buying a toiletry case, men should learn about the different types available, determine what they'll need to store inside, and learn about different features to look for in order to find the one that will best store all the toiletries they need to carry. No matter what size, type, or colour toiletry case a guy is looking for, he can find a huge selection of new and used cases on eBay.
Types of Men's Toiletry Cases
Toiletry cases come in all shapes, sizes, designs, and materials. When shopping for a toiletry case, men should first determine which type of case will best suit their needs. Some men simply need a toiletry case to keep their toiletries at home organised, while others need toiletry cases to take with them while travelling. How often the toiletry case is used should be another deciding factor when choosing a toiletry case. Some of the common types of toiletry cases available for men are travel cases, hanging cases, leather cases, and washable cases.
Travel Toiletry Case
A travel toiletry case is smaller than other toiletry cases. These are specifically designed to be carried in other luggage and to hold enough toiletries to last the duration of the trip. They do come in different sizes, but for the most part they are designed to hold smaller bottles of shampoo, shaving cream, toothpaste, etc. The design of travel toiletry cases varies. Some feature one large compartment to hold everything together, while others have several smaller compartments on the inside to keep the items organised.
Hanging Toiletry Case
A hanging toiletry case is ideal for times when counter space is limited. These types of toiletry cases have a hook or strap at the top that allows them to hang on a doorknob, towel rack, or shower curtain hanger. Rather than having toiletries strewn out all over the counter or sink, they can easily be organised in a hanging toiletry case. Many hanging toiletry cases fold or roll into a smaller size and are secured with a zipper or snaps. This makes this type of case easy to travel with, without taking up too much space in other luggage.
Leather Toiletry Case
A leather toiletry case is ideal for men who will be using the case often. Leather is a very durable material that can handle the wear and tear of frequent travel and use. Because leather is a strong material, men won't have to worry about the toiletry case getting holes in it, cracking, or falling apart. Leather toiletry cases can come in all sizes, including travel and hanging varieties. Another advantage of leather toiletry cases is that they have a classy appearance.
Washable Toiletry Case
A washable toiletry case is usually made from nylon or other synthetic material. These types of toiletry cases are easy to maintain in the event of a spill. Leather toiletry cases can't be washed with water because the leather will be damaged. It is not uncommon for shampoo or shaving cream to leak while in transit, and with a washable toiletry case, the bag can be rinsed out and dried for easy maintenance. Unfortunately, synthetic materials don't last as long as leather. Frequent travellers and users may need to replace the washable toiletry case more often than a leather case.
What to Look For in a Toiletry Case
There are many characteristics that shoppers should consider when looking for a toiletry case. Shoppers need to look beyond price tag and appearance and make sure that they are purchasing something that will meet their needs. Not all toiletry cases are the same and not all people have the same needs when it comes to a toiletry case. Some of the characteristics that shoppers should look for in a toiletry case are durability, water resistance, practicality, and stylish appearance.
Durable
Durability is an important feature to look for in a toiletry case, especially for frequent travellers. This is especially important for hanging toiletry cases. These cases have the weight of all of the items resting on a single hook or strap. If that hook or strap were to break, then the owner won't be able to set the toiletry case on the counter because of its design. Additionally, with a durable case, a traveller won't have to worry that the case will fall apart half way through a business trip.
Water-Resistant
Water resistance is perhaps the most important feature to look for in a toiletry case. Since there is always a chance that something spills inside the case, it is important to keep the clothing and other items in the luggage protected from the spill. For this reason, shoppers should avoid toiletry cases that are made from cloth or that do not have some sort of plastic liner on the inside.
Practicality
The toiletry case should be a practical size and shape as well as be easily accessible. Rather than looking at price when shopping for a toiletry case, men should visualize the items that will need to be placed in the case and how easy it will be to access the contents of the case. Purchasing a case that is too small for the items will make it hard to close and can put unnecessary pressure on the items inside. This could cause them to leak. Purchasing a case that is too large will take up precious space inside the other luggage. Additionally, if a man is travelling with several small toiletry items, then compartments within the case will make it easier to organise the items and find them again.
Appearance
Many toiletry cases are designed for women; however, several toiletry cases have a neutral or more masculine appearance. Rather than travelling around with a flowery toiletry case, there are solid colored toiletry cases in all shapes and sizes. Some companies will even customise a toiletry case with the man's name or initials to make it more attractive. Additionally, if the toiletry case will be sitting out in the bathroom or hotel room, it should be appealing to look at.
Items to Pack in a Toiletry Case
When shopping for a toiletry case, it is a good idea for shoppers to know which items they'll need to pack inside. Knowing ahead of time what will be packed in the case makes it easier to estimate the size and shape of the toiletry case. Some people may only need a case that holds basic necessities, while others may need to pack a few extras as well as some medications. The table below lists some of the items commonly packed in a toiletry case. This helps a shopper get an idea of what they'll need to include in their own toiletry case.
| Category | Items |
| --- | --- |
| Basics | Shampoo, toothbrush, toothpaste, soap or body wash, razor, shaving cream, comb or hairbrush, deodorant, cologne, aftershave, |
| Extras | First aid kit, sunscreen, laundry kit, ear plugs, sewing kit |
| Medications | prescription medications, over-the-counter pain relievers, extra copies of prescriptions |
When travelling by plane, prescription medications should only be packed in the toiletry case if it will be included in carry-on baggage. It is not uncommon for airlines to misplace luggage, and travellers should keep medications nearby in case this happens.
Size Limitations
When travelling by plane within the UK and other European countries, there are size limitations to many of the items listed above. For security reasons, liquid items cannot be transported in carry-on luggage unless they meet the guidelines. The restrictions for liquids are as follows:
Individual containers of liquids must not exceed 100 mL
Containers must be transported in a separate resealable plastic bag that measures 20 cm x 20 cm
The bag must not exceed 1 litre in capacity
All of the items need to fit inside the bag comfortably, and the bag must close easily. Travel sized toiletry items are available to make packing easier. While travelling through the airport, the bag will need to be X-rayed at the security points. If larger sizes of liquids are needed due to an extended stay, then it is recommended that travellers wait until they reach their destination to purchase them. This way they don't have to worry about getting caught up in security, having bags that are too heavy, or dealing with large spills in luggage.
Shopping for a Toiletry Case
Guys can find toiletry cases in many retail and luggage shops. Used toiletry cases can be purchased from private sellers, through classified listings, and in thrift shops. Selection may be limited when shopping close to home due to the limited stock carried by smaller shops. Shopping online gives men access to thousands of different options without having to search in different stores to find the right toiletry case. eBay is a site that offers many new and used toiletry cases in one convenient place.
Finding a Toiletry Case on eBay
Shoppers who know exactly the type or style of case that they want can search for it directly using a keyword search. A basic keyword search can be performed in the search field of any page on eBay. To find toiletry cases on eBay, simply enter descriptive keywords ("leather toiletry bag") into the search bar on the eBay homepage. The Advanced Search is available for a more refined search so that shoppers can find something very specific. The number of listings varies throughout the day and from day to day depending on the number of auctions that end and new listings that are added. To narrow down the large list of toiletry cases, shoppers can choose different options such as colour, material, brand, and condition to find one that matches what they're looking for. They can also specify a price range so that only those listed within the range they are willing to spend are listed.
Conclusion
A toiletry case is an essential item for storing personal care items as well as travelling with them. When it comes to buying a toiletry case, shoppers need to consider more than just the price of the item. Toiletry cases need to be the right size and convenient to use otherwise they will likely sit in closets unused. These cases come in all shapes and sizes to meet a guy's needs no matter if he is organising his items at home or taking them on a trip. Before purchasing a toiletry case, guys need to learn about the different types that are available in order to find one that will best suit their needs. Shoppers also need to know what characteristics to look for in a quality toiletry case to ensure that they purchase one that holds up well to wear and tear. In order to judge size, shoppers should consider what items they'll need the toiletry case to hold. With so many options to choose from, shoppers should be able to find one that offers the style and convenience that they're looking for.