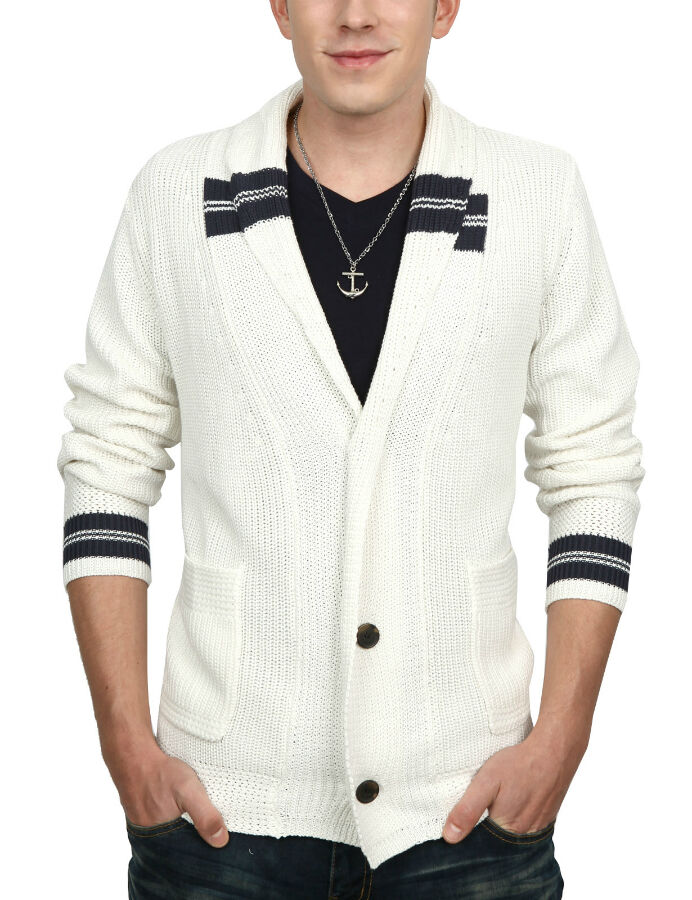 The cardigan is an open front jumper that was named for a 19th century British military officer, the 7th Earl of Cardigan. The design is based on the wool waistcoats worn by British officers during the Crimean War. Since the button-front cardigan is technically a unisex item, some men shy away from wearing cardigans. However, this type of jumper makes for a comfortable and versatile addition to any guy's wardrobe, and it is increasingly seen as something of a wardrobe staple. Before hitting his local high street shops in search of a cardigan, a guy should know that there are several styles of cardigans to choose from. Some cardigans have pockets, while other styles of cardigans come with hoods. It is also important for a guy to know how to style a cardigan correctly. Most men's clothing shops sell cardigans, but a greater variety of cardigans is to be found on the eBay website.
Types of Button-Front Cardigans
Cardigans are available in a variety of fits and designs. The button-front cardigan is traditionally made from a thick knit fabric. It has a V-neck and a front that buttons up. There are three types of button-front cardigans: the single breasted cardigan, the double breasted cardigan, and the collard, or cowl neck cardigan.
Single Breasted Cardigan
The most common type of button-front cardigan is the single breasted cardigan. This style only has one row of buttons that runs directly down the centre of the jumper, from the point of the V-neck to the waist. Single breasted button-front cardigans usually have anywhere between three and six buttons running down the front.
Double Breasted Cardigan
Double breasted button-front cardigans are similar in design to a double breasted suit, in that the front closes with two rows of buttons that are set an equal distance from the centre. Double breasted button-front cardigans have anywhere from six to twelve buttons and are generally made with a thicker and heavier knit.
Collared or Cowl Neck Cardigan
Collared and cowl neck button-front cardigans are very common, and are usually worn in the winter. Collared cardigans can be either single breasted or double breasted, and feature a fold of fabric that begins at the chest and extends up and around the neck. This fold of fabric can either be pressed down around the neck and chest to resemble a classic collar, or it can be popped up as a way to style the cardigan or protect the wearer from the cold.
Different Types of Cardigan Buttons
Another important feature of button-front cardigans is the buttons themselves. The type of button that is used can have a direct impact on the look the wearer is trying to achieve. Circular buttons and toggle fasteners are used to close the front of button-front cardigans. The toggle buttons are more commonly associated with duffle coats.
Circular Buttons
The circular buttons are the classic buttons that everyone is most familiar with. They are sewn onto the front of the cardigan, and connect through a corresponding opening on the opposite side of the cardigan. These buttons are less intrusive and create a cleaner, sleek look, especially when smaller buttons are used. Larger circular buttons can create a chunkier and more casual look, especially when paired with thicker knits and baggier fits.
Toggle Buttons
Toggle buttons are resurfacing as a popular choice of fastener for button-front cardigans. This type of fastener features a cloth or leather loophole on one side of the fabric, and a wooden or plastic cone-shaped piece that is attached to a cloth or leather loophole on the opposite side. The cone-shaped piece, or toggle, is threaded through the opposite loophole and turned sideways to close and secure the cardigan. Toggle buttons are most commonly found on collared jumpers with patterned knits to create a more nautical look.
Optional Cardigan Features
When shopping for a cardigan, guys should consider extra features like pockets and hoods. A guy should also consider the knit of the cardigan. Some knits are heavier and more textured while others are lightweight and sleeker in appearance.
Pockets
Pockets are convenient and are usually found on the front left and right sides of the cardigan. These pockets are used by the wearer to keep their hands warm, They are not generally used for holding items like wallets and mobile phones. Carrying items in the pockets may cause the the cardigan to stretch out.
Hood
A unique and contemporary look that is becoming more common is the hooded button-front cardigan. This is a youthful look that may not work for everyone, but for those that want to try a fresh spin on an old classic, there are definitely hooded versions of button-front cardigans to be found. Hoods are not appropriate for all occasions. For the guy who want to wear cardigans to the office, he should avoid hooded cardigans. This look is too casual for many office settings.
Patterned Weave
The thicker and heavier the knit is, the more material there is to work with, giving manufacturers the option to create unique weaves and patterns on the outside of the cardigan. The texture is important. The heavier the knit, the more casual the cardigan. For business attire, a guy should consider a lighter knit with a smoother texture to complement an office shirt and dark business trousers.
Style Tips and Advice for How to Wear a Cardigan
Once a guy has selected the fit, style, buttons and features that best match his tastes and style, there are a few important style tips that every guy should consider. Cardigans are very versatile. They can be dressed up and dressed down. Regardless of the outfit, there is some well worn advice about how to button a cardigan correctly.
Which Buttons to Button
In the same way that a man should not fasten the bottom button on a suit coat, they should always leave the bottom button on a cardigan undone. This provides extra room at the waist, where the cardigan will likely be covering a pair of trousers, and gives the wearer some room for when they are standing up and sitting down. Most style gurus recommend an all-or-nothing approach when it comes to buttoning a cardigan: wear the cardigan with either all of buttons done up (except the bottom one), or leave all of the buttons undone.
Dress It Up
The button-front cardigan can be worn in stylish and formal settings with ease. Select a muted or strong colour that fits relatively close to the body, and wear it over a button-down dress shirt and tie. Bring it all together with a pair of trousers, to create a layered outfit for the office or for dressier occasions.
Dress It Down
The reason cardigans are so popular is that they are so versatile. In the same way that a cardigan can be dressed up for dressier settings, a man also dress it down by choosing a solid colour cardigan, leave it unbuttoned over a V-neck solid colour t-shirt or print t-shirt, and wear a pair of fitted jeans and casual, fashion trainers. The result is a dressed down look that appears put together and stylish.
Pick Your Layers
Cardigans can be constructed in both heavy and light knits. Guys should choose their layers appropriately when wearing button-front cardigans. Avoid wearing a thick knit cardigan underneath a jacket. Or if you insist on a thicker cardigan, wear the cardigan as the top layer. By wearing too many layers, cardigans can look chunky and baggy instead of sleek and sophisticated.
How to Find Button-Front Cardigans on eBay
With thousands of cardigans for sale at any given time, eBay is a convenient location for finding a variety of button-front cardigans. In order to find the button-front cardigans on eBay, begin on the eBay home page. You can use the keyword search bar at the top of any page on eBay to search for the specific cardigan you want. For instance, if you type 'collared grey mens cardigan' into the search bar, you will be taken to a results page populated with hundreds of matching listings. You can further sort the search results based on criteria like size, brand, colour, material, price, and more. You can either buy the cardigan for the list price, or you could participate in an auction. Bids can drive the price down, but you do risk being outbid by a higher bidder. To buy the cardigan for the list price or participate in an auction, you will need to sign up as an eBay member first. Registration is free.
Conclusion
Cardigans have been a popular clothing staple in both men's and women's wardrobes for decades, and for for good reason. They are versatile and comfortable pieces of clothing, that are easy to layer and combine with a wide variety of outfits. Guys can wear cardigans in formal scenarios with ties and slacks, or in casual situations with t-shirts and fitted jeans, depending on the day or occasion. Keep in mind the variety of styles, knits, and fits in order to find the proper cardigan to complement your sense of style and your body type. Consider any extra features you may want your button-front cardigan to have, including toggle buttons, pockets, patterned knits, and more. There is room in any guy's wardrobe for one or more cardigans. Cardigans can be worn with different outfits and accessories to achieve a unique look each time. Cardigans are available at most men's clothing stores but for the widest variety of cardigans at the best prices, a guy should stop by eBay first.