Some years ago, we discovered a part of Italy that soon became dear to our hearts - Calabria, which is the region situated in the "toe" of this fascinating country. We hope you enjoy our brief virtual tour of this area and be encouraged to visit this lovely, relatively undiscovered region of the country yourself.
We first visited Calabria about fifteen years ago and have noticed the way it has changed each time we have returned in the last few years. Until recently, it was relatively unknown to all but the northern Italians, who have long made its coastline the destination for their holidays. This comes as no surprise when you learn that Calabria has the least amount of rainfall and the most hours of sunshine in the whole of Italy.
Calabria has always been agriculturally rich but, in recent years, there has been a vast improvement to the infrastructure and a great deal of money is still being poured into the area both to attract tourism and to preserve its culture, history and architecture. Thankfully, the Italians have a sense of responsibility toward their heritage and the ancient buildings have to be restored sympathetically, so that both ancient and modern buildings sit alongside one another in their proper context.
Take, for example, the town of Amantea, which is a coastal town on the west coast in the region of Cosenza. We have a particular affection for this town, which has been described as one of the prettiest towns in Calabria. Like many of the towns along this coastline, Amantea has a new town and an old town. Most of the people live in the new town, which is near the coast, because it is more convenient for their work, the shops and restaurants but there are still some who prefer to live in the ancient medieval town, which nestles in the mountains. From the old town, you will capture some wonderful views of Amantea and you can spend many an hour exploring its centro storico (historical centre), strolling through the narrow, winding alleyways and nodding "buon giorno" to the local residents as they pass by.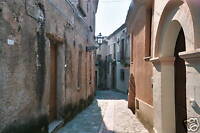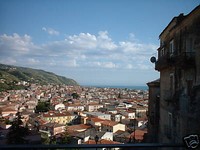 Amantea Centro Storico View over Amantea town
The main town of Amantea boasts a variety of designer shops selling anything from clothing to shoes, handbags, jewellery, sportswear, perfume and so on. It is unusual to find so many shops specialising in these high end items in a relatively small seaside town but you have to remember that this is Italy - the design centre of the world! There are even shops offering couture and designer children's clothing - anything from exquisite silk suits for boys to beautiful bridal wear and items for everyday or special occasions, more ofter than not from Milan.
Because of the warm, sunny climate, there is always an abundance of fresh, local produce and you won't have to travel far before you will find a restaurant or cafe that will have something to suit your particular palate. There are some excellent fish restaurants in the area, offering a wide selection of fresh fish and shellfish, cooked in different ways and served with salad, bread and wine. Then, of course, there are the many varieties of pasta dishes to try and a wonderful selection of other foods, such as salamis, hams, cheeses, olives, almonds, beautiful pomodori (large, ripe tomatoes) and vegetables which are truly "sun-blessed". The same is true of the fruit and you can sample the grapes, apples, oranges, lemons, melons, cherries and kumquats, which are often eaten as a simple dessert. Among the local indigenous products are the Cedro, which is a citrus fruit, and the peperoncino, which is a hot pepper used to add spicey flavour to dishes. In fact, the locals like it so much, they even have a peperoncino flavoured chocolate!
Calabrian salamis
If, however, you are the sort of person who simply likes to go out for a pizza - well, you can forget your normal UK takeaway food - a family pizza here is the size of a small dining table! Now that's what I call a pizza! One thing you won't find here is a burger bars or junk food - who needs it when you can have such a variety of superb, fresh produce? For me, there is no contest.
Oh, and did I mention the ice cream (gelato)? You simply can't visit Italy without tasting the ice cream - it's wonderful! I do have one reservation, though - the Calabrese are very partial to a certain onion grown locally and - guess what? - they like it so much that they have an onion-flavoured ice cream! Now that's where I draw the line but I do know that a lot of people in Calabria absolutely love it!
Yes, the Italians take their food very seriously and it seems to me that they can turn out what we would think was a cordon bleu meal for lunch at the drop of a hat but, with all those fresh ingredients at their disposal, it must add another dimension to the art of cooking. More importantly, food and communal dining is an important part of Italian family life. At least twice a day the whole family is usually seated at the dining table to eat together and discuss the day's events and news. Yes, family life is alive and well in this part of the world and the siesta arrangement enables you to relax and digest your food before returning to work. This is particularly relaxing when you are taking a holiday because it means a complete break of routine. What a contrast to bolting down a sandwich in half-an-hour before rushing back to work!
One of the biggest attractions of this area to us is the warmth and friendliness of the people, which certainly makes you feel at home. They are also happy to help you out when you struggle with the language and are pleased that you have made the effort to communicate, so it is always a good thing to try and learn a few Italian phrases, or practise some basic sentences with the aid of a CD. Take a good phrase book and dictionary with you, too, as English is not widely spoken here yet. However, there will always be someone who can help you out as there are people who have travelled abroad to other countries, such as the USA, but then decided to move back to the area.
Along this coastline, which overlooks the Tyrrhenian Sea, there are other towns and places of interest to visit, such as the National Pollino Park and the Sila Mountains, further to the north. You can ski in these mountains during the winter months and there are also some superb areas along the coast which are suitable for scuba diving or snorkelling. There are also some rocky pools where the children can play under supervision, so there is something for everyone. North of Amantea, there are the towns of Paola, Diamante and Scalea, with the smaller towns and villages in between for you to explore and also find somewhere to eat. Further south, you will discover the pretty towns of Pizzo and Tropea and the beautiful beaches of Capo Vaticano. You can take a ferry to Sicily across the Messina Strait and spend a day exploring the towns and countryside, or a trip to the volcanic island of Stromboli, where this active volcano is particularly awe-inspiring at nighttime. Reggio Calabria is right at the tip of the "toe", where there are some very interesting archaeological museums to visit. So there really is a great deal to see in this region, and plenty to explore. We find the area around Amantea is ideally placed for this as it is situated no more than about 45 minutes from Lamezia Terme airport and you can travel by car or train to just about anywhere in Italy from here.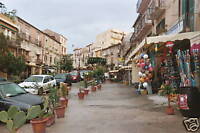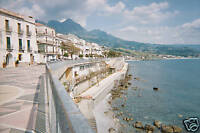 Tropea Town Centre Diamante Beachfront
The beaches along this western coastline range from a composition of small, grey volcanic stones to golden stretches of sand. Around the area of Amantea and its neighbouring towns, you can often have a whole stretch of beach to yourself when it is low season. This is the best time to visit (May, June, September, October) because, during the months of July and August, the northern Italians pour into the area for their well-deserved annual holidays, so everything becomes much more expensive and, of course, the beaches become more crowded. You can, however, get a very reasonable price for accommodation during the off-peak periods.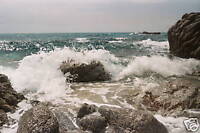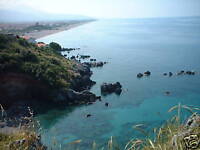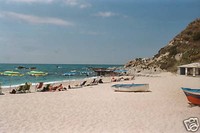 Rocks at Capo Vaticano Beach View at Scalea Capo Vaticano Beach
In the past few years, we have stayed with a lovely family named Curcio in a village called Belmonte Calabro, which is a mile or two further north from Amantea. Again, it has its quaint little old town in the mountains, with fascintating twists and turns and beautiful views out to sea. We usually stay at the marina part of the village, near the sea, and find it very relaxing and peaceful, while it is still within easy reach of Amantea and all the amenities. This family has now built some brand new luxury self-catering apartments right next to where they live, are currently letting them for holidays and have set up a website with an English translation. They are very well-respected locally and, although they don't speak any English themselves, they make you very welcome and bookings are taken through an English-speaking employee of theirs. We saw these apartments being built last year and they are extremely well-appointed, as you will see from the picture labelled "Curciosrl Apartments". You will find a more detailed description on their website and their business is called "Curcio s.r.l.". You will also find a list of prices on this website and you can make a considerable saving on long stay vacations and particularly during the low season. They have provided an English translation of information about the area surrounding Belmonte and neighbouring towns and villages, along with suggestions for excursions and places of interest. We were treated to a guided tour of many of these places while we were there and they are well worth a visit. We discovered there was plenty to see, so we still have more areas to explore to keep us busy on future visits! We have found this area captivating - the kind of place that draws you back again year after year and the warm weather and abundant sunshine makes it all the more attractive as a holiday destination, so we can't wait to go back there again!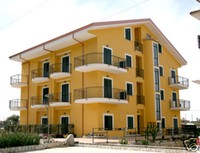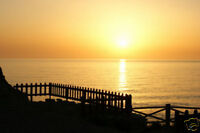 Curciosrl Apartments, Belmonte Belmonte sunset over the sea
With regard to travelling to the area, we simply take the coach from where we live in the UK to Stansted airport, from where we usually take a morning flight to Lamezia Terme airport via Ryanair, which takes under three hours. There are, of course, other options through different airports and with different companies but sometimes this involves a change from Naples or one of the other Italian airports. You can pre-book a hire car through Ryanair or another company - there are plenty to choose from online - or check out the local trains through Trenitalia's website and use a taxi or bus for your other transfers. The railway runs right along the coastline, which is very convenient for the accommodation and for other towns along the coast. Should you choose to prebook your car hire, you can also make a large saving by only paying for the basic charge with the car hire company and insuring with another specialist company for the excess, such as Insurance4carhire (other companies can also be found on the web). We can personally vouch for this service, which is very efficient and cost-effective, since what you pay for the excess can often be nearly as much as what it costs to hire the car.
Before making a booking with Curcio s.r.l., you should first check flight availability from the particular airport you will be using. At present, budget airline Ryanair fly direct from Stansted to Lamezia Terme airport and First Choice fly from Gatwick to Lamezia Terme. Ryanair also fly from other destinations in the UK to Milan and Pisa, from where you can get a connecting flight to Lamezia. Other companies flying from the UK to Milan and Pisa are Easyjet and Jet 2 but you would need to check these companies' respective websites to determine whether this is the right option for your particular location. If you are not able to get a suitable flight to Lamezia and prefer not to get a connecting flight, you could always choose the next nearest airport, which is Naples, if you don't mind travelling the rest of the way by train or car (around four hours in total). At the time of writing, different flight options for getting to Naples are Thomson, Easyjet, BA, BMI Baby, Aer Lingus, Thomas Cook Airlines and First Choice but, again, you would need to check their websites to determine what's best for you, depending on where you live. You could also fly to Rome (Ryanair, Easyjet, Jet 2) but, in my opinion, it would be better to use this option as part of a sight-seeing tour of the area, stopping over in Rome for a day or two before making the onward journey because it would mean travelling for around a further six hours. You also need to take into account any interim time involved between connecting to your particular choice of transfer to the accommodation. Once you have found the company and flight choice that suits your particular needs, you can then check availability for an apartment with Curcio s.r.l. before you make your booking with them and confirm your flights and transfer arrangements.
One word of caution: Scheduled flights and flight times are apt to change from time to time (particularly with Ryanair's flights to Lamezia towards the autumn period), so keep checking your booking online to make sure that everything is as it should be. Flight companies are supposed to let you know of any changes that affect your booking but sometimes emails are slow to get through and it pays to be one step ahead. This then gives you the opportunity to book with another company, should a flight be cancelled, or organise connection flights and transfers should this become necessary. It's always good to have a contingency plan in place and, by being informed before the event, you can find a suitable alternative travel plan.
STOP PRESS!
We are very pleased to announce that Ryanair have now re-established their flight route from London Stansted to Lamezia Terme airport in Calabria. Flights commence from Wednesday, 13th April, 2011 and there are currently some very good deals available, although there are checked-in baggage charges to add on when you complete the payment process online. However, some of the flights during April and May are tax-free. This will be much more convenient for many UK visitors to the area, as well as for frequent travellers. It is wise to book your flights early, to avoid disappointment, as this route is expected to be very popular. If you are travelling from other parts of the UK, you can still take alternative routes with Ryanair, Easyjet and other companies to airports such as Rome, Milan, Pisa and Naples, with a view to taking a connecting flight to Lamezia or alternative transport to Calabria. At the time of writing, Alitalia also offer direct flights from London Heathrow to Lamezia and Monarch Airlines fly from Gatwick to Lamezia, but these are usually more expensive, generally speaking. The best way to find out which route is best for your needs is by doing a targeted search on the internet. (This information was added on 23rd February, 2011 and is more recent than the following updates with regard to Monarch flights.)
NEW ROUTES TO LAMEZIA TERME - IMPORTANT UPDATE:
N.B. We have just heard that Monarch Airlines have confirmed that they will be running a chartered flight on a Saturday morning from Gatwick to Lamezia Terme from 30th April, 2011 to 29th October, 2011. From the information we have received, we understand that, although this flight is being laid on primarily as part of a holiday package deal, one third of the seats on the 'plane will be made available to passengers who wish to book flights for themselves. If the flight is well-supported, there are plans to add a flight from Manchester to Lamezia. All of this is good news for anyone travelling to this area of Calabria, especially that of Amantea or Belmonte Calabro, as it is under an hour's drive from Lamezia Terme airport. (Information added 18 August, 2010).
N.B. We are pleased to announce that we now have confirmation of the proposed return flights from London Gatwick to Lamezia Terme, Calabria, which will be laid on by Monarch Airlines and will fly from Gatwick to Lamezia Terme, Calabria on a Saturday from April, 2011. You can check out additional information about these flights at Monarch's own website by using Google, which will also take you through to the booking section. (Information added 4th October, 2010.)
Now all you need to do is to pack your case and make sure you have enough Euros with you for the journey. Of course, you can now use certain card accounts, such as with the Nationwide or Post Office which will allow you to access your cash through a hole in the wall without having to pay commission - many people have found this to be a much more cost effective and secure way of accessing their holiday money, rather than having to carry a lot of loose cash around with them or paying commission fees to convert travellers' cheques.
We hope you have enjoyed our brief tour of Calabria and hope you will find the additional information regarding how to get there to be useful in your travel plans. There is very much more to see and experience than we have been able to include here but we hope you will be encouraged to go there and see for yourself. It is well worth the effort to explore, experience and enjoy all that what has been called "the real Italy" has to offer. We are sure you will fall in love with this captivating area of Italy, too!

N.B. Please note that some information in this guide re: flights and banking is now outdated, so please make a targetted search on the web in this regard to make sure you have all the up-to-date information you need before travelling. (Information added 5th May, 2015.)
Buon Viaggio!
If you have found this article helpful, perhaps you would kindly check the "Yes" box below. Many thanks!