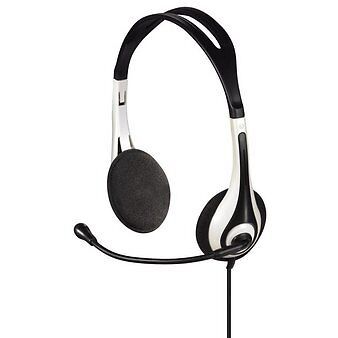 The days of having to hold a telephone receiver in hand to conduct any type of conversation across a distance are long gone. For that matter, the practice of holding a microphone during any type of performance, or of being rooted on stage behind a microphone stand, need no longer constrict the speaker, singer, presenter, or comedian. For vast numbers of professionals, and for casual users of voice over Internet protocol (VoIP), switching to a headset and microphone is the intuitively correct solution. There are several good reasons for doing so, not the least, the freeing up of a user's hands. Quality of communication, privacy, and freedom from distractions are a further three reasons to take possession of a headset with microphone.
This increasingly widespread item of equipment can be purchased from a number of outlets, most notably shops belonging to the electronics sector, whether small independent operators or large chains from computer retailers and from the largest department stores. All of the reputable brands are stocked by online retailers, and many manufacturers have online shopping facilities. Waiting times can vary considerably. Competitive prices are a hallmark of the massively popular auction site, eBay, where sellers in the hundreds list headset microphones.
Any prospective purchaser of an item, such as a headset microphone, who is likely to use it often, needs to explore all of the variables; most importantly, the ease of use, longevity, compatibility with other technology, sound quality, and comfort.
Why Own a Headset Microphone?
For using any type of recording application, for practising DJing at the computer, playing online games, visiting Secondlife, or any other virtual community, and communicating with fellow avatars, the headset microphone combination makes perfect sense. The alternative of talking directly into a laptop with a built-in microphone, or using a separate cumbersome mic on a stand, can involve physical contortions and almost always results in erratic overall quality. Clutching a mobile phone for any length of time greatly restricts personal freedom. The same goes for making calls on Skype, Google Talk, or using the speech facility provided by MSN. Probably the greatest advantage of a microphone that moves with a user's head is that the other party is unlikely to complain of fluctuations in volume as the voice comes and goes.
The list of uses for a headset microphone is extensive and includes professional purposes, such as running any type of enterprise, which outsources its services, for example, a taxi outfit, delivery company, or mobile cleaning firm. It can also be used when working for an employer from home, including: attending video conferences, carrying out training, checking instructions, and producing audio blogs and podcasts as part of networking. On a personal level, the opportunities to make contact through both video and audio with loved ones are enhanced when a headset and microphone are used. The caller can gesture, roam from room to room, and is altogether more likely to be relaxed and less hurried.
Types of Headsets and Microphones
Firstly, when examining the types of headsets on the market, it is advisable to establish which is preferable: a single earpiece or two earpieces. Headsets provide dual functionality over headphones, in other words, the two-way phone use and the stereo listening ability desired by all music lovers.
Headsets
While with a single-earpiece headset, stereo sound is not possible, a major benefit is that surrounding sounds are not cut out and a degree of multitasking can be achieved. Indeed, headsets intended for telephone use are monaural, rather than stereo, even when they have two earpieces, since telephone design comprises only one channel.
On the other hand, two-channel output is one of the features enjoyed by computers and advanced mobile phones, and for these, a stereo headset is recommended.
Microphone Types
Generally, a headset comes with a microphone arm. Slim and flexible, this arm ends in a small, usually barely visible, microphone. Another design, known as a voicetube, consists of a rigid, short tube ending close to the wearer's cheek.
Factors to Consider When Comparing Headset Mics
When considering the purchase of a headphone and mic set, consumers have a mind-boggling array of different models and styles to contemplate, not to mention price brackets. Naturally, the professional telecommunicator has different requirements than the social chatterbox.
User-Friendliness
Most headsets that have a microphone possess a flexible arm to which the microphone itself is attached. It can then float at mouth level or be levered upwards and out of the way when not required. The connections comprise two jacks on slender cables, one connecting to the microphone input of a laptop or PC, which is pink or red, and the other is plugged plugged into the earphone port, and is usually green. For gaming, a relatively chunky design of headphones is often favoured, fully covering both ears, since the ability to concentrate fully is a primary concern.
However, the user who works in a more public space is better suited to the discreet styling of the behind-the-head design, and those forced to wear the device for long periods should choose a featherweight version.
Compatibility With Other Technology
If intended for transmission through a PA system, for example, in order to deliver lectures or seminars, it is a good idea to spend rather more and purchase a wireless headset with a mic, but that also contains the capability to be plugged into standard equipment at venues, such as hotels and conference centres.
Headsets with a universal adapter should solve compatibility problems, and corporate travellers needing PC integration, strong call quality, and noise-cancelling are likely to opt for a Bluetooth headset.
Headset Comfort
Most important when it comes to comfort is the placement on the user's ear or ears, and around the skull. There are several designs from which to choose.
The Headband
The most conventional of all designs, the headband, as the name suggests, fits snugly over the crown of the user's head. An earpiece is attached to either end. The amount of ear covered varies enormously, but the headband style cannot be said to be discreet.
The Earhook
This very compact device hooks around one ear. It is generally supplied with two hooks, the buyer then has the choice of which ear to use. The mic is a short strut, jutting forward at cheekbone level. These models have their most obvious application as in-car, hands-free devices.
The Earbud
Earbuds sit inside the ear and have the advantage of being discreet, but the disadvantage is that they can fall out. Attached to slender, spaghetti-like cables, there is a danger that they may inadvertently be pulled or yanked, eventually breaking the connection. Those that have gel cushioning are thought to be extra comfortable.
Headset Sound Quality
Some commentators believe that basic VoIP headsets offer inadequate audio quality, and that the purchase of a headset amplifier is a must. Certain makes and models promise to provide superior sound, and there are a few features that are associated with enhanced sound quality in headsets. What tends to govern sound quality is the issue of direction.
Bi-Directional Headsets
The popular noise-cancelling type of headset is based on a bi-directional microphone, its field of receptivity being limited to two angles. Helpful when calling on Skype, only the user's voice, and sounds close to the user, are picked up.
Omni-Directional Headsets
What the omni type of earphone excels at is providing the full width of frequency, the drawback being that much extraneous sound enters the headset.
Uni-Directional Headsets
These can be the best choice when addressing an audience via a PA, as feedback is kept to a minimum.
Surround Sound Headsets
Usually supplied as a feature of certain heavy-duty headphones with microphone attached, surround sound is especially sought by gamers and keen music aficionados for whom creating a cave into which no other noise can enter is the principal requirement.
Buying a Headset Microphone on eBay
Faced with the dazzling assortment of headsets with attached microphones to be found on eBay, the shopper could be forgiven for pouncing on the first one and contracting to buy it. Equipped with a few facts, some reviews posted by experienced users, and the knowledge of how you principally want to use the equipment, the process of narrowing your search can begin. Keywords to choose from may include: discreet, compact, directional, single earpiece, and sleek. Brand names are another way to narrow down the search. For example, typing "comfortable Sony headset microphone earbuds" returns a restricted, manageable crop of listings. Most important when approaching the purchase of a new or used headset microphone is to read carefully the features and specifications quoted in the seller's description.
As a relatively small, lightweight item, postage and packing charges are generally low, and delivery times usually short. eBay is largely populated by trusted sellers with excellent feedback and prospective buyers can instantly see the status of any given seller.
Since there can be relatively little to distinguish one headset from another, a timely and well-worded enquiry about noise-reduction or adjustability to fit a user's head easily posed to the seller may be just the thing to clear up any doubts. Normally, a seller's reply is returned swiftly.
Conclusion
Given the massive role that communication plays in our lives today, having the right tools for the job makes undoubted sense. While most hardware today comes with built-in mic and speakers, ostensibly eliminating the need for these to be plugged in separately, the truth is that the purchase of a relatively cheap headset with microphone can spell the difference between inefficient communication and smooth proceedings. Privacy in a busy household or office is, of course, a chief reason to acquire this equipment, but more compellingly, it can also impact career progression or, for the self-employed entrepreneur, can directly increase profits.
Spending a little more money with the aim of preserving the hearing and the tempers of all concerned is something to consider. The strides being made each month in terms of sound quality are impressive.
Playing games against other users, making YouTube instructional videos, recording podcasts for various marketing strategies, simply gabbing with friends, or secretly recording an audio diary or personal song anthology: these are just a fraction of the uses that headset microphone owners find for their much-prized gadgets.