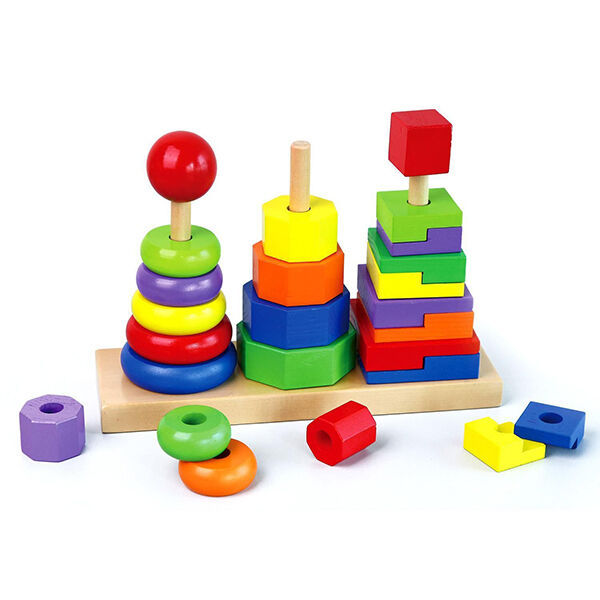 Educational toys are very beneficial for children as they encourage learning through play. There are many different types of educational toy available, catering to different age groups and teaching various important skills. The number of toys currently for sale can make searching for one seem like a difficult task, but this guide will help the buyer select a toy appropriate for the age for the child. eBay is an excellent source for educational toys due to the variety of toys on sale and the great value for money that can be found.
Why Buy An Educational Toy?
Educational toys stimulate a child's natural learning abilities and advance the development of academic skills such as reading, communication and mathematical understanding. Educational toy companies engage children's attention and make playtime a rewarding and valuable experience. They also instigate creative expression whilst stimulating the child's senses and brain activity.
* Baby's toys can assist with the development of motor skills, visual comprehension and understanding of language, as well as exercising muscles.
* Toddler's toys exercise hand eye coordination and encourage basic math understanding, and refine motor skills through construction and investigation.
* Educational toys for preschool children prepare them for the lessons they will be learning in class and are useful for building up the child's confidence in interacting with others around them.
Types of Educational Toys
Safety
It is important to pick a toy that is suitable for the child's age. Always check the recommended age range and consider the safety elements before giving the toy to the child. Small pieces are a choking hazard, and strings and cords are dangerous for very young children. Keep children away from all plastic bags as they also pose a choking risk. Ensure that the toy has no sharp edges or corners.
Infants (0-6 months)
As infants are mainly horizontal for this period of time, make sure to buy them something that remains at eye level and does not tower over them.
* Chewable rattlers and teethers can ease the pain babies experience when teething. They help the baby to prepare for solid food.
* Crib mobiles and mirrors, stuffed animals and music boxes are all important for the early stages of perception development and improve the babies understanding of the environment they're in. Toys with built-in noise responses such as rattles and squeaks teach babies cause and effect.
* Playmats and activity gyms with bright colours and vivid features will keep the baby occupied and gives them options for exploring, grasping and teething. Activity bars hung over the crib also help with perception development and will encourage the baby to learn to sit upright.
* Soft baby books are always recommended, as these will be the child's first encounter with words. It's important for the baby to become familiar with written language as this will help when they are learning to read and write at a later age. Make sure the book is made from soft but durable cardboard or cloth, as there's no doubt that the baby will use their mouth to examine it.
Infants (6-12 months)
At this age, babies will start sitting up independent of an adult's assistance. As their eye level rises buy them toys that compliment this and will persuade them to sit upright for longer. Infants at this age will interact with toys for extended periods of time and their concentration starts to become evident.
* Building blocks and stacking toys improve dexterity and educate in basic mathematical and physical skills. Blocks also teach how to follow step-by-step instructions and develop logical and rational thought processes.
* Playing with soft, lightweight, coloured balls further develops hand eye coordination and assists the baby in understanding physical shapes.
* Activity tables are great educational toys for infants as they help the child make the leap from sitting to standing. They provide great exercise and strength leg muscles. Activity tables have many built-in features to educate and entertain a child.
* Toys with wheels such as strollers can coach an infant how to crawl and then how to walk. These toys are important in building gross motor skills and improve the baby's understanding of balance.
* Strong hard cardboard books can be introduced, as the infant will be becoming more engrossed by the visual aspect of things they are given. Pop-up books and books with interactive elements such as sound buttons will develop concentration skills. Many of the books aimed for children at this age focus on the alphabet, numbers and the names of colours and animals.
Toddlers (1-2 years)
Toddlers should be given educational toys that will allow them to explore creativity while also developing basic skills such as speech and interaction.
* Introduce more complex construction toys such as railway sets and large simple jigsaw puzzles. Construction toys build on imagination and are key in expanding a child's attention span.
* Creative toys such as crayons, finger-paints and colouring books are beneficial to creativity and prepare the toddler for learning to write at a later age. This will also develop hand eye coordination and motor skills. Make sure that the crayons or paints are non-toxic and age appropriate.
* Role-playing toys such as kitchen sets and toy tools assist with the understanding of the adult world. These toys prepare a child for later life.
* Toddlers can be introduced to water toys used in bath time.
* Outdoor toys such as slides, swings and climbing sets all provide great exercise and teach toddlers basic motion concepts.
* As the child grows they will begin to choose books that have more words and pictures in them, and less interactive elements. Make sure to have a steady supply of age appropriate reading material to keep the toddler engaged.
Preschool (3-5 years)
As the child grows they will begin to exhibit signs of greater independence and will be happy to be left alone to play on their own or in the company of other children. It is important to continue to introduce the child to educational toys during this period, as this will also benefit in preparing them for school.
* Construction toys such as Lego offer a higher degree of complexity while encouraging the child to be more imaginative during their playtime. Always ensure that toy is age adequate as a lot of sets contain small pieces that can be choking hazards.
* Board games such as snakes and ladders aid in further brain education and the development of social skills and group interaction.
* Transport toys such as tricycles, bikes, scooters and pedal cars all make excellent toys for children aged three and up. These will teach the child simple mechanics and provide good exercise.
* Introduce musical instruments to stimulate creativity and continue with audio sensory development.
* As children begin to learn to read and speak they will understand and enjoy stories more complicated than they are used to. Moral tales such as those found in Aesop's Fables are famous for being popular with young children all around the world.
* There are a large number of electronic educational game systems such as the LeapFrog Leapster GS available to buy today. These systems mimic other well-known consoles such as Nintendo or Playstation, but the difference is the content is 100% educational. Introducing children to these types of toy is a smart move as it stimulates interest in technology and offers an interactive element that often isn't found in other types of toy.
Searching For Educational Toys On eBay
To start a search for educational toys, first head to eBay. From there, click on the All Categories tab to be brought to the Categories page. Scroll down to the Toys heading and click More. Click Educational Toys to be brought to the related listings page. Use the Categories table found on the left of the page to refine the search and make it more precise.
The Sub-Type filter allows buyers to search for toys specific to a certain lesson or skill. These include the Alphabet, Reading/Writing, Maths, Music and Special Needs. Scroll down to the Age Level filter to list items relevant to the child's age only. Doing this will quickly remove any toys that are not suitable. If searching for a particular product, use the Brand filter. Some of the brands for sale on the site include VTech, LeapFrog, Fisher Price and Crayola.
Buyers can use the Specific and TV/Film Character filters to find popular licensed educational toys. The Condition filter is for searching for New or Used toys exclusively. Toys sold on eBay are listed as Bid Now or Buy It Now. If a toy is listed as Bid Now then it is up for auction and will be sold the highest bid at the end of the auction. If the toy is listed as Buy It Now, it is being sold at a set price on a first come first served basis. Scroll down to the bottom of the page to move onto the next set of listings or to change the amount of listings shown per page.
Item Page
Each toy sold on eBay has its own individual item page. Access this page by clicking on the title of a listing. The item page contains information regarding the condition of the toy, the time left to bid and the current bid, postage details and location of the toy. There will also be a photo of the toy in its current state and the Ask A Question function can be used to request additional photos or more information.
Buying With Confidence
Spend some time researching the seller and their past transactions on eBay. If they have received a high percentage of negative feedback then try another toy listing. See what kind of comments other buyers have left for them. Remember, this item is intended for a young child so it needs to be safe and as described. The Buyer Protection Programme protects all eBay users, and the Resolution Centre can be used if any problems are encountered when dealing with a seller.
Conclusion
Educational toys are important in the development of a young child's basic skills and understanding. There are many companies dedicated to creating toys that not only teach, but also engage and entertain the child. When searching for a toy take into account the child's age and what aspects of learning you want the toy to assist them with. eBay offers a great selection of educational toys at excellent prices, so be prepared to spend some time searching if you do not already have a brand and make in mind.