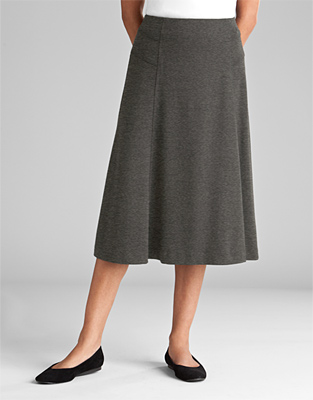 The A-line skirt is considered a classic staple of the modern woman's wardrobe. There are many styles of skirt available for women to wear, however few are as universally flattering as the A-line skirt, which flatters many body types. The A-line skirt has undergone a progression in style since Christian Dior first coined the term for his 1955 spring collection. It is available in a number of lengths, styles, and materials that better flatter different body types. The A-line skirt received its name from the A-shaped silhouette it creates out of the body. When properly sized, an A-line skirt fits snugly around the hips and then gradually flares away from the body to create the illusion of a capital A. By the end of this guide, women should feel confident in their ability to choose an A-line skirt that will flatter them and their body. These skirts can be purchased at most department stores, through online retailers, or through eBay, which offers a wide selection of styles including ones from previous seasons.
History of the A-Line Skirt
Christian Dior is considered the inventor of the A-line skirt. However, skirts with similar silhouettes long predate his 1955 fashion show. The reason the invention of A-line skirts is attributed to him, is because he is the first person to use the term in relation to the style. Historically, many women's dresses and skirts would fall under the modern classification of A-line skirt, since they were fitted through the hips and then widened as they approached the ground. Christian Dior's A-line skirt, however, is closer in form to the modern A-line skirt, as it only extends slightly past the knees rather than reaches the ground.
Yves Saint Laurent, or YSL, brought the A-line skirt closer to what is worn today, by using darts and seams rather than pleats to create the A-line silhouette. This style of skirt remained a popular choice for women throughout the 60s and 70s, however during the 80s, it was considered a fashion faux pas. In the 90s, retro fashions became popular and the A-line skirt returned to the fashion world and has continued to hold its place as a staple fashion piece for women.
Choosing the Right A-Line Skirt
The right A-line skirt will flatter almost any body type, however, not every A-line skirt will flatter every woman. The length of the skirt, the style of the skirt, and the weight of the material can all affect how it flatters a woman's body. Petite, slender women may find that an A-line skirt made out of a heavier, more structured material suits their body type better, while women who are pear-shaped may want a material that is softer and flows to draw attention away from their hips.
Length of Skirt
A-line skirts are available as mini-skirts as well as longer skirts that his slightly above or below the knee and floor-length skirts that trail on the ground without heels. An A-line skirt that reaches below the knees will help disguise fuller hips and bottoms. A-line mini-skirts are most flattering on women with long, shapely legs. Women should select the length of A-line skirt based on what looks best on them, as well as the appropriateness for the situation.
Style of the A-Line Skirt
Women should consider the appropriateness of the style of A-line skirt they are choosing to wear for the event they are dressing for as well as their body type. A-line skirts that are cut close to the body will look more professional and formal than those that have a more dramatic flare. Decide on the purpose of the A-line skirt and where it will be worn before selecting a skirt. Slim cut A-line skirts gradually widen away from the hips to provide a sophisticated look. Full cut A-line skirts will have a more drastic flare, occasionally including hidden panels that provide an extra swish when walking. In addition to slim cut and full cut A-line skirts, there are pleated styles. Pleated A-line skirts are still fitted through the hips before the pleat begins.
Material Choice
Heavier fabric materials work well for women who are not curvy, because the stiff material provides structure and support to give the illusion of curvier frame. Lightweight, breezy fabrics, in particular ones with prints, will look casual and may not be appropriate to wear to an office. Medium weight fabrics will provide the most versatility for wear, as they will have some flow to them while still maintaining the structural integrity of the design.
Colour Choice
A-line skirts are available in a variety of colours. Consider purchasing skirts meant to be worn at the office in a neutral colour such as grey, black, navy, or khaki. These neutral colors will not only look professional, but can easily be paired with a number of tops to create a variety of wardrobe options. Patterned skirts, or skirts in bright colours, may look less professional and may also have a limited number of tops that can be paired with them.
For casual skirts, colour options are opened up for women. Bright colors will draw attention to the lower half of the body, so women should keep that in mind when selecting an A-line skirt. The rule for patterns is not different when selecting a skirt vs. selecting a top or dress. Larger women will be better off choosing a pattern with a small print, while smaller women can get away with a larger print.
How to Wear an A-Line Skirt
An A-line skirt fits snugly around the hips and bottom by usings seams and darts to keep it snug against the body. A skirt that fits too tightly may cause an undesirable muffin top above the waistband. If this is a concern, women should consider purchasing a skirt that is designed to sit higher on their waist so that it is still long enough to reach the desired length. Women's sizing measurements are based on their bust, waist, and hip measurements.
| | | | | | | | | | | |
| --- | --- | --- | --- | --- | --- | --- | --- | --- | --- | --- |
| Size | 4 | 6 | 8 | 10 | 12 | 14 | 16 | 18 | 20 | 22 |
| Bust (cm) | 76 | 78.5 | 81 | 86 | 91 | 96 | 101 | 108.5 | 116 | 122 |
| Waist (cm) | 58 | 60.5 | 63 | 68 | 73 | 78 | 83 | 90.5 | 98 | 104 |
| Hips (cm) | 83.5 | 86 | 88.5 | 93.5 | 98.5 | 103.5 | 108.5 | 116 | 123.5 | 129.5 |
Many women will find that the size they wear differs by designer, so it is important to look at the sizing charts from a particular designer rather than generic sizing charts before ordering an item. Women should also read the reviews of other women on the product who will comment on if the skirt fits true to size and length.
Consider pairing an A-line top with a fitted blouse or suit jacket for a formal setting. A-line skirts can also be kept casual with a fitted t-shirt or tank top. They should not be worn with loose-fitting tops. Consider selecting a shirt in a cheery colour when wearing a neutral coloured skirt. Accessorise the skirt with a fashionable belt and a pair of heels.
How to Buy an A-Line Skirt on eBay
Once you have decided to purchase your A-line skirt through eBay, your first stop should be the eBay homepage. From here you will be able to type "A-line skirt" directly into the search bar. This will provide you with an unfiltered list of A-line skirts available for purchase on eBay. From here you will be able to use the navigational bar to filter through sizes, lengths, materials, styles, and colours to better find the skirt you are looking to purchase. You will be able to modify your search from any page on eBay by typing in additional filter words, such as by searching for a "pleated A-line skirt". Be careful not to be overly specific with your search filters and phrases, as the more specific you are, the fewer the results that will be returned.
Before submitting a bid, there are several things you should learn about your seller. First, look at their return policy. In the event that the skirt does not fit or does not flatter your figure, you will need to know what steps should be taken to return the item. Also look at the location the item will be shipped from as items that are shipped from nearby will have shorter shipping times. Finally, look at the seller's feedback score. Sellers who have have consistently received four and five star ratings are known as top-rated sellers.
Conclusion
The A-line skirt has been a near-constant staple of women's wardrobes since Christian Dior first introduced the style in 1955. This style of skirt can flatter any woman's body type with the right selection of style and material. The A-line skirt fits snugly around the hips and bottom before gradually widening as it extends toward the hemline. This classic A-shaped silhouette can be both casual and professional with slim-fitting A-line skirts tending to be more professional than dramatically flared A-line skirts. Every woman should at least have one A-line skirt in their wardrobe. For women who only plan to own one skirt, they may wish to consider purchasing one in a neutral colour, as it will go with a larger variety of professional wardrobe choices. Always pair an A-line skirt with a top or blouse that fits snugly against the torso, rather than a loose-fitting shirt. The largest selection of A-line skirts can be found through eBay.