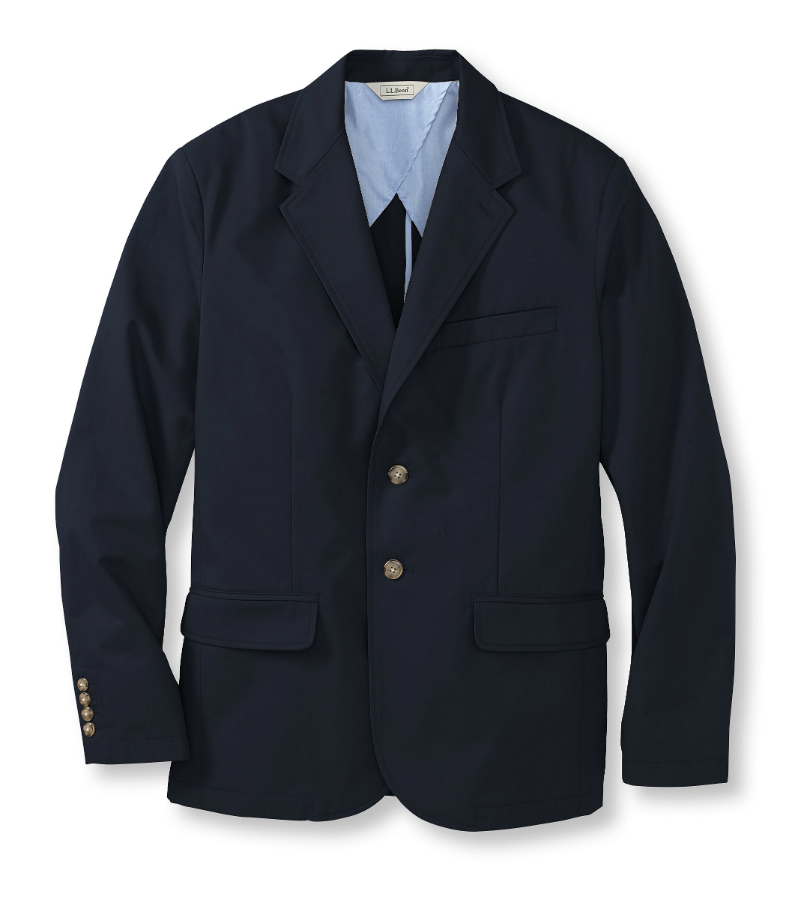 A blazer, no matter the colour, is one of the most important pieces of a man's wardrobe. Though some maintain that blazers are only for wealthy city-dwellers, in fact, anyone can wear a blazer, whether rich or poor, urban or rural. The blazer's broad appeal lies in its versatility: it is not a suit jacket, and it is neither completely formal nor completely casual. Rather, it is a garment that is suitable for a variety of occasions that may require either formal wear or informal wear. It is something that can be worn when one wishes to dress up a casual outfit, or to dress down a formal outfit, such as a pair of dress trousers and a tie.
Although a blazer is not a substitute for a suit jacket, it can be worn with a tie in the same way as a suit jacket. It can also be worn without a tie, with everything from a T-shirt to an open-necked dress shirt. Some men prefer blazers to suits because they find a suit uncomfortable, or do not wish to look overly formal. A man's blazer can be purchased at various menswear retailers, department stores, and through the online auction website, eBay. Before purchasing a man's blazer, it is wise to understand the history of blazers, the various styles of blazers, how to wear a blazer, and how to choose the right one.
History of Blazers
Depending on where you check, the history of blazers is somewhat diverse. The term "blazer" actually originated in the mid-17th century to describe something with radiance, or blazes, and since most of the first blazers were brightly coloured, the term blazer came into use. Also, depending upon the part of the world, blazers can be quite different types of apparel. A blazer is sometimes said to be a jacket, often dark blue, that does not form part of a suit but is considered appropriate for formal wear or as part of a uniform. For example, school children and athletes may wear a blazer as part of a uniform. The first definition is derived from the red blazers of the Lady Margaret Boat Club in the early 19th century, which is a rowing club in Cambridge. This blazer was more of a sports jacket than the blazer recognized today. The history of blazers also includes the sailors and captains of the Royal Navy in the mid-19th century who would dress in blue and white striped jackets. From the various definitions of blazers and their origins, it is evident that blazers are worn for many reasons by a wide range of people.
Styles of Blazers for Men
There are many styles of blazers available, each with one or more distinctive characteristics. According to geographic origin, the most popular blazers are American, English, and Italian blazers. The chief distinguishing features of blazers are their fabric and cut.
Fabric
Blazers are available in a variety of different fabrics. It is important to choose a blazer of a fabric that suits the needs of the man wearing it. Fabrics present different looks and can make the difference between a more casual or formal appearance.
Seersucker
Seersucker is a fabric that is usually worn during the spring and summer seasons. It is an all-cotton fabric, which is usually striped or checked. Known to be of American origin, this blazer also has a yachting history. Seersucker blazers usually have stripes of white and another colour, like blue. Seersucker blazers are often worn with chino trousers.
Tweed
Tweed blazers have a history drawn from the English countryside. They are quite popular and have been adopted by people in different parts of the world. The fabric is heavy, quite thick, and it generally lasts a long time. It is more suitable for cold seasons. Tweed blazers usually complement jeans and boots, but are often worn as part of a semi-formal outfit with slacks and a tie. The most popular colours of tweed blazers are light or dark brown and khaki. A tweed blazer should be fitted to the body, because wearing one that is too large just adds to the weight of the fabric.
Plaid
Plaid makes for a unique blazer due to its pattern. Classic without being old-fashioned, the bold pattern of the plaid blazer also makes it one of the most difficult blazers to pull off. It is best paired with cotton trousers or jeans and a solid-coloured shirt.
Velvet
Velvet adds sophistication to a blazer. Made of woven tufted fabric with cut thread proportionally distributed to create a raised, fuzzy surface, or nap, velvet has a distinctive, smooth feel. A traditional, classy, yet unique look can be achieved with a velvet blazer in black or navy blue.
Corduroy
Corduroy is basically velvet in ridged form. It has tufted cords or twisted fibres that when woven, lie parallel to each other giving it a distinctive parallel-cord pattern. It looks best in dark colours like brown, maroon, and navy blue. The thickness of corduroy makes it a good choice for cooler climates.
Cut
There are three basic type of blazer cuts: American, English, and Italian. Blazer cuts differ in the manner in which the blazer lies on the body, the shape and placement of the lapels, and the number and placement of buttons and pockets.
American Style
The American-style blazer is usually navy blue, with two buttons, patch or flap pockets, and soft shoulders. Though this blazer typically has one centre vent at the back, some styles include two.
English Style
The English-style blazer has shoulders more structured than the traditional soft-shouldered American style. It could be either single- or double-breasted, and the blazer usually includes two vents, and three buttons on the front.
Italian Style
The Italian-style blazer is generally made from lightweight material, and is less structured than either the American or the English blazer. It is very flexible and contains softer shoulders than the American style. This type of blazer can be vented or unvented, and is available with two or three buttons.
What Can be Worn With a Blazer
Trousers that generally complement a blazer, include: denim jeans, grey flannel, khakis, and also white cotton slacks. When wearing blazers, avoid wearing shredded jeans, skinny jeans, jeans with patches and baggy jeans because they present a sloppy appearance and may be too informal. Some people think that grey flannel trousers are the best partner for a blazer jacket. Grey flannel trousers have been a top choice to pair with a blazer for many decades. In regard to tops, plain shirts, plaid shirts, and V-neck cardigans are generally considered to be the best complements to a blazer.
How to Choose a Blazer
The main elements to consider in a blazer are the vents, single-breasted or double-breasted style, size, buttons, and fabric. Blazers vary by number and position of the vents. Each has its own qualities, for example, the double-vented blazer allows for free movement, while the single vented blazer leaves little room for movement. On the other hand, the unvented blazer has a characteristic feature of causing restricted movement. Unvented blazers are considered more formal, while single-vented blazers may be better for larger men than double-vented, as the vent can add bulk. Whether a blazer is single- or double-breasted, it is usually the first element of the style that is noticed.
The fabric is also an important feature of which to take notice. Fabrics not only present a unique pattern, but also add texture, durability, and thickness. Some of these are not only important for their aesthetic appeal but should also be considered for the type of occasion in which they are worn. Thicker fabrics are best suited for cold seasons, while lighter fabrics are usually best worn in the summer. From those described above, seersucker is the most breathable fabric, and tweed is the least breathable.
When trying on a blazer, be sure to check that it fits. Start from the shoulders and make sure there is space, but not too much, for easy movement of the arms. Also, there should be space in the chest so that the blazer can be buttoned. Regarding the sleeves, they should reach the wrist bone and show about 0.5 cm of the cuff of the shirt. The length of the blazer is also better if a man's backside is completely covered.
How to Buy a Blazer on eBay
You can find a lot of men's blazers on eBay in a variety of styles, sizes, colours, and brands. You can begin your search for men's blazers on any page of eBay. Just start by typing the name of the item for which you are searching and the specific type you desire, such as light or heavy material, single- or double-breasted, vented or unvented. In case you do not know the particular type you want by name, you can type "blazer" along with other descriptions according to your taste. For example, type "black plaid men's blazer" into the search bar. You can view all of the results consisting of jackets that are new and old, which correspond to your search terms, and then select the specific size that you want. Do not hesitate to contact the seller if any relevant information about the blazer cannot be found on the seller's page.
Conclusion
When deciding on a blazer to purchase, it is important to know the activity or occasion for which you are going to wear it. One should check his size at home before going to a local shop, or online, to buy a blazer. If you do not know your size, you can check online for instructions on how to calculate and find your measurements. You can even go to a tailor to have your exact size measured appropriately by a professional. Another consideration when choosing a blazer is the climate. It is best to buy a blazer made with a thick fabric to wear during the cold seasons, and another with lighter fabric to wear during the summer. When you decide to search for the perfect blazer of any fabric, style, and cut turn to eBay, which has a large collection of men's blazers sold by many reputable and distinguished sellers.