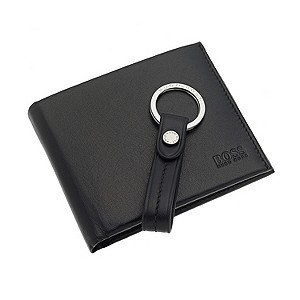 The average man spends far less time shopping for apparel than women do, and when it comes to accessories, they dedicate even less time and often end up purchasing the first thing they see. A man's wallet is like his most important tool, it goes everywhere with him and neatly organises the things such as money and credit cards that he has to carry around every day. Since it is an important tool that is being used all the time, some thought should go into which one to purchase.
Wallets are small, compact cases that hold a multitude of small items that are needed on a daily basis. Identification, money, expenditure cards, membership cards, business cards, and perhaps photographs as well are all items that cannot be lost because people need them to get through the day. This guide will assist men in purchasing designer wallets by helping them understand what to look for. Understanding what their options are when it comes to wallets will help them quickly make a selection and eliminate lengthy shopping times.
The History of Wallets
The name "wallet" has existed since the 14th century and it referred to a sack or bag that was used to carry items. It is believed by some that the origin of the word may have been derived from the satchel that the Greek gods Hermes and Perseus used to carry the head of Medusa in. Scholars such as A.Y. Campbell have determined that wallets from ancient Greece had much different uses than they do today. Back then, wallets were more like a survival pack; they were used to carry provisions that were needed on a regular basis.
The Renaissance civilisation was one of the first to use their sacks for carrying currency like stones and jewels with them. The bags were called "bowgetts" which translates into "budgets". The leather pouches were designed to tote around account books, small items that were daily necessities, cash, coins, and jewels. The modern day wallets with bi-fold designs and card slots were not standard until the 1950s.
Types of Designer Wallets
There are various kinds of wallets that a man can choose between. The majority of men have one wallet and they keep it for several years until it starts falling apart. There are no right or wrong decisions when selecting a wallet. The only requirement is that they fit the lifestyle of the purchaser. For example, men who keep their wallets in their pockets usually prefer smaller, more compact ones that won't create a big bulge in their trousers. The following chart discusses each type of wallet and where they are best kept.
| Type of Designer Wallet | Description | Places to Keep Them |
| --- | --- | --- |
| | This wallet zips all the way around and opens up like an accordion to reveal several slots for cards or folded money | These can be thick when filled with cards or money. Best stored in a coat or shirt pocket |
| | Also called billfolds, these fold in half and fit full notes. May or may not have card slots | Noted for being fairly thin. Can be kept in trouser pockets |
| Card Holder | A very small wallet with a few slots for cards and a pocket for folded money | These are small and cannot hold very much so they fit well into trouser pockets |
| | Shaped like a chequebook, also called a coat wallet. These are designed to carry full notes without bending them. Chequebook wallets hold the most amount of items because of their larger size | Will only fit into a coat pocket. They are too large for trouser pockets and they become thick when filled |
| | Coin holder wallets zip closed and have one or two pockets that can hold loose change or folded cash | If the holder is not too full, it can fit into trouser pockets, otherwise, it will have to go inside the coat or remain in the vehicle |
| Travel Wallet | Very large and designed to hold large amounts of cash, credit cards, and other items such as passports | Will only fit in a briefcase or large bag |
| | Trifold wallets have three sections that fold together. The cash is bent in two places when the wallet is closed | These are commonly worn in trouser or coat pockets |
After choosing which type of wallet will work best, the next step is to determine what features the wallet needs.
Designer Wallet Features
When it comes to picking out a wallet from the shop, there are other factors to consider as well. Each type of designer wallet can come with a variety of features. What features to look for will depend on what is being held in the wallet. Those who want quick and easy access to their I.D. may want an I.D. insert in their wallet, and men who use mostly cash may want a coin pouch.
| Designer Wallet Features | Description |
| --- | --- |
| Card Slots | Nearly all wallets have card slots, but they vary in the number of slots. It is important to pick a wallet that has enough room for credit cards, membership cards, I.D.s, and discount cards |
| Change Compartment | On billfolds, tri-folds, and chequebook wallets, these are typically small slots in the wallet that close with a zipper |
| Chequebook Slot | The larger wallets, such as the coat wallets sometimes have a large slot that fits a chequebook |
| Folded Note Pocket | Compact wallets have money slots that require notes to be folded |
| I.D. Slot | A slot with a clear front that is specifically designed for identification. When the I.D. is in the slot, the front is still visible through the clear plastic. This sometimes eliminates having to take the I.D. out to shop people. One can simply open up the wallet to show them |
| I.D. Insert | The insert is similar to the I.D. slot in that it has a clear front. However, an insert can be fully removed from the wallet by sliding it out |
| Non-Folded Note Pocket | Chequebook wallets have elongated slots for notes so that the cash does not get folded |
| Picture Insert | Clear plastic slots that fit wallet-sized photographs. They easily slide in and out of the wallet |
It is important for men to keep in mind that certain features will add more to the width of the wallet than others, making it more difficult to fit in pockets. Coin slots and insert are examples of features that should be avoided if looking for a smaller wallet.
Wallet Materials
Common materials that wallets are made with include leather, faux leather, synthetic, suede, patent leather, fur, and canvas. The materials vary in durability and formality. For example, leather is durable and formal, while canvas is not as durable and is very casual. Men should select the material based on how it looks and whether or not it will hold up against wear and tear.
Where to Shop for a Man's Designer Wallet
Designer wallets are made by name brand companies. In order to find them, men have to go to shops that have less generic items and more products that are designed by well-known names. The larger, higher-end shops are usually the best local place to look because they will have a large selection available to look through. However, buying a wallet is like purchasing a new car, it has to be just right. This could entail having to travel to several different shops in order to find a wallet that is just right.
This is the reason that many men find it much easier to shop online from the comfort of their home. By shopping on websites like eBay, people can view a much larger selection of wallets and they will not have to waste time and petrol driving to a bunch of shops. Because they get to stay at home, eBay is also the easiest solution for the men who do not enjoy shopping.
How to Purchase a Man's Designer Wallet on eBay
To begin shopping for men's wallets, go to the eBay homepage and type what you are looking for into the eBay search bar. You can do a general search like "men's wallets", or you can be more specific by typing "men's chequebook wallet", or "men's leather wallet". After you have clicked the Search button, all the listings of the wallets will appear on the page. Since there are usually so many to look through, it is a good idea to narrow down the items. You can do this by clicking on the brands you are interested in, the material you want, the style of the wallet, and your prefered colour. There is also the option to enter in your price range so that it is easier to stay within your set budget.
Conclusion
Just about every man, has a wallet and it stays with him throughout the entire day, every day. Wallets are as much a part of everyone's life as mobile phones are. For most people, accidentally leaving their wallet at home is disastrous. Without it, they cannot purchase anything or even drive because their driver's license is in it. Since wallets are such an important part of everyday life, they should be selected with great care. Purchasing the wrong type of wallet could result in not being able to carry it in the preferred pocket, and getting the wrong features may mean that there is not enough room for all of the plastic cards that men use on a daily basis. By using the information provided in this guide, men can shop with confidence and select the wallets that match their lifestyle.