A Novices Guide To Buying Your First Boat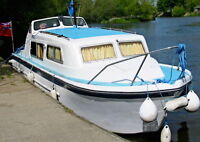 our Norman 23 built circa 1971
This guide assumes that you want to buy a boat that is more or less "ready to go", for pleasure use only on the inland waterways and non tidal rivers.
As this is a very general guide, you will need to find out more specific information about all the relevant local information and costs that applies to you and your boat and pertinent to your area and region.
Buying a used boat is not to disimilar to buying a used camper van, with some very obvious differences, but the same logic applies.
Timing The Purchase
This is debatable, but generally speaking the asking prices for boats are less at the end of the season in October than at the beginning of the season in April. So have a good look around from October to the beginning of January for that bargain buy.
Choosing A Boat
As this is a guide for the inland waterways, your boat should be of suitable dimensions and type for use on your local waterways. Generally, it should be narrow beam variety of boat around 6'10" wide, with a draft (below water line) of around 2'0" and 6'0" air draft (height above water line). Much larger than this, then your boat might not fit into the canal locks or be able to pass under bridges. Maximum boat sizes vary from area to area so check first with your waterway authorities for your local conditions to confirm which boat type will be suitable.
Ask yourself what you require of the boat in terms of berths for "crew", cabin space, personal hygiene, cooking and galley facilities, heating, food refrigeration, cockpit space and seating arrangements, etc..
Boats come in all shapes, sizes and construction material, i.e., wood, steel, aluminium, plastic. The chances are that you will opt for a boat of glass reinforced plastic (GRP) construction. This guide assumes the chosen model is of GRP construction.
Unlike cars, boats can last a lifetime if proper care and maintenance is carried out regularly. So age is of much less importance than the overall condition of the boat.
Proof of ownership is a very tricky issue. There is no official log book system in place where you can check. So buyer beware! Try to contact the relevant licensing authority who might inform you of ownership etc., but they are governed by the Data Protection Act. Some of the BW or EA staff are more forth coming than others.
Almost by instinct, you may well decide on your boat, upon first sight. Do not allow your heart to rule your head and take the time to check the boat out as thoroughly as possible. If it sounds to good to be true, it probably is.
Ask the seller about the boats history, i.e., any paperwork, previous owners, service and maintenance, repairs and refurbishments carried out. Ask the seller why he is selling. Gauge the body language or awkwardness of the response. If you start to feel uncomfortable about the seller or the boat, then leave it alone.
External Hull & Decks
It is preferable, but not essential, that the boat has its' original gelcoat finish. This is quite easy to tell as there should not be any brush marks visible, at all. If the boat has a painted finish then try to find out what type of coating has been used as this will become important when re-painting time comes around for choice of paint type.
Have a good, close look at the finish and check for damage, any GRP repairs carried out, GRP cracking and signs of GRP bubbling (Osmosis), etc.. If there are signs of bubbling (Osmosis) then refer to a specialist marine surveyor. Minor "war wounds" are easily repaired with the appropriate materials.
General dirt and marks can usually be dealt with by either simple cleaning or surface finish cutting chemical products.
Look down the lines of the boat. They should look symetrically similar, but opposite, on both sides. Any serious irregularities should be checked by an expert. Sometimes, you may spot that the GRP is rippled slightly. This is not a serious issue, just a slightly poor finish quality. This is common even on new boats!
Check the window frames and fixings for signs of excessive corrosion. Check the window seals for signs of cracking and breakdown. Check the windows and windscreen are not broken.
Check the windscreen to deck fittings are secure .
On the lower part of the hull at each side, check that the rubbing strakes are in good condition and not "hanging off". Cracking around these could be a source of water ingress into the boat.
Check the transom of the boat. This is the part that the outboard motor is attached to. There should not be any signs of damage or cracking in the area.
Check that the motor is securely fitted to the transom.
Check that the hull to deck joint has not cracked or showing signs of damage.
Check the vents, deck fittings and grab rails. These are usually chrome, stainless steel, brass or wood. They should be in good condition, sealed to the deck and not corroded or rotten.
Check the navigation lights on the mast, port side, starboard side and stern. They should all be sealed and working. If any have condensation forming on the inside lens then the seals are leaking.
If fitted, check that the horn and spot light(s) are in good condition and working.
The cockpit is usually covered with a canopy that has entry points and pvc windows for bad weather cruising. Check that the canopy is not damaged or split. Check that the seam stitching is intact. Check that the canopy to deck fittings are in good condition, all present and the canopy is secure. Check that the removable entry point side and end sections zips or buckles are not broken. Check that the pvc windows are not split or damaged. Check the canopy support rails and anchor points to the deck are in good condition. Generally speaking, a replacement canopy costs around £500 to supply and fit.
Outboard Engine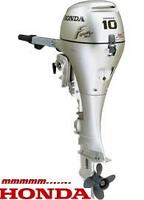 Generally, for a non tidal inland waterway 10 -15 hp should be sufficient engine power. However, get advise from other boaters regarding the best engine to boat match for the waterways you intend to use. An over powered boat is just as awkward as an under powered boat.
A four stroke engine is more desirable and is preferable to a two stroke. They run smoother, quieter and are more fuel efficient. Two strokes engines thrive in the high rev range so choice of outboard is important but not essential. Both types can either be manual start or electric start. Electric start is preferable and more convenient. As a guide to fuel usage on your voyage, whilst running, my 20 hp two stroke engine uses approx. 5 litres per hour whilst a 10 hp four stroke engine uses approx. 2 litres per hour. I managed with a two stroke for a whole season before buying a replacement four stroke engine. A replacement engine (2006) will cost around £2500 to supply and fit.
Have a close look at the steering and throttle linkages and exposed wiring on the motor. Whilst looking, get someone to turn the steering wheel and operate the lever controls to the extremes (with engine off) to check the mechanisms appear to behave correctly and operate smoothly. Check the condition of the fuel tank and fuel lines. There should be no visual signs of damage or leakage. Pay particular attention to the flexible fuel line and connectors at each end. The pipe should not be split or cracked and the connectors should be sound.
Tilt the motor head towards you and inspect the propeller and bottom leg. There should not be signs of damage or excess propeller wear. There may be an add on rudder fitted which would assist steering stability. Check that this is not damaged or corroded. Tilt the motor back into the water.
Start the engine and check that there is a continues flow of water coming from the "tell tail" pipe. If this flow is "spitting" or appears interrupted then the engine could over heat and requires further attention. Listen to engine for smoothness of running. Four stroke engines run smoother than two strokes, at tick over. All engines run a lot smoother when "hot". If it sounds like "a bag of bones" then it probably is!
Cockpit Area
At the helm you will find the captains chair, steering wheel, engine lever controls (F-N-R), ignition key switch, any gauges fitted, navigation light switches, etc., and maybe even the fuse board for the electrical system. This is where most of your cruising time will be spent so make sure you sit on the chair and feel comfortable with the seating, all round view, set up and controls.
Usually, the crew seating here is pvc covered cushions. The water tank, gas box and battery box are usually in this area, sometimes under the seating. Remove the seating and inspect the tanks, connections, batteries, wiring and piping for signs of corrosion and condition.
Lift the decking and check the bilges are dry and clean below. Some craft types have a self draining cockpit. Ensure that the drains are clear. Sometimes though, there may be signs of rain water but this would be minimal and caused by the open transom end. If the vessel type requires a bilge pump, then this should checked for automatic operation.
Importantly, familiarise yourself with the location and operation of the gas shut off valve and battery master switch.
Use a "floating" key ring to keep all the boat keys safe.
Cabin & Interiors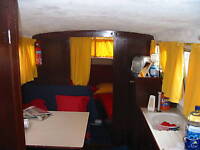 after the DIY refurb work
Immediately on entering the cabin, you should feel comfortable and at home with the layout of the cabin and galley area, the facilities and with the quality level of the interior furnishings and fit out. Ensure it fulfils your needs as this will be your home whilst you are cruising.
The level of equipment and fit out varies vastly so we cannot go into detail of every appliance or feature you are likely to find or want.
You should ensure that all equipment, lights and fitments are in good condition and are in sound, working order.
Lift floor boards to expose the hull and check the boat is dry. Water in this area is bad news.
Look in cupboards and check for dampness and signs of water ingress.
Check around the windows to ensure there are no leaks. Also check that any fabrics or furnishings directly below windows are not damp or wet. Sure signs that there are leaks.
Operate the windows to ensure they open freely and smoothly. They are usually a bit stiff but this is usually because they are weather tight. Ensure that they are not overly stiff or seized.
At the bow end or Vee, check the deck underside for water ingress from the external deck fittings. Again, damp furnishings and fabrics are a sure sign.
The storage area under the Vee berths are usually where any ballast is put. Ballast is used to trim the boat to ensure steering stability of the craft. So you should not be concerned when you find a dozen sandbags in there. Again, expose the hull and this should be dry.
Open the escape hatch, normally fitted into the Vee deck and secured with quick release catches for fast opening. Make sure it closes properly. This is another area that could suffer fron water ingress, so make sure it is sound.
The Test Drive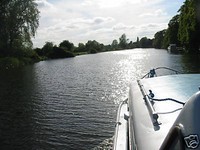 Great Ouse at Houghton
Insist on taking the boat for a test drive. The seller may wish to drive, but you can still observe.
Make sure that the engine responds to the controls. Engage reverse, neutral and forward and ensure that the engine responds accordingly and effectively. Importantly, reverse is used to stop the boat and is just as important as forward. If the engine revs seem high when compared with the boat speed then there may be a problem or the motor may be under powered. If the engine is almost idling and the boat is racing away, then the boat may be over powered.
There should not be any excessive noise or vibrations from the engine. If there is then the engine may need some attention.
Boats steer differently from cars so dont expect the boat to keep a dead straight ahead without some steering adjustment. Check how the boat responds to steering wheel movement. It should turn when asked to and keep a reasonably straight line without to much steering wheel adjustment. Try to avoid extreme steering changes. Make small adjustments and wait a second or two for the boat to respond. You will soon get the hang of it.
You have already tried the helm seat whilst at the mooring. How does it feel whilst cruising. Adjust your position until you feel comfortable. Are your crew comfortable and able to enjoy the view. Very important to keep "your tribe" content and happy boaters.
Wind and current play a big part in affecting the boats manoverability. River cruisers are greatly affected because most of the boat is exposed above the water line. Both of these factors can catch you out so be aware of the conditions you are boating in.
Where to Buy
Once you have decided the basic boat type you want, take the time to have a good look around at the different types, makes, costs, etc., that are available. There are many boat sales outlets and sources such as boating magazines, internet brokerage sales, marina brokerage sales, boat yards, etc.. It is good fun and exciting times, browsing around for your boat.
Boat Survey
Once you have decided on the boat you would like, for piece of mind, you could engage the services of a marine surveyor to carry out a boat survey to check out the craft before buying. Some insurers insist on a boat survey for older boats to validate the insurance. Any existing survey that is older than two or three years cannot be relied on as there may be faults that have developed since. Generally speaking, a survey would cost around £400. If the seller tries to convince you that a survey would not be necessary then even more the reason to get one.
Boating Costs
Put pencil to paper and write down the costs. Break the costs down into two sections. One for the capital costs and outlay and one for the running costs. These costs vary greatly from boat to boat and from area to area, so it would be prudent to find out about the local costs that are applicable to you. As an indication, I have shown the costs within the different headings for my boat, a Norman 23, 4 berth, 23' river cruiser with an outboard motor, for use on the River Great Ouse system, with marina type moorings.
Waterways
The majority of waterways in this country are controlled by either British Waterways (BW) or Environmental Agency (EA). Both have very good web sites and literature available that are an excellent source of information and reference for all boaters.
Boat Safety Scheme Certificate
This is a scheme, rather like the MOT system for a car, that is a statutory requirement for all powered craft. Your boat should have a current BSS Certificate. The boat will have to be examined and certificated every six years. Obviously, the longer the certificate lasts, the better. Unless you are buying a "project" boat, it would be wise to buy a boat with a current BSS Certificate. Boats without a current BSS certificate would be cheaper to buy but you may have to bring the boat up to the required standards. The work and costs involved obviously will differ according to each individual case. In 2004, my BSS exam and certificate cost around £85.
Boat License
To license your craft, you must first obtain a valid BSS certificate or if the boat is brand new, a certificate of conformity. To use or moor your boat on a BW or EA controlled waterway requires you to obtain a license from these controlling bodies. If you are going to regularly use both BW and EA waterways then you can buy a gold license covering both. For 2005, my EA license fee for The Great Ouse system was around £220 for the year.
Moorings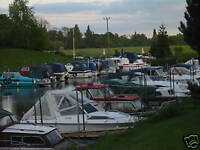 Huntingdon Boat Haven moorings
Make sure you have somewhere to keep the boat before buying it. Generally, this would be a rented mooring either at a marina or on the river or canal, which are generally known as linear moorings. Sometimes the seller offers to transfer the mooring to the new owner. Make sure that the mooring owners are agreeable to this. If not, you could be stuck with no where to keep the boat on the waterway.
Boat Transportation
If you buy a boat some distance away from your chosen mooring then you will have to consider how you are going to transport the boat. You may simply be able to cruise the boat yourself to your chosen location. If this is not practical, then there are specialist boat transportation companies that would take care of this for you. Costs will obviously vary depending on the distance travelled so ask around and get a couple of "all in" quotes beforehand. If you are buying a boat from outside the country then certain taxes and duties will have to be paid.
Insurance
Although not yet compulsory, it would be wise to insure your boat with a specialist boat insurer. A comprehensive cover policy for my boat with "CraftInsure" currently costs around £130 per year (2006).
Outboard Engine Servicing
Again, costs will vary. You could obtain a manual and do it yourself or if you use a specialist service agent then expect to pay around £150 for an annual service.
Anti Fouling
This should be applied to the underside of the boat every two years or so to prevent build up of algae growth and crustaceans. It will be necessary to take the boat out of water to do this. Your marina or boat yard could do this for you. To take the boat out of water, put on a hard stand and re-launch costs around £100. Do it yourself anti fouling costs around £100 a time for the paint and you will need a pressure washer as well.
Boat Breakdown
If you do break down on the waterway, other boaters usually lend assistance. For peace of mind though, there is "River Canal Rescue" (RCR) that is a bit like the AA or RAC assistance to boaters. The cost of RCR cover for my boat is around £90 per year (2004).
The Maiden Voyage
Before embarking on your first voyage, familiarise yourself with boat handling and operation, the waterways rules, codes of conduct and use, safety issues, use of locks, etc.. Ensure that you have enough fuel and supplies to complete your journey or confirm that local facilities are available on route. A mobile phone would be handy for emergencies. To build up your confidence and skills, try a series of very short journeys and practise mooring, locking, stopping, reversing, etc., before embarking on your first long voyage or overnight trip. Buy a £20 telescopic boat hook. I broke two perfectly good brooms on my first voyage!
Most of all enjoy the journey, enjoy boating and happy cruising!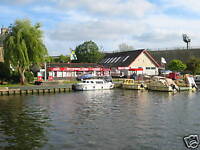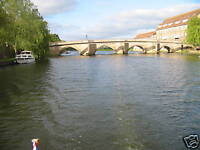 Hemingford Lock Huntingdon Marine & Leisure Huntingdon Bridge
I hope you have found this guide enjoyable and useful.