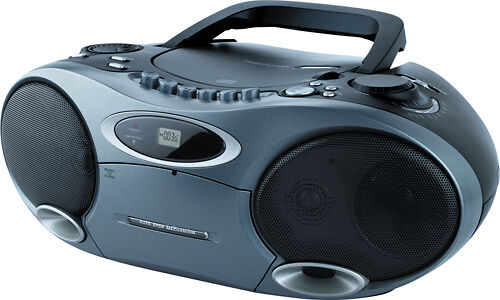 Portable stereos are versatile, convenient devices that make it possible to listen to music virtually anywhere. The concept of a portable sound device can be traced back to the transistor radio, which, after being introduced in 1954, was an instant commercial success. Weighing about one third of a kilogram and running on a standard 22 1/2-volt battery, the transistor radio may be considered the first portable stereo, though strictly speaking stereos require two speakers and most of the first transistor radios only had one. Sill, as with its successors, the transistor radio was also something of a fashion accessory.
The first boom box, which could record radio onto a C-cassette, was developed by Philips of the Netherlands in 1969. Its popularity spread slowly in the 1970s, but it reached iconic status in the 1980s. Early boom boxes featured a radio tuner, a cassette player, an amplifier, and two or more loudspeakers. As technology has advanced, so has the boom box, to include compact disc players, MP3s, and digital radio receivers.
When shopping for a portable stereo, there are many different options available. Consumers who are informed about different product specifications, features, and design options can find a portable stereo that combines convenience and quality.
Portable Stereo Specifications
When shopping for a portable stereo, it can be confusing to navigate various product specifications. The following are some of the most common terms and specifications.
Amplifiers
Portable stereos have built-in amplifiers, which amplify the electrical signal before delivering it to the loudspeaker, where it is converted into sound.
The amount of amplifier output energy to the loudspeaker is measured in watts (W). And while an amplifier's power capability is related to the loudness it can produce, this relationship is not linear. Big differences in amplifier wattage do not mean big differences volume.
However, the amplifier's power is an indication of how well it can handle changes in music frequency and volume, with more power delivering better performance. Another related issue is speaker efficiency or sensitivity, expressed in decibels (dB): the more efficient the speaker (for example, around 105dB), the less power it requires to produce sound.
Amplifier Efficiency Classification
Amplifiers are also classified by efficiency, or how much of the power they receive is usefully applied in the amplification process. The following are the standard amplifier efficiency classifications.
| Classification | Explanation |
| --- | --- |
| Class A | Very inefficient |
| Class B | Very efficient, but not used for audio equipment due to high distortion |
| Class AB | Compromise between A and B; peak efficiencies between 30 and 55 percent in audio equipment; low distortion |
| Class D | Known as switching amplifiers; highly efficient, up to 90 percent |
Class D amplifiers are most desirable for portable stereos, due to their high efficiency. A stereo's speakers, discussed below, are also an important element in sound production.
Frequency Response
Frequency is measured in cycles-per-second, or Hertz (Hz). Humans can hear frequencies between 20 and 20,000 Hz. A stereo's frequency response is the range of frequencies its speakers can produce.
Input and Output
Some portable stereos have inputs and outputs, allowing them to connect to other components. External devices can be connected through inputs, while outputs enable the stereo to connect to other hi-fi equipment.
Oversampling Filter
This option, available on some portable stereos, involves sampling digital signals at a frequency higher than twice the bandwidth (the highest frequency of the sampled signal). Although there is some debate among audiophiles about whether oversampling produces better sound, it is claimed to improve resolution and reduce noise.
Power Requirements
Portable stereos are equipped to run on the mains as well as batteries. They have a battery compartment, generally in the back, where batteries can be loaded for portable power. Battery requirements vary; consumers should verify the type of battery and quantity required. Some stereos have the option of a rechargeable battery pack, which can be economical, and also reduces the number of batteries consumed.
Energy Saving Trust Endorsement
The Energy Saving Trust is a well-established, independent body that has been assessing products for many years. Portable stereos endorsed by the Energy Saving Trust meet the strict criteria for energy efficiency and environmental sustainability during manufacture. They are also economical to run.
What to Look for in Portable Stereo Speakers
A general rule when it comes to speakers is that the smaller they are, the less sound they produce. For that reason, portable stereo speakers cannot compare with the big sounds of a home surround-sound system. However, even portable speakers can produce quality sound. Look for models that feature larger drivers (individual speaker units), preferably with separate tweeters and subwoofers, as explained below.
Mid-Range Speakers
As the name suggests, mid-range speakers produce sounds in the middle frequencies, to which most vocal and instrumental sounds belong. Every portable stereo features mid-range speakers. For better dynamics, tweeters and subwoofers may be added.
Tweeters
Tweeters are drivers that produce the highest frequencies, generally those above 2,000 Hz. These sounds include female voices, cymbals, and violins. Stereos with built-in tweeters can produce these higher pitches with clarity.
Subwoofer
A subwoofer is a speaker dedicated to producing low bass frequencies, generally between 20 and 200 Hz. Built-in subwoofers add power to a portable stereo's sound.
Portable Stereo Optional Features
With the wide range of portable stereos available, consumers are faced with many optional features in different combinations, including which devices and formats they play. Shoppers should decide what devices and listening formats are important to them in a portable unit.
iPod, Smartphone, or MP3 Player Dock
Consumers with portable MP3 players or smartphones with MP3 files may want to look for an MP3 dock into which their device can be plugged and played. These stereos often feature a radio in addition.
Alternatively, many portable stereos have an input jack which can connect to an MP3 player or smartphone to play MP3 files through its speakers.
CD Player
Most portable stereos feature a compact disc (CD) player. These players may be single-disc, or three- or five-disc changers. Changers might be in the form of separate disc drawers, which open individually, or a carousel, which stores all discs in one compartment.
Users of different CD formats should verify which ones the player is able to read. Does it read writable and rewritable CDs (CD-Rs and CD-RWs)? Does it read CDs written with MP3 files?
Cassette Deck
Although many newer models are phasing out cassette players, stereos with cassette players allow consumers to play cassette tapes, and usually record on them as well. Dual cassette decks generally feature continuous playback for hours of uninterrupted listening, and dubbing from one cassette to another.
Radio
Radio receivers were the original feature in portable stereos, and remain the most common. However, there is some variation between the kinds of radio signals the unit picks up. AM and FM radios are able to receive analogue stations. DAB (Digital Audio Broadcasting) radios can receive digital radio programming, and some may include features such as pause and rewind of live broadcasts.
Presets allow users to store favourite radio stations and access them with the touch of a button. The intellitext feature on DAB radios detects scrolling information from DAB stations, such as the station name, the song titles, sports information, and more.
Bass and Treble Control
Bass and treble control are basic tone controls that adjust the loudness of the lower and upper frequencies, respectively.
Graphic Equaliser (EQ)
A graphic equaliser, available in some portable stereos, gives the user more control over adjusting the unit's frequency response. Some genres and individual pieces of music are better suited by particular settings. With an EQ, the user can customise various frequency ranges to different levels for optimal playback.
Clock
Portable Stereos may feature a clock, with programming options such as an alarm clock and sleep timer, which automatically plays music at a given time, or shuts it off after a specific period, such as half an hour.
Display
Digital LCD (liquid crystal display) or OLED (organic light-emitting diode) displays are common in newer portable stereos. One advantage of OLED over LCD is that it can be viewed from any angle, whereas LCD displays can have limited viewing angles.
Remote Control
Remote controls allow users to control their portable stereo from a distance, making them a very convenient feature. Remote controls are generally battery-powered.
Portable Stereo Design Options
There is a wide range of portable stereo designs. Consumers should think about what would best harmonise with their environment: sleek and curved, angular and retro, or a style inspired by vintage radios. Choosing materials and an appropriate size are also important.
Materials
The casework for portable stereos may be in plastic, chrome, or wood veneer. There are a variety of different colours from which to choose: black is very common, as is silver; vivid hues can brighten any dresser or office desk; soft neutral tones have a warm look; and white has a clean, modern appearance.
Size and Weight
Portable stereos are meant to be carried easily, but they can still vary significantly in dimensions and weight. Shoppers should consider where they plan to use their stereos, and what size suits their needs. If they expect to carry it regularly, they should look for lightweight models, rather than cumbersome boom boxes.
How to Buy a Portable Stereo on eBay
While portable stereos can be purchased from a wide range of sources, including electronics shops, and street markets and second hand shops for used stereos, new and used portable stereos can also be purchased online through Internet merchants and auction websites like eBay. When purchasing online, shoppers should verify that the product is compatible with UK power outlets, or has an appropriate converter.
eBay has a wide selection of new and used portable stereos from which to choose. To start your search, go to eBay's home page and type keywords, such as "portable stereo CD" into the search bar. The more specific your keywords, the narrower the results. eBay lets you further refine your search results by selecting a price range, and preferences like seller location, shipping method, and more. Alternatively, you can browse eBay Shops.
Once you've found a stereo you're interested in, read the item description thoroughly, checking for product specifications, features, dimensions, and size. Also verify the seller's return policy, and postage fees, which are in addition to your bid. Finally, check the seller's feedback rating and look through comments left by previous buyers: this helps give you an idea of how reliable and knowledgeable they are. Top-rated sellers have earned their status by consistently providing excellent customer service.
Conclusion
Portable stereos let users listen to their music virtually anywhere. Though the features have changed through the years, their practicality and convenience have contributed to their popularity, which has endured for over half a century. When choosing a portable stereo, the first major consideration for consumers should be which music formats they use most frequently: CDs, MP3 players, cassettes, or radio (DAB, FM, AM). It is important to find a stereo that is compatible with whichever format(s) they use.
Next, a basic understanding of the most common technical specifications is also helpful: frequency response, amplifier and speaker information, and power requirements are all important aspects of a stereo. Finally, in addition to finding a model in their price range, consumers should think about what size and design style best works for them.
Learning about portable stereos, their features and options, helps buyers find the best one for their personal use.