Dimmer Switches are a popular way to control domestic lighting. Uses include creating a pleasant atmosphere, make it easier to watch the TV or help the baby to get to sleep. They do however have some limitations so here are some facts about Dimmer Switches.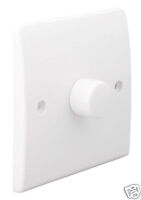 There are maximum and minimum limits to the Wattage of the lamps that they can control e.g. 40W to 400W. Go outside of this and the switch will either not work or overheat, or in the worst case catch fire.
The Wattage rating is a total wattage for example a Chandelier with 4 X 25W lamps = 100W
Using dimmer switches will NOT save electricity in fact it will slightly increase the usage. This is related to the first point, the Dimmer shares the electricity between itself and the light with some additional inefficiency introduced.
They can not be used with Flourescent Lights or Energy Saving Lamps ( which are basically miniature flourescent lights)
If you are intending to replace a normal light switch with a dimmer switch you will probably need to replace the mounting box. Most switch mounting boxes are 16mm deep Dimmer Switches require a 25mm deep box.
They do not last forever because they are an active device you should expect the switch to last from 3 to 10 years depending on the way you use it.