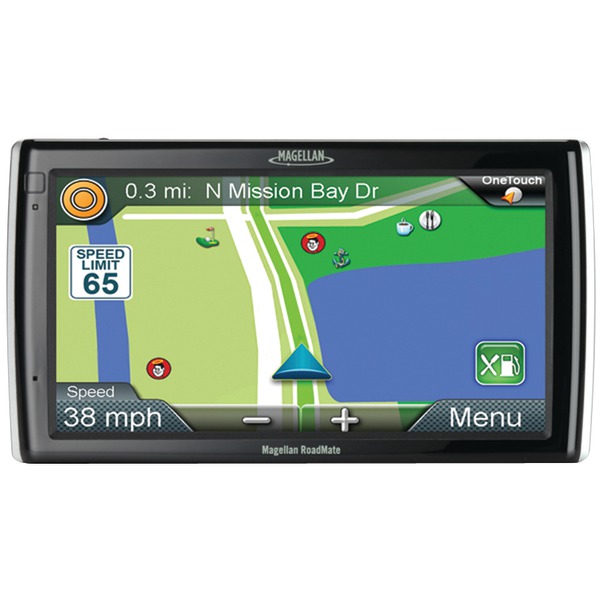 Global Positioning Systems, or GPS, offer users a method for determining their current location and obtaining instantaneous directions to other points along the way. GPS systems not only prevent travellers from getting lost on long stretches of dark highways, but they also make it easier to find interesting points during trips. Many of these systems feature an alphabetical directory of roadside attractions. From petrol stations to fast food, consumers should be able to find everything and more using their GPS systems.
Many GPS systems update easily via a simple home Internet connection and USB. There are GPS systems that are designed specifically for motorbikes, as well as those made for hikers, cyclists, automobiles, and boats. Finding the right GPS system for one's needs ensures longevity and value.
When purchasing a GPS system, it is important to consider the different types available in the marketplace. Systems vary, depending upon whether they are to be used in cars or motorbikes. Although GPS systems are available in mainstream retailers, it can be of value to understand how one can utilise eBay to access great deals online.
Considerations in GPS Systems for Consumer Vehicles
GPS models for consumer vehicles, such as cars, are extremely popular due to the multiple benefits they offer. Purchasing the right GPS system for one's needs means never getting stranded, having to ask for directions, or fighting with a road atlas again. Directions are clear and concise, thanks to strategic satellite tracking and regular service updates.
Modern automotive GPS systems feature turn-by-turn voice navigation, a big plus for safety as it keeps the driver's eyes on the road at all times. Over the years since GPS was introduced for non-commercial use, tracking has become increasingly specific. Even a moderate-priced GPS system is capable of finding a user's exact location within a specific distance of a few metres, as opposed to a stadium-sized range in the past.
There are different types of GPS systems available for use in consumer vehicles. GPS systems for these vehicles typically feature clear verbal directions as well as a bright, easy-to-read screen for excellent navigation. They are a great option for long-distance travel as well as finding one's way around an unfamiliar neighborhood.
Portable GPS Systems
Portable GPS navigators come in easy-to-carry packages and generally offer the same features as factory-installed GPS systems. Some portable navigators may even offer additional benefits not found on factory-installed systems. Portable systems are compatible with nearly every vehicle, so they may be sold, donated, or traded when it is time for an upgrade.
This style of system is also less expensive than a factory-set navigation system or a personally installed in-dash kit. Since the system can be safely removed and locked away in the home at night, the threat of theft may be slightly lower with a portable option. These devices can also be left at home when not in use.
There are, however, some downsides to the portable GPS system as well. Often, these devices come with a smaller screen, which may make it difficult for some users to clearly see displays. They also may not fit well inside a specific vehicle, making placement awkward. Many a time, it simply comes down to a matter of preference, with some consumers preferring the look and style of a permanently installed in-dash GPS kit.
Factory-Installed GPS Systems
Many newer vehicles come with an option to include a factory-installed GPS navigation system. These are a more expensive style of GPS navigation system, but they are designed to fit perfectly inside a given vehicle. This means easy access and stability for the driver. The system may also be combined with other optional features, such as backup cameras.
The disadvantages of the factory-installed GPS system are that the system can not be moved from one car to another or carried along during rental car trips. They also may require expensive updates purchased expressly from the manufacturer of the vehicle on a regular basis.
Aftermarket In-Dash GPS Systems
Though less expensive, aftermarket in-dash systems function similarly to factory-installed GPS systems. The main difference between the two types is that the former is not purchased from or installed directly by the vehicle manufacturer. The system ensures a good blend and easy, permanent fit and can be a great addition to a vehicle.
The majority of GPS systems are made to be installed onto the front glass of a vehicle. However, there are options for installing the system onto the dashboard or along other places in a vehicle. It is important to check with local ordinances to ensure that the placement of one's GPS is legal, as some areas have regulations regarding the adhesion of a device to the windshield, dash, or other areas in the vehicle that may interfere with visibility.
Smartphone-Based GPS Systems
Smartphone-based GPS systems are increasing in popularity. When one's navigational system is on the phone, it is always available to the user. These systems can be easily toted from one vehicle to another and be personalised.
A drawback to the smartphone-based GPS is its screen size. Many smartphone GPS systems offer a much more scaled-down version of maps than their larger counterparts. They also cannot be installed permanently, an attribute which some drivers may prefer.
Considerations in GPS Systems for Motorbikes
Motorbike riders also enjoy the stability offered by a GPS system. Different types of GPS systems are designed specifically for use on motorbikes. These devices are typically more compact than those used in the bigger consumer vehicles and may often be attached to the handlebar area of the bike for easy viewing. Just as there are multiple options for automobile GPS systems, the same holds true for motorbikes.
Features in Motorbike GPS Systems
When purchasing a GPS system for a motorbike, many of the considerations differ significantly from the shopping criteria for an automobile-friendly GPS system. In the latter case, the GPS system is designed for a safe, closed-in environment and is often securely attached to the dashboard or other location. The environment in which a GPS system for a motorbike operates is obviously different.
Firstly, a motorbike GPS should have a clear, weatherproof display. It should be completely sealed and capable of withstanding the rigorous strain of open-air travel at high speeds. Sometimes, installing a motorbike GPS system involves multiple steps. Consumers who are unsure about the stability of an installation should consider contacting a professional in order to ensure the device remains steadily in place for long journeys.
Secondly, a motorbike GPS should ideally be compatible with Bluetooth technology, so that it may be connected to a helmet speaker for optimal sound. Without this option, it is hard to hear turn-by-turn commands above the roar of the road, leaving the rider constantly looking at the GPS rather than the road when trying to manoeuvre a difficult path.
Handheld GPS Options for Motorbikes
A great option for a motorbike rider is to invest in a motorbike-specific navigation system. However, there are many handheld GPS systems, designed for hikers and other outdoor enthusiasts, which can also work well with motorbikes. It is important to remember that the same special considerations regarding weatherproofing still apply. Also, one must bear in mind that, though this option may be less expensive, it may not be possible to secure this type of GPS to a bike for the long-term. Having a GPS that could fly off at any minute presents a number of safety hazards and makes riding unnecessarily difficult.
Buying GPS Systems on eBay
To find the right type of GPS system for your needs on eBay, begin by inputting related terms in the search bar on any eBay page. This can include something as basic as "GPS system" or something as specific as "TomTom Motorbike GPS". Regardless, the end result should be a variety of listing options, which can be easily narrowed using eBay's many refinement options.
Before making a purchase, it helps to learn more about the eBay seller with whom you plan to do business. You can easily learn more about a seller by visiting the feedback page for that seller. Reading the reviews from previous customers and communicating directly with the seller can help increase your confidence in an impending transaction.
When purchasing a GPS system, it is a good idea to invest a little extra in shipping insurance. Many eBay sellers offer shipping insurance for products of this type. If your seller does not offer shipping insurance during checkout, then inform the seller that you are interested in purchasing this option. Additionally, some consumers seek sellers close to where they live in order to personally retrieve the items in question, eliminating shipping-related risks.
Conclusion
Rapidly becoming a necessary tool for many drivers, GPS systems offer numerous benefits. With a reliable GPS system on-board, drivers need not worry about getting stranded anywhere in the middle of the night. Since GPS systems offer voice commands and operation, they provide a much safer option than having to glance at a map or stop along the highway to flip through an atlas. In fact, many GPS systems provide turn-by-turn navigation based on the drivers' whereabouts, meaning the driver does not have to look at the screen often.
GPS systems have come along way since their introduction. Consumers have multiple options to choose from when it comes to selecting a GPS for cars and motorbikes, including factory-installed versions, portable options, and even systems that are set to work directly from one's smartphone. Every GPS system option comes equipped with benefits and disadvantages, so it is important to be aware of the features available so that one can hone in on the ideal option for one's needs. With the large number of choices available on eBay, consumers are able to make informed choices of GPS systems online.