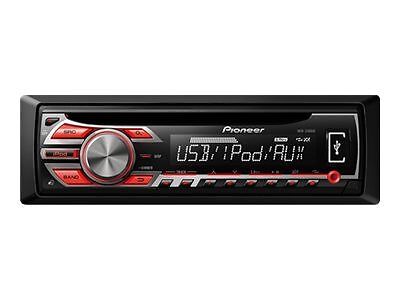 The proliferation of different types of car stereo head units has made it difficult for many consumers to find a head unit that produces clean, powerful sound. Technological advances tend to confuse, rather than help consumers make sense of audio technology terms. Confusing terminology often leads to poor buying decisions that stick consumers with head units that produce inferior sound quality. For instance, many head unit shoppers mistakenly focus on the wattage projected by a head unit under consideration. Some manufacturers tout head unit sound quality by emphasising extra features or proclaiming that high-end head units cost more money to purchase.
Consumers can find head units that produce high-quality sound at electronics shops and retailers that specialise in selling car stereos. However, eBay offers perhaps the most varied and extensive list of car stereo head unit sellers. Before shopping on eBay, consumers in the market for a car stereo head unit should first receive an overview of a head unit, learn about head unit components, and know how to ensure superior head unit sound quality.
Overview
Envision a car stereo head unit as the brain of a car stereo system. Also referred to as the deck or receiver, the car stereo head unit unifies the hardware interface with the components that comprise the car stereo system. Most car manufacturers install factory head units in the centre of the dashboard. As a densely integrated electronics system built into a detachable faceplate, the head unit is commonly targeted by thieves, and thus, contemporary head units are part of a car's alarm system. Car stereo head units control the quality of AM/FM output, satellite radio, compact discs, MP3,, GPS navigation, and Bluetooth. Numerous car stereo head unit manufacturers provide users with control over car stereo system volume, speaker balance, speaker fade, bass, and treble. In effect, contemporary car stereo head units control both audio sources and quality.
Car Stereo Head Unit Components
The car stereo head unit generates audio from radio frequencies, as well as digital media. Manufacturers typically integrate all of the audio components into the car stereo head unit, except the speakers. Car stereo head unit design differs from the head unit that controls a home theatre system,, which operates using multiple distinct audio components. Because car stereo head unit design requires component integration into one small box, manufacturers have developed micro technology that allows them to integrate the components without having to utilise an array of connectors. Each of the following car stereo head unit components play an integral role in producing high-quality sound.
Tuner
The tuner received its name for its capability to tune AM and FM radio signals. Over the years, head unit tuners have turned into satellite and high-definition (HD) radio signals. A car stereo head unit must have a dedicated HD radio tuner to receive high-definition broadcasts. The antenna represents the most important part of a head unit tuner's operation. Many automakers have adopted a "shark fin" antenna style to create improved aerodynamics and a less visible appearance. Most car stereo head unit tuners receive signals from antennas embedded in either the windscreen or back seat glass.
Portable Music
The popularity of portable digitised music makes it imperative for car stereo head units to control portable music sources, such as iPods. Users plug an accessory cable into the auxiliary-in jack, which then connects to the iPod Touch headphone jack or other portable headphone jack. Once connected, the car stereo head unit controls most of the features of the portable music source, such as volume and bass.
Amplifier
Most car stereo head units possess a small built-in amplifier that contains two smaller components. The preamplifier receives data from the head unit tuner, CD player,, or portable music source, and then boosts the signals before sending the signal to the power amplifier for additional amplification. The power amplifier augments the signal to a level that is powerful enough to move the stereo speaker voice coils. While some car stereo head unit owners prefer separate amplification components, most contemporary head units provide more than enough amplification.
Controls
Car stereo head units provide tone controls for controlling bass, treble, and volume with a built-in equaliser. High-end car stereo head units utilise advanced digital signal processing (DSP) to filter ambient noise that derives from car engines, road vibrations, and the wind. Car stereo head units also have controls for changing radio stations or compact disc tracks, although some car manufacturers have moved the built-in controls to steering wheel switches.
Factors That Influence Car Stereo Head Unit Sound Quality
Some consumers worry that a car stereo unit does not possess the capability to supply enough amplification to power car stereo system speakers. Head units typically do not project more than 60 watts of total output power, since they do not utilise a DC-DC power supply. While a head unit may power the car stereo speakers, it most likely cannot power subwoofers.. Amplification concern is just one issue that consumers should consider when it comes to car stereo head unit sound quality. As with amplification, the importance placed on the other issues that influence sound quality depends on individual consumers.
Power
The power specifications listed by most car stereo head unit manufacturers does not accurately depict power levels. Manufacturers proffer terms, such as "music power" or "peak power", which mean nothing because there is not any standardisation to measure those terms. Head unit power specifications listed in RMS terms represent a more accurate depiction of true head unit power. Look for RMS specification to better gauge the power level of a car stereo head unit. Remember that the more bass and treble a speaker system draws from the head unit, the more power the head unit must project.
Preamp Output
Any head unit that does not include preamp outputs suffers in sound quality. Preamp outputs allow users to operate an internal amplifier directly without the need to convert audio signals. Head units constructed with preamp outputs produce the cleanest sound of any other type of head unit. Some manufacturers construct head units with multiple preamp outputs, which produce more volt outputs that reduce external noise. Users can purchase an adapter to convert speaker levels, if their head units do not include preamp outputs. Another option is to purchase a car stereo head unit that accepts speaker signals directly.
Factory Head Unit
Some consumers ask about using the factory head units that came with their automobiles with external amplifiers produced by another car stereo component manufacturer, usually an aftermarket manufacturer. Incompatibility is the most likely culprit that causes head units to produce inferior sound quality. Factory head units typically do not have line level preamp outputs to power an amplifier. Users can run a speaker level to a line level converter. However, the sound still projects through the factory head unit amplifier. Avoid using external car stereo components with factory head units that possess internal components.
Additional Sound Quality Features
Dolby Noise reduction and full logic tape controls enhance head unit sound quality. Look for head units that buffer audio signals to minimise the effect of external sounds, such as road bumps and high winds. Some head units include anti-skip buffers that prevent music tracks from skipping after receiving a jolt. Dedicated sub output and low-pass filters control subwoofer bass projection and the range of frequencies that users send to the subwoofer. Car stereo head unit owners who prefer to tweak the sound should consider buying head units that include built-in equalisers. Look for head units that include a combination CD/DVD player,, instead of head units that control each audio source separately. The combination CD/DVD player utilises fewer internal resources, and hence, produces a cleaner sound.
How to Buy a Car Stereo Head Unit on eBay
Once consumers learn about the features and components that produce high-quality head unit sound quality, they can find the right seller by searching for head units on eBay. The key to finding the right seller is properly using eBay's highly touted search engine. While you can start with general keywords, and then narrow your search results, the more efficient way to search for head unit buyers is to enter specific keywords into the search engine. One way to narrow search results for head unit sellers is to search by brand name. For instance, type "Pioneer head unit&" or "Kenwood head units&" to reduce the number of search results, and hence, shorten the time it takes you to find the right head unit seller.
Finding the right head unit seller on eBay requires more effort than simply typing keywords into the search engine. You must also vet each seller to make the right decision. Each seller presents a product page where you can view the head unit for sale in an enlarged photograph. Moreover, an eBay head unit seller should list all of the features of the head unit, as well as information that pertains to delivery terms and accepted payment methods.The best way to vet eBay head unit sellers is to only consider the top-rated sellers.. These sellers have established strong records for selling quality products at reasonable prices.
Conclusion
Car stereo head units, or receivers, are the central command centre that controls the sound quality level of the car stereo system. Look at a head unit as the brain of the car stereo system, operating multiple components, such as the amplifier, speakers, and audio sources. Instead of users having to connect multiple car stereo components via wires and cables, they can enjoy all of the components within the infrastructure of a head unit. The compact setup not only saves space inside of a car, it also has created technology that produces superior sound quality.
Unit components include the tuner, amplifiers, operation controls, and portable audio device jacks. Of the numerous components that comprise a head unit, the tuner represents the most radical departure from past head unit designs. Instead of receiving audio signals from an external antenna to a tuner, and then to the head unit, contemporary head units directly receive audio signals from an antenna mounted on the windscreen or the back seat glass. This breakthrough is just one reason for improved head unit sound quality. Consumers who buy head units that possess preamp outputs and are compatible with speakers systems enjoy a higher level of head unit sound quality.