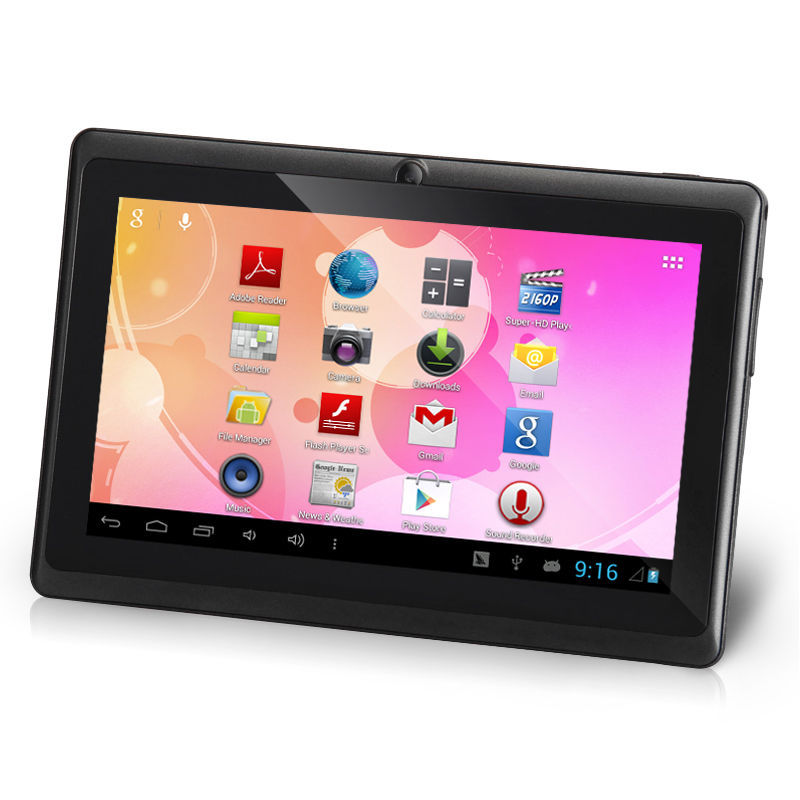 Apple ' s iPad revolutionised the computer industry by offering the first tablet back in 2009, and since then the electronics market has never been the same. Occupying the space between full-fledged computers and artistic smartphones, tablets are a hybrid of digital technology. Not all tablets are the same, and the reasons people purchase tablets differ.
Those who prefer to read books online tend to stick with the smaller e-Readers offered by Amazon and Barnes & Noble, while those like playing games and downloading apps tend to typically favour the iPad. Yet new systems are constantly emerging, and powerhouse companies like Samsung and Google are making their statement on the tablet market. For a buyer shopping in the store, or online through eBay, the choices are overwhelming. The best place to start when looking for a tablet is to figure out why a tablet is wanted and then select a model whose OS, storage capacity, and size are a good fit.
Tablet Purpose
Before rushing out and purchasing a table that seems like a good deal because it is on sale, buyers need to sit down and think about why they want one in the first place. Most consumers use their tablets mainly for consuming media, watching movies, playing games, or reading books. Few tablets can approach the functionality of a full computer since they have limited storage capability, smaller processors, and fewer options. Even the slider keyboard itself troubles many users who are more than familiar with typing at lightning speeds.
e-Readers
Tablets that are used mainly for downloading and reading ebooks are called e-Readers. Of course, they are not only limited to downloading books, and users can do other things with them, such as check their email or browse the web. Buyers who are looking for the latest apps or a great tablet for watching movies, however, should look elsewhere. Chief contenders in this category include Amazon's Kindle and Barnes & Noble's Nook.
iPad
iPad tablets are the most expensive, but for those who want to be able to access Apple's library of more than 275,000 apps, there is no other choice. iPad tablets were the first ones onto the market, and consistently rank high in consumer satisfaction due to their quality OS and high end screen resolution. One feature iPads lack, however, is the ability to connect to an external storage drive via a MicroSD card. Therefore, while they are fine for playing games and streaming movies, downloading music and movies quickly fills up the device.
Tablets
There is a plethora of other tablets available on the market that serve the same purpose as Apple's iPad. While their functionality is the same, none of these models offer the same app library as Apple does, and this limits how much one can do with them. That being said, with companies like Google and Windows emerging into the tablet market, these little tablets are powerhouse media systems
| | |
| --- | --- |
| Operating System | Compatible Tablets |
| iOS | iPad |
| Android | Samsung, Amazon, ASUS |
| Windows | Samsung, Acer |
When it comes to choosing one of these tablets, pay attention to the OS, screen resolution and processor. The OS affects how easy it is to use the tablet while the screen resolution determines picture clarity. The processor controls the speeds at which the tablet operates, so those who love to play games need to choose a model with a high end processor.
Android
Many tablets run on the Android OS , which is owned by Google. It is the main competitor to the iOS, and the two companies are equal in almost everything except for the app library. However, new apps are constantly being added to Android tablets all the time and in the future even this feature might be equal with the iOS.
Windows
Windows tablets appeared later than the other two main OS. Most consumers are familiar with Windows from their computer, and therefore feel comfortable using a tablet with the same OS. However, tablet OS are different from desktop and laptop OS, and there is still a steep learning curve when it comes to using them. Many PC magazines who have studied the Windows tablet OS claim that it does have the functionality to be a worthy rival to iOS and Android.
Storage Capacity
Besides the OS, buyers must also examine how much data, or storage, the device holds. Price points are largely set based around storage capacity, with the least expensive models having 2GB, and the most expensive using 64GB. Since there is such a steep difference in the price levels between an 8GB and a 16GB version, many consumers opt to purchase a model that uses an external storage device like a MicroSD card.
MicroSD cards are able to handle up to 32GB of data, and consumers can purchase multiple cards for very large digital libraries. The main drawback to the iPad is that it does not have a connexion port for external storage devices, forcing customers to buy the most expensive version if they want superior storage capacity. Many Android and Windows tablets, on the other hand, do have the option to use an external drive for additional storage.
Size
Size is the final main factor when it comes to selecting a tablet. The size of the tablet determines the size of the screen, and therefore how easy it is to use for typing, watching movies, or reading books.
Small
Small tablets range from 7 to 7.9-inch, or 17 to 20cm in size. This makes them a little bigger than a smartphone, and some phones can almost do what a tablet does. Buyers who purchase tablets in this range usually go for the e-Readers like Kindle and Nook, since this seems to be the ideal size for e-Book reading. The smaller screen size makes it less than ideal for those who want to purchase a tablet for gaming or media viewing. On a positive note, however, these tiny tablets can be held in one hand, and are easy to bring along wherever the owner goes.
Medium
Medium tablets are the most popular size, ranging from 8 to 10in, or 20 to 25cm. They are slightly bigger than the small tablets, and usually require two hands for viewing. However, their larger size makes them ideal for watching movies or playing games. They are not as expensive as the largest tablets either, therefore buyers who can settle for a slightly smaller screen size can get the most out of the medium group. If buying mainly for media reasons, make sure the screen resolution is bright and clear.
Large
Large tablets are defined as anything above 10in, or 25cm, in size. Some models that go up to 13in, or 33cm have the look and feel of a completely flat computer. Buyers typically choose the largest tablets for their functionality, and use them as they would a small computer, while also taking advantage of their mobile media potential. Keep in mind, however, that tablets are limited in what they can do. If a buyer is purchasing a large model for extra productivity while at work, make sure the processor can keep up to speed. Typically, large tablets are the most expensive, and some consumers find them too big to use as easily as the smaller or medium choices.
How to Buy Tablets on eBay
eBay buyers can find a great deal on many different types of tablets for sale within the website. No matter the size or OS, chances are there is a seller out there who has just the tablet you are looking for. Furthermore, if high tablet prices are getting you down, try searching for used tablets, iPads or e-Readers instead. A lightly used product is often sold for less than half of a new model.
Start out by searching for either ' tablet', or ' eBook reader ', depending on your needs. A simple search for tablets returns thousands of results across different brands and product lines. You can narrow the search results down by brand, such as ' Apple tablet', or even by product line such as ' iPad 4 ', if you already know what tablet you want. With storage always being a main concern, if you are merely browsing through the tablets section, try doing a search for ' 32gb tablets ' or higher if more memory is desired.
Conclusion
Consumers purchase a tablet for several different reasons, but it is mainly used as a media tool. Tablets are tiny computers that are capable of downloading books, movies, and games that can be used anytime the owner wants them. Choosing which type of tablet to buy then largely depends on the needs of the consumer. The first step is to choose an OS, since there are several different options out there, each one with its pros and cons.
Apple was the first tablet available, but there are many new competitors. The next step would be to focus on storage capacity, and find a model that fits into the consumer's price range. Size is also an important issue, especially if the buyer plans to play games or movies on their tablet. eBay offers a wide selection of many different tablets, therefore anyone can browse through their massive selection and find the perfect model that exceeds all of their needs.