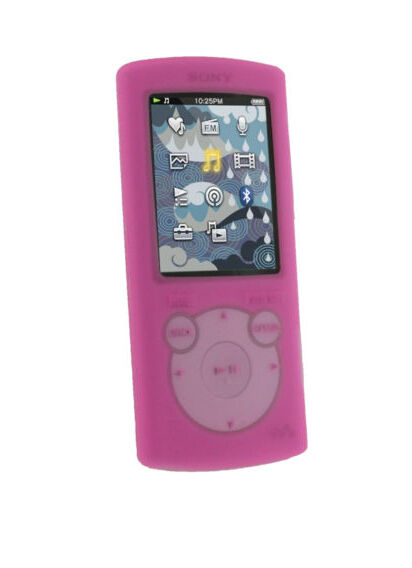 For many people, their MP3 player is a constant companion, providing entertainment wherever they go. It's a good idea to protect this investment with a protective covering, case, or skin to protect it from the elements and daily use. Not only can an MP3 skin protect the MP3 player, but it can also add some much-needed style and individuality to a normally dull device. A good skin can also increase the resale value of the MP3 player and even become a selling point of its own if the skin is hand-made and unique. The lines between a stand-alone MP3 player and other gadgets, such as smart phones or tablets, have been blurred.
Due to this, the advice given in this guide can also apply to skins for similar portable electronic devices. It's common to have more than one pair of shoes, so why not own a collection of MP3 skins to suit any occasion? They are relatively inexpensive and can really liven up an outfit or special event. Style is relative to each person, so there are no hard and fast rules about which MP3 skin should be considered stylish or not. However, this guide will outline some of the more popular types of MP3 skins, how to customise an MP3 skin, the materials used in their construction, and some tips on choosing the right colour.
Popular Types of MP3 Skins
Hand-made MP3 skins are probably the best choice when it comes to showing unique style. They are hand crafted and made from a variety of materials, ranging from delicate fabrics to tough hand stitched leather. The choice is seemingly endless, with a choice to suit most tastes. Another benefit of buying a hand-made MP3 skin is that it can be easily modified to suit personal tastes with a simple alteration or two. Buttons can be sewn on, badges attached, or other decorations added.
The downside of hand-made cases, is that they may not have the same lifespan as a purpose-made skin made from stronger materials, such as silicone rubber and hard plastic. The trade-off in showing a unique style more than makes up for this shortcoming. There's no better way to liven up a dull MP3 player than with a hand made skin. Novelty MP3 skins can fall under several categories and usually feature a printed design. They can also come in different shapes, including some wild and wonderful animal or creature designs.
Silicone rubber is a popular choice of material for these types of 3 dimensional cases due to its ease of moulding and strength. Holiday themed MP3 skins are another great idea to show style, and although they can only be used at certain times of the year, the reaction they receive is often worth the small outlay. A Halloween or Christmas MP3 skin can be a great ice-breaker at social gatherings and is a good way to get into the spirit of the season. Halloween MP3 skins are a popular holiday-themed choice, and some of the designs are really imaginative and fun. MP3 skins are made of a variety of materials, and most of them can be easily printed on. This is an easy way to show personal style, with thousands of designs on offer, from TV shows to music bands.
An easy way to find the right printed MP3 skin is to search an online shop like eBay for the subject required plus the words 'MP3 case' or 'MP3 skin'. Sports MP3 skins are typically made from waterproof or other strong materials to ensure a long life when placed under the rigours of playing sport or exercising. They are usually attached to an elasticised arm or leg band to keep them secure while in use. Although sports MP3 skins may not be suitable for a glamorous party, they can be definitely considered stylish in the right setting.
Wearing a sporty MP3 skin shows that the wearer is health conscious and has an active personal life. Protective MP3 skins are similar to sports skins in that they may not be fashionable but can create an image of rugged endurance for the user. Wearing a tough, durable MP3 skin suggests that the owner likes hiking, or works outside in a harsh environment. This may be a style that the user wants to show and is also a practical choice if spending time or working outdoors.
Customising an Existing MP3 Skin
Charms and straps are an easy and inexpensive way to change an existing MP3 skin and create a unique look. There are thousands of choices available, and more than one can be used to create an eclectic style. With some creativity and the right materials, hand-made charms fashioned from beads and other trinkets can also be added to an MP3 skin. Stickers and decals are another inexpensive way to add some unique style to an MP3 skin. Vinyl decals can even be removed easily and replaced with another, creating a range of styles with very little effort. Some print stores can print custom decals, which can be a great look for special events or promotional activities. Hand drawn decoration with permanent markers is a popular style choice for some artistic MP3 player owners, with the only limit being imagination. Permanent ink markers can last a long time, so be sure about the design before starting.
MP3 Skin Materials
The main type of materials fall into 2 main categories: Fabrics and Other materials. Common fabrics used are canvas, cotton, nylon, polyester, suede, velvet, and wool. Other materials that can be found include leather, neoprene, rigid plastic, silicone/gel/rubber, and vinyl. Personal preference will be a big factor in deciding what material to choose, but consideration should also be given to the longevity of the material, and whether it will suit the other components of the MP3 skin.
Choosing the Right MP3 Skin Colour
Colour can be an important aspect of a stylish MP3 skin, so care should be taken to choose a suitable colour. Things to consider include the theme of the MP3 skin, the colour of other components, such as straps or buckles, and the colour of clothing worn. Clothing colour can be more important if the MP3 skin is to be used as an accessory for a special outfit.
MP3 Skin Design/Finish
The type of MP3 skin finish is important when considering the overall style of the piece. Some examples of a stylish MP3 skin finish are a jewelled effect, using hundreds of tiny imitation jewels. Other people prefer a metallic or glossy finish. Other types of MP3 skin finish are matte, patterned, pictorial, plain, or even transparent. By choosing the right finish, an ordinary MP3 skin can become a stylish accessory. Pictorial style MP3 skins are a popular choice for MP3 owners, and there is sure to be a design available to suit any taste.
Buying an MP3 Skin on eBay
There are literally thousands of MP3 skins to be found for auction or sale on eBay. Here are some handy tips to help find the perfect style of MP3 skin to suit any occasion or outfit. To find MP3 skins from the eBay homepage, choose the following categories from the left hand vertical menu: Firstly, click on the Electronics and Technology heading, then Sound & Vision. Once in the Sound & Vision section, select iPod/MP3 Player Accessories. Within this iPod/MP3 Player Accessories category, click on Cases, Covers & Skins.
Once inside the Cases, Covers & Skins area, a number of filters can be chosen to refine the list of items displayed. On the left side of the screen, a vertical menu can be seen that features a selection of tick boxes. Every time a tick box is chosen, the search results are displayed again to show the updated MP3 skins available. Under the model and brand options in the left hand menu, there are style choices available including Features, Materials, and Colour. By choosing the right set of materials, colours, and finish, a stylish MP3 skin can be discovered with just a few mouse clicks. Try to find an MP3 skin sold by an authorised seller. These sellers have passed the test of time, and have proven to give excellent service. Also look for a seller in the same region, as this will cut down on delivery time. For small items, some eBay sellers offer free postage, so this can be another selling point to consider.
Conclusion
An MP3 skin can really accentuate a special outfit or liven up any occasion. By choosing the perfect style of MP3 skin, it's easy to add some glamour and fun to a normally dull event.