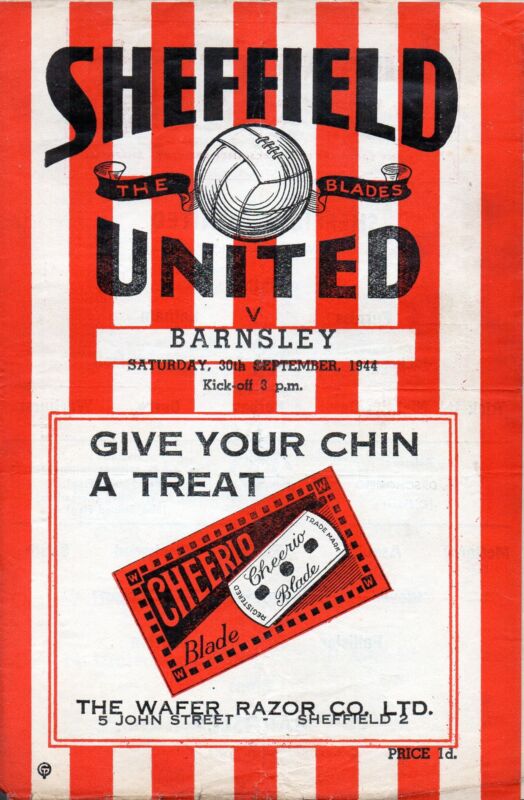 Introduction - A long established hobby

This guide will cover the history of football programmes, what people collect including the popular collecting categories, the issue of condition, values and prices and finally, what people do with their programmes once they've acquired them including how they store them to display them but also to protect them.

The guide will hopefully reinforce some basic information that established collectors will probably already know but also provide a starting point for the many football fans out there who once collected programmes and are interested in getting involved in the hobby again, as well as those football fans who are interested to look at the various aspects of collecting after finding a stash of old programmes in the attic or discovering the vast array of programmes on offer after a few internet searches.

Collecting football programmes has been going on for a long time, especially in Britain. Indeed, there is a view that collecting football programmes is a very British phenomenon.

It is true that programmes have been a long established aspect of football fans match day experience and that collecting programmes, especially since the 1950's when a new breed of football magazines like Charles Buchan's Football Monthly started promoting the hobby to its' large readership, has been going on for many decades and even back to the days when the modern game formed and quickly took its' hold as a national cultural pastime.

While programmes are issued at football matches all over the world, the practice of buying a programme before a match, reading it at half time or on the train on the way home and then storing it in a safe place at home as a record of the day is a much more established one amongst British fans according to those who have lived abroad and followed the game there.

The deeper British fan connection, if indeed we could describe it this way, may well be down simply to the fact that domestic football in Britain has been established longer than in most other countries and accordingly, the habits surrounding match day programmes have become established for longer.

On the other hand, there are many collectors overseas who love programmes too and in my experience, the overseas football fans, especially those who follow some of the top English clubs seem to collect their team's programmes as avidly from afar as any domestic fans.

Also, as we shall see, spinning the relationship the other way, collecting foreign programmes is also a category of collecting which some British fans like to do and it may well be that as the digital age builds awareness and interest in football world-wide, that this is an area of collecting which will see increased interest.

Whether taking place at home or abroad, collecting football programmes is a way that many fans have always used as a way not only to enhance their affiliation and support of their team but also their love of football.

Football programmes have a hold on many fans. As one enthusiastic supporter posted on an internet forum the other day, 'There's something which fascinates me about programmes: I just can't resist them.'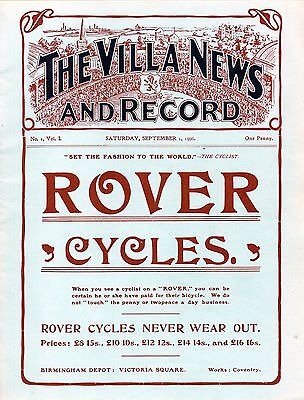 History - Football programmes then and now
In the late 1800's, as the game became more popular, clubs began issuing what are usually called match cards for attending fans. These were double sided with the teams, either in lists or in the approximate formation they would use in the game, often surrounded by local advertisements.

Clubs began to issue programmes in the early 1900's with editorial comment, articles and some statistics, like the Aston Villa programme above (from 1906) when they saw the opportunity not only to develop a revenue stream by selling them in large numbers to fans but also to establish a communication channel to fans about many aspects of club policy, opinion and strategy.

Top London clubs like Arsenal and Chelsea had programme editors who operated under pseudonyms to put forward their views.

Most clubs issued their own programmes with an interesting exception being Merseyside rivals Everton and Liverpool who co-operated together, issuing a joint programme for the home games each weekend (one club's home league game and the other club's reserve team home game) from 1904/05 until 1934/35.

While programmes became more popular, match cards continued to be issued, especially for big games like the F.A. Cup Final and in 1913, W.H. Smith issued their own version of the Cup Final match card for the game between Aston Villa and Sunderland, a publication which was in addition to the card on sale to the fans at Crystal Palace on the day of the final.

It was in the 1920's, when the Cup Final moved to Wembley Stadium that more modern-style programmes were produced, items which command high prices today (see Values and Prices section below)

In the inter-war years, club colours were being used as part of graphic designs of front covers which had evolved gradually.

In the post 1945 years, the practice of adjusting the programme's design each season appears to have been well established.

In these early decades of the 20th century, many programmes were quite large. If not A4 size, then certainly approaching that size. The practice of fans folding the programme to fit in their pocket was quite normal. Accordingly, collectors in later decades would frequently find old issues with vertical or horizontal creases in them.

In the 1950's, various sizes were used from the larger flimsy 4 pagers to the thinner, C5 sizes and even the small pocket programmes. Numbers of photographs also increased.

In the 1960's, a few more clubs started using a smaller size, including Arsenal, Chelsea, and Tottenham Hotspur. This decade also saw an increase in the number of clubs using tokens for their fans to collect and use for ticket applications for the Cup Final should they get that far. See the section on Condition below for the implications of this development for today's collectors.

The 1970's saw a design and graphics revolution as a few companies started to produce the programmes of more than one club using what might be called psychedelic designs on the front covers. West Bromwich Albion, Wolves and Coventry City's programmes used such designs.

Some clubs who had preferred small or smaller sizes before, went large, including Arsenal, Chelsea and Tottenham Hotspur. Manchester United started the decade with a larger sized programme, only to revert to a smaller size, then a landscape version and then back to a larger size as the decade came to an end.

Big match programmes reflected these trends too with the benefit of some great covers for the F.A. Cup Final programmes through the decade.

The 1980's saw a reigning in of some of the more extreme practices seen in the 1970's and many club's programmes were simplified.

From the 1990's onwards to date, there has been a gradual expansion of thickness with page numbers rising and more enhanced production processes leading to a glossy feel for most issues in league clubs' programmes and even some non league issues too.

The thicker editions have caused some collectors storage issues at home as their shelves have become loaded up and weighed down with heavy modern issues.

This trend has also been seen in big match programmes which are almost all A4 issues today and often over 100 pages long.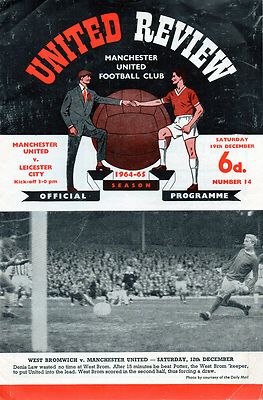 What to collect? - Popular collecting categories
The joy of collecting football programmes is that there are no rules. Collectors can decide exactly what they want to collect.

Each collection can be a reflection of how the collector enjoys their football.

However, it is probably true to say that the majority of collectors try to collect the Homes of the club they support. Often, the start date for the collection will be back to when the collector first went to see their club play although I've met quite a few people who extended this start date backwards once most of the home programmes back to the initial start date had been acquired.

As this type of collection expands, as well as going further back into their club's history, many collectors start to collect Aways and then Reserves and Youth team fixtures too. Testimonials and Friendlies will also be included.

Other categories of collecting include;

- Big match: Finals (F.A. Cup), Semi-Finals and internationals especially.

- First and lasts: Especially where this applies to stadia, top players and managers.

- Testimonials: Popular not just for the memories but also for their special designs.

- Non League: An area providing a vast array of options for interested fans.

- Foreign: Another area with many interesting options.

- One per club: A great way to get a snap-shot of programmes across many clubs.

- One per match: Groundhoppers like to keep a record of games they have attended.

- Player careers: An unusual theme but followed by some.

Or, collectors can choose any combination of the above or make up their own. One collector I know, was focusing all his efforts on the memorabilia of his club for one particular season as this represented particular significant time for him while growing up.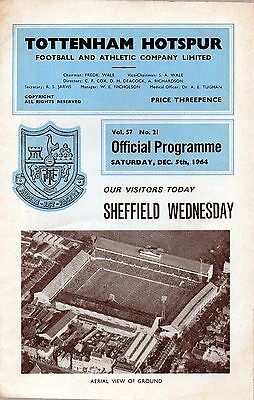 The question of condition - Faults and their significance
As with the collecting of any printed ephemera, the quality of an item, defined by its' condition, is always front of mind for most collectors.

As we shall see, a programme's condition will usually be the over-riding factor in defining its' value.

Within the broad guidelines on value and price we shall find out about below, while sellers will always want to achieve the highest prices for the sale of their programmes and buyers will want to find the best bargains at the lowest prices, both know that the better the condition of a programme, a higher price is justified. As condition deteriorates, so will value and price.

What are the faults which buyers and sellers look for when defining condition?

There is a glossary of terms used by dealers and collectors alike for summarising these. The list below is not definitive but hopefully, will give those with less experience a better understanding of condition issues.

1. sl.cr: slight crease. Can be vc (vertical crease) or hc (for horizontal crease)

Creasing can also include corner, corner-tip, surface, spine edge and spine end.

2. tc: team changes

Writing can also include attendance, half and full time scores, scorers, substitutes, half time scores from other matches and/or other notes, signatures, phone numbers etc.

3. sof: score on face

Usually noted as distinct from writing on the teams' page.

4. rs: rusty staples

Rust can also extend to bleed marks from the staples onto the pages and this bleed can seep through to other page joins other than the centre pages and often onto the cover spine borders.

5. mk or st: mark /stain

Marks / Stains, whether caused by dust, wear, water / liquids or ink especially along spine borders, are likely to be seen on most old programmes to some degree.

6. ph: punch holes.

Punch holes can sit along side drawing pin holes which some use to attach the programme to boards.

7. Tears and nicks

These can be found to edges, corners and especially amongst really old programmes to the spine ends.

8. Tokens removed

The token status is important to some fans, especially for clubs like Manchester United for their programmes from the mid 1950's onwards up to the start of the F.A. Premier League in 1992/93.

How are these faults regarded by buyers and sellers?

While the phrase 'different strokes for different folks' applies, in that different collectors have differing views on the significance of the above faults, in general no-one seems to welcome punch holes.

Creasing and writing, if completed neatly are expected by many collectors, especially for older issues, although again, many seek only items with no 'dreaded writing', as one collector described it.

Not too many people like torn programmes and such faults often relegate the rating of a programme. Indeed, the question of condition translated through to a rating is an area of constant contention.

It really is the case that one man's 'good condition' is another man's 'very good'. Equally, where one collector might call a programme poor, another enthusiast might be inclined to call it 'fair/average' and not because of any desire to deceive nor confuse but simply because of a different perspective on how to define condition and rating.

When buying a programme from a new source, collectors can use the condition rating of that programme, as used by the seller, as a benchmark for any future purchases; an exercise which will have to be completed seller by seller, obviously.

Finally, the question of restoration.

There are some very good people out there who can restore old programmes in need of repair. This process can be expensive and most collectors might consider restoration for older items of higher value. However, interestingly, although restoration improves the look of a programme, it doesn't necessarily re-establish the item's general market value. Some collectors prefer buying rarer items in poorer condition. Whether to restore or not will come down to personal preference.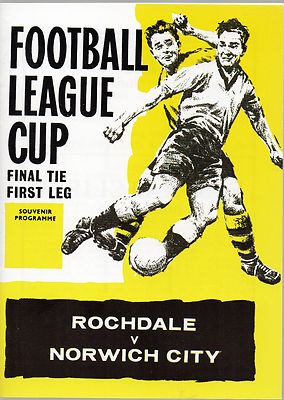 Values and Prices - What should you expect to pay?
With values and prices, the general rule applies that the older the item, the more valuable it will become and therefore, the higher will be its' value.

But the real significance of a programme being old is that it is likely that it will be scarce. It is the scarcity which will drive value and price upwards.

Where more recent programmes have become scarce, as in the case of some postponed match programmes, as we shall see, the value can also rise significantly.

On Ebay, using the Completed Listings with the Highest Price and P&P filter search facility available via the Site Map, is an invaluable research tool.

However, it must be emphasised that the market really does decide what any one programme is worth. While certainly, some programmes are rarer and more valuable than others and there are general guidelines about values, ultimately, the expression, 'What the market will bear' applies.

I sold a late 1950's league game programme in poor condition and one which I might usually struggle to sell at all at any price, for just over £20. This particular issue was the last one the buyer needed to complete a long run of his club's home programmes and for him, £20 was a good price.

Having said this, currently, 1970 is a sort of 'cut-off' in values / prices.

For most general club league and cup programmes issued after 1970, their value is around £1-2. Depending on what postage/packing is paid as part of the final paid price, most of these programmes will cost a collector £2-£3 per programme. Obviously, if sellers are willing to combine postage, the cost per programme will reduce down a little for any combined purchases.

1960's programmes go up in value, just a bit, as do 1950's issues, especially ones from the early part of the decade.

Late 1940's issues take us up into the £10 plus price bracket.

Values and prices for pre 1939 programmes really do start to rise up to higher levels although it's difficult to set guidelines as to what collectors might expect to pay. Some clubs' issues, like Manchester United's, will cost more than most other clubs' programmes but as we go back through the 1930's and 1920's, programmes can cost anything from £30 up to in excess of £100 or higher, depending on the club (and the condition, of course).

These prices are also applicable to individual programmes. Where collectors are willing to buy in bulk, then they can expect to pay less per programme. However, pre 1950's programmes are usually sold as individual items and not in job lots.

Values and prices will be higher for some of the programmes in the collecting categories listed in the section above.

Big match programmes in general are higher value.

F.A. Cup Finals programmes from the 1920's cost hundreds of pounds each, reducing down slightly as we go through the 1930's. Post 1945 issues are up in £100 plus category.

Prices reduce down gradually for the 1950's finals and settle in the 1960's from around £20 down to £5.

Most post 1970's finals cost a few quid with the exception of replays, like the 1970 match between Chelsea and Leeds United.

Most League Cup Final programmes are valued in the lower amounts with the exception of the early pre-Wembley matches played over 2 legs between 1961 and 1966. The Rochdale leg of the 1962 final against Norwich City is rare, valuable and can reach many hundreds of pounds.

Pre-Wembley values are also higher for Charity Shield matches played on club grounds prior to the match being switched to Wembley in the 1970's.

European competition finals have higher values especially from the early years of the competitions.

The European aways of clubs like West Ham United and Liverpool in the 1960's and 1970's where they played against some smaller clubs, are often some of the rarer and most expensive to acquire.

Also, even though they may be more recent than 1970, the programmes for postponed matches are an exception to the rule. The programmes in this category which are often of significant value, rising into hundreds of pounds, are the ones where the match was postponed after the programme was produced but where only a few were released into the marketplace (maybe to club officials or contacts at the printers, for example).

There a some matches which were postponed literally minutes before the start or were abandoned at some point into the match. In these examples, because the programmes will have already been bought by the attending fans, the value of the programme will be closer to the standard for the decade in question.

So if you look at the Ebay listings for postponed matches, many will be available at what might be called 'standard' prices. Others will have their price set at much higher levels. It is the circumstances surrounding the game which will determine the value.

Non league programmes have much lower values but many collectors like this category of collecting, especially, like me, when their early football experiences when they were a child were at their local non league teams. For me, it was matches at Athenian League clubs Edgware Town and Wingate. I look out for their programmes. Another non league club whose programmes I watch out for is Burgess Hill Town, now a Ryman League club but back in the early 1980's when I played for their reserve team, a Sussex County league side.

For me, as well as many others, like Groundhoppers who collect a programme from every match they attend, the memories are far more important than any increasing values.

A final point in this section is to repeat the points above about restoration. Such improvements will enhance the value of an old programme but not necessarily back to its' general market value.

But don't forget, all of these suggested values and prices will be subject to condition as outlined in the section above.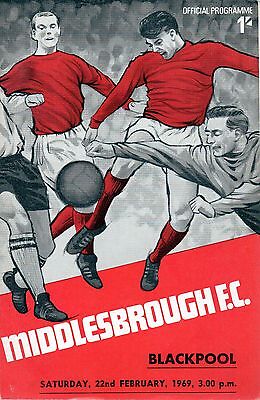 What to do with them all - Enjoying your collection and storing it safely
'I just leave them up there'. A home in the attic was where a Middlesbrough supporter I was chatting to at an auction, kept his large collection of home Boro' issues.

For this collector, the enjoyment seemed to be in the collecting process as opposed to enjoying the programmes once acquired. For other collectors, the opposite is the case and the enjoyment comes from looking at the programmes and actually reading them.

While the way collectors store their programmes is probably as varied as the ways people collect, on the other hand, there are some good programme holder boxes on the market where there is the opportunity to purchase the boxes in the colours of the team in question as well as personalising the spines to the team and season as applicable.

Such storage boxes can make a collection look great on the book cases at home.

Watch out for the sun and the rain, or water at least. One of the most damaging factor affecting the condition of old programmes is sun bleaching. So keep those programmes away from direct sunlight. Damp is another spectre to avoid, making pages stick together or adding a rather unpleasant musty smell to your collection. Educating family and friends not to leave coffee cups with wet saucers unwittingly on top of vintage cup final programmes is also advised.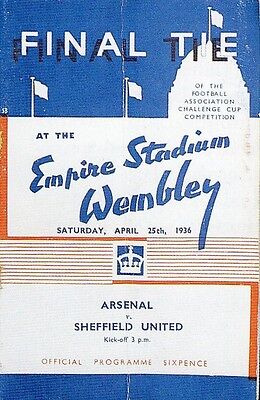 In summary
The hobby of collecting football programmes is a long standing one providing many football fans with an enjoyable way of enhancing their enjoyment of the game.

Since the start of the modern game, programmes have evolved from match cards to the glossy, thick magazines produced today and provide a wonderful record of the history of the game whether at club or competition level.

Many collectors focus on the home programmes of their supported club but often supplement this main collection by collecting programmes from the other collecting categories including big matches, foreign programmes and non league clubs' issues.

Condition is very important to most collectors both from an aesthetic perspective but also for defining value. However, different faults have different significance for different people. It's a personal preference as to what any collector will find acceptable or not when buying. New collectors might take some time to check the glossary of terms used in this area.

Values and prices are driven by age, scarcity, condition and priority in the collection in question. In most cases, the older an item, the greater its' value. Around 1970 is a current benchmark for value in that as items pass back before this time, their values start to rise, gradually at first but increasingly as the decades go back.

People collect for many different reasons and for some it is the actually collecting process which is fun; for others it's the joy of handling and reading the programmes.
Different ways are used to store programmes but collectors should be wary of too much sunlight on the one hand and damp on the other.

If you've read this far, thank you for your time and I hope the above information was of interest and helpful. If you've found the information useful, there are plenty more articles like it on the Goals and Wickets memorabilia blog website (see link in my ctrader51 profile summary at the bottom of the page).

Finally, the Goals and Wickets Ebay Shop has many popular interesting and rare items of football and cricket memorabilia available including many football programmes for the existing or new collector.

Any questions, please ask.

Thanks in advance for any views.