Microsoft describes the
Surface Pro 3
as the "tablet that can replace your laptop". That's something of a bold claim and it's also somewhat interesting, as the new Surface signals Microsoft's new intention for Windows tablets.
So what does the
Surface Pro 3
offer that makes it a laptop replacement? The first thing to note is that it cheats slightly by being a laptop in specification, but just without a built-in keyboard. New Intel processors and advances in battery technology mean that it's now possible to fit computers into ever smaller cases — and that's Surface's secret.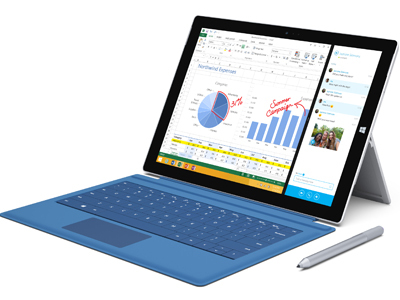 Two versions of Windows
The first important thing to explain about the
Surface Pro 3
is that it uses Windows 8.1. Previous Surface models were also available with a greatly cut-down version of Windows known as RT, but this can't run normal Windows programs. With Windows 8.1, however, the Surface Pro 3 can do everything your laptop can — hence Microsoft's bold claim. So it's ideal for people who want to replace their existing computer with a much smaller and more portable device.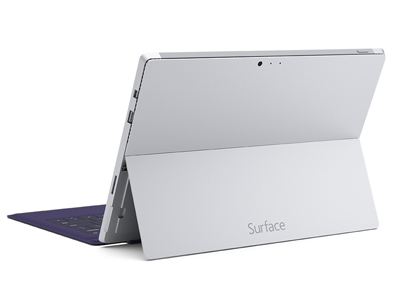 Battery life
When it comes to both laptops and tablets, battery life is key. Android tablets and the iPad use special low-power processors that allow them to run for many hours on a single charge. It's not unusual for a tablet to offer 10 hours of video playback, whereas a laptop would usually only manage half of that.
The problem with Surface Pro 3 is that it's a laptop in tablet clothes, so you won't see the same long battery life and you should expect to recharge it every four or five hours. That's reasonable enough for a laptop, but when an iPad offers many of the same features for less money, it becomes a harder sell.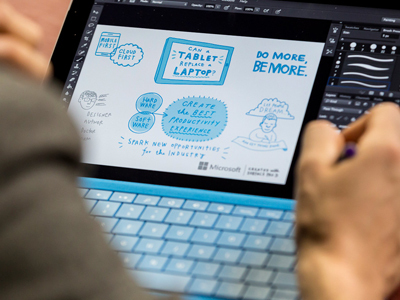 Massive power
Where Surface Pro 3 does beat an iPad or Android tablet is with processing power. There are three different models available, each with one of Intel's new generation of processors. Known as 'Haswell', these feature Intel's most power efficient design yet and Core i3, i5 or i7 chips are available, running at 1.5GHz, 2.9GHz and 3.3GHz. These are the same processors in the latest laptops, so there should be no difference in the experience of using a Surface to that of any other laptop.
Memory is important in any computer and you can have either 4 or 8GB in the Surface Pro 3. It's fast DDR3 memory, too, so you should see things running very smoothly. For most uses, 4GB of memory is probably enough, but power-users will want to go for 8GB.
Storage space comes from a solid-state drive, or 'SSD'. Again, there is a choice of capacities from 64GB up to 512GB. The option you select here will have a big impact on the price, so choose wisely. Too little, and you won't be able to store many files, while too much will cost the earth. There's also the option to add microSD storage up to 128GB, which this is a really cost effective way to get extra space.
Pricing
The entry model Surface Pro 3 costs £640 and for that you get an Intel Core i3 processor running at 1.9GHz, 4GB of memory and 64GB of storage. At the other end of the scale is the Core i7 model, with 8GB of RAM and 512GB of storage, for £1,650.
However you look at it, though, the Surface is priced much more like a laptop than a tablet. That's likely to make some people forget about the idea and just go with a laptop, especially when you consider that to get real laptop functionality, you're going to need to spend even more money on a keyboard for your Surface Pro 3.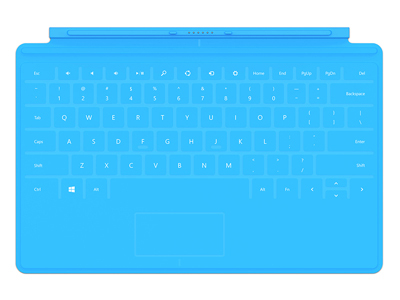 Surface Type Cover
The best option for a Surface keyboard is to get Microsoft's own Type Cover. This £110 accessory enables you to both protect your Surface's screen with a cover and gives you a laptop keyboard.
Previous Type Covers were very good and offered a near-laptop-like experience. The new version for the Surface Pro 3 is even better and the keys are even backlit for typing in gloomy lighting. They can also be adjusted to give you angled typing surface, which is great for quicker typists.
The Type Cover also has a trackpad built-in, which replaces a mouse and gives you an alternative way to navigate that doesn't involve the Surface's touchscreen. It's very handy indeed.
Conclusion
When it comes to offering a tablet that can replace your laptop, there's no doubt the
Surface Pro 3
succeeds. The problem is that it isn't any cheaper than a laptop — and in fact it's quite a bit more expensive than most, so you're going to really have to want a tablet to choose it over a decent laptop.
Still, for those who need the size and space reduction that the Surface Pro 3 offers, it remains a great choice. For most people it will come across as being an expensive alternative that doesn't really offer much over any laptop.