The correct font used for the German number plates is called FE Mittelschrift. Which replaced tthe old DIN font.
No other font if used for the modern German plates.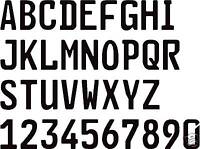 Genuine German number plates will have the "Din" mark stamped on the rear of the plate, they will also have the same image ghosted on the reflective front, which is only visible when the plate is tilted on an angle.
The blue Euro badge is part of the plate, it is never a sticker!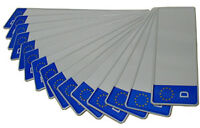 The plates are made from a single sheet of aluminium, the reflective is sprayed on, it is never a stuck on sheet of reflective.
To make the plates, the appropriate letters/numbered dyes are placed on the presses bed,
the blank plate is placed in between the dyes, ( dyes are made up of a male and female section ) the press is then lowered and the plate is pressed into the female part, thus raising the digits.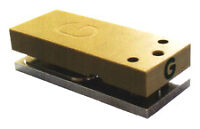 The pressed plate is then fed through either a hot foiler or ink roller, that puts the black on anything that is raised. ( digits and plate rim )
The hot folier being the most modern and prefered method, as it allows the plates to have different coloured digits. ( red, blue, green etc)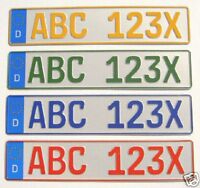 Europl8 have imported the equipment and supplies from German to enable us to supply quality products.
Be aware of traders passing off UK plates as German plates, look out for the tell tale signs of the Euro badge is a sticker and the wrong font.....