A Guide to Choosing a Loft Ladder
Buying a loft ladder enables easy safe access to extra storage space in the loft. We stock a large range of loft ladders, ranging from the standard sliding aluminium ladder to space saving concertina and timber folding ladders. The loft ladder that you may choose will depend on your personal preference, space and how often you are going to use them.
When choosing a loft ladder please take the following points into consideration
1. Measure all the dimension that are on the below diagram and assess which loft ladder would suit your needs.
2. Assess how often you will use your loft ladder
3. Decide if you would prefer your loft ladder to be sliding, folding or concertina style and the material Timber or Aluminium
Once you have done all of the above it will make it easier to narrow down the most suitable loft ladder for you. Be aware that if a loft ladder is going to be used on a regular basis you will need to purchase a higher quality loft ladder which will ultimately be more expensive.
Generally if you have very limited space the only loft ladder that would be suitable is the concertina as it requires limited space all round. If you have a bit more space, on a budget and will only be using the loft ladder occasionally then a standard aluminium 2 or 3 section loft ladder would be the best answer. If you have adequate space and a higher budget the timber folding loft ladder is your best option. It is designed to blend with its surrounding and can be used more frequently.
Important - Loft ladders should only be used to access storage space in the loft. If you require access to a habitable room then a fixed staircase that complies to building regulations must be fitted.
Before picking your loft ladder please measure the below dimensions.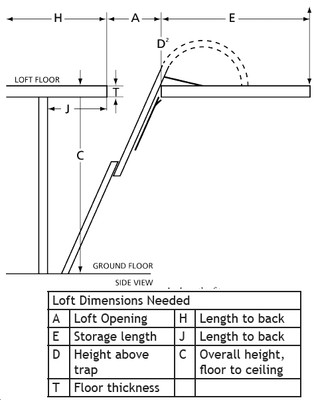 Please keep a note of these sizes. If you are having trouble deciding which ladder would fit best, please send us the dimensions. We would be more than happy to help.
Sliding Loft Ladders
Sliding loft ladders are by far the easiest to fit and use. The majority of UK homes have a loft opening big enough to meet the minimum standard requirements. If your loft opening is not big enough it can be extended easily. The sliding range of loft ladders usually attach to the joists inside your loft and come in 2 or 3 sections. Our sliding loft ladders do not come complete with a hatch, parts are supplied that may enable you to convert your existing hatch into a hinged hatch.
The standard range of sliding aluminium loft ladders are made of lightweight aluminium and are designed for minimal, light usage.
Concertina Loft Ladders
Our range of concertina loft ladders are ideal for loft access where there is limited space. They require virtually no clearance or storage space in your loft and have small landing space requirements.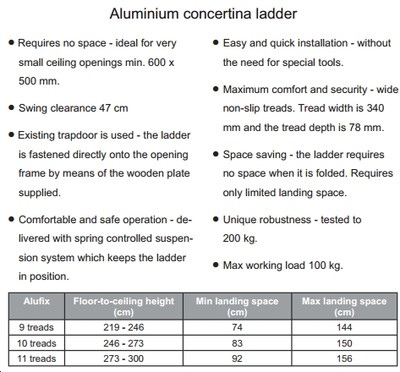 Folding Loft Ladders
The most popular of all the ranges are the timber folding loft ladders.These loft ladders simply fold up, usually in three or four sections which end up stacked on top of each other on the loft hatch, once fully closed. Quieter to use and smoother to operate than the aluminium ladders, they also feel more secure and robust.
All our timber folding loft ladders come with a frame and loft hatch as standard. Your opening size may need to be altered to enable the loft hatch to be fitted. We have a range hatch sizes to enable you to pick the one that is most suitable for your needs.
Our Envirofold, Eurofold and Mini loft ladders are manufactured from the highest quality timber which is FSC
® certified. Buy responsibly.... buy FSC
®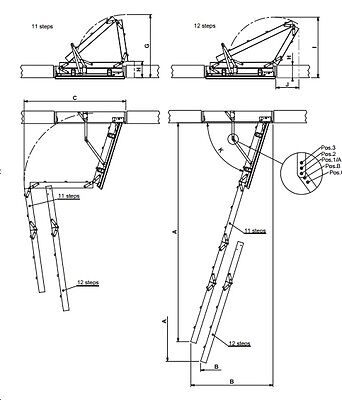 If you require additional information of accessing your loft please call us on 08443 350850 or contact us via ebay.