A Quick Guide to show you the main differences in towbars and the ways that they fit to your vehicle, also a complete guide on which cycle carriers, trailers and caravans you can use with these different towbar types........

Fixed Flange Towbar
The Flange Towbar has either a two hole or four hole face plate designed to 94/20/EC which can then have a standard 50mm towball bolted to it conforming to type A50-1. This is traditional in the U.K. and is compatible with most bike racks.
The advantages of a flange towbar include:
* Cycle carriers - a direct bolted coupling provides the most secure fixing arrangement.(Thule
Thule 9705 Bike Rack
or the
Thule 9708 Cycle Carrier
is ideal for this)
* Bumper protector plates - Prevents the coupling head from damaging the bumper which can be expensive.
* Caravan stabiliser attachment plates
* Can be extended if required to Specialist towballs such as an AL-KO ball.(gives you more height to mount
Mottez Bike Racks
)
* Replacement of a worn out or damaged towball is cost effective and straightforward and there is no need to replace the towbar.
* Not easily removable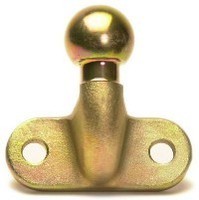 Fixed Swan Neck Towbar
This is one of the most universally used towbar designs but without any flexibility to add extra attachments. It can be difficult to replace when worn and does not allow you to add accessories. Cycle carriers are available for this type of towbar but you cannot tow caravans or trailers whilst carrying cycles.
The advantages of a fixed swan neck include:
* Large / Long Neck means that all towbar mounted bike racks can be mounted onto this
* Removable with use of tools (bolted types only)
* Compatible with the Alko stabiliser system
* Electrics mounted under the bumper giving a better appearance
* Recommended Cycle Carriers are:
Explorer Towbar Mount Bike Rack
and Mont Blanc
Apollo Towbar Mount Bike Racks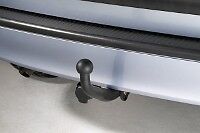 Detachable Towbar
An increasingly popular choice in the U.K., detachable ball systems are safe, reliable and easy to use. They are as strong as fixed towbars and can tow the same capacity.
The advantages of a removable swan neck include:
* When not in use can be removed to preserve injury to the "shins".
* The towbar can be completely hidden when the neck is removed. (Vehicle dependant)
* The Towbar is easy to remove by hand with the correct tools (Lockable)
* Unrestricted access to the bolt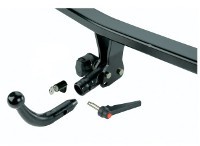 The three distinct types of towbar have their advantages and disadvantages but at Carracks we would advise that when mounting cycle carriers you would be best with a Swan Neck type towbar. Due to its long reach and the way it mounts to the chassis, this type of towbar has its electrics hidden and doesn't require a lot of alteration to the body of your vehicle. If you are looking for a great price and great style of towbar mount cycle carrier then you can find all types on
Towbar Mounted Bike Racks