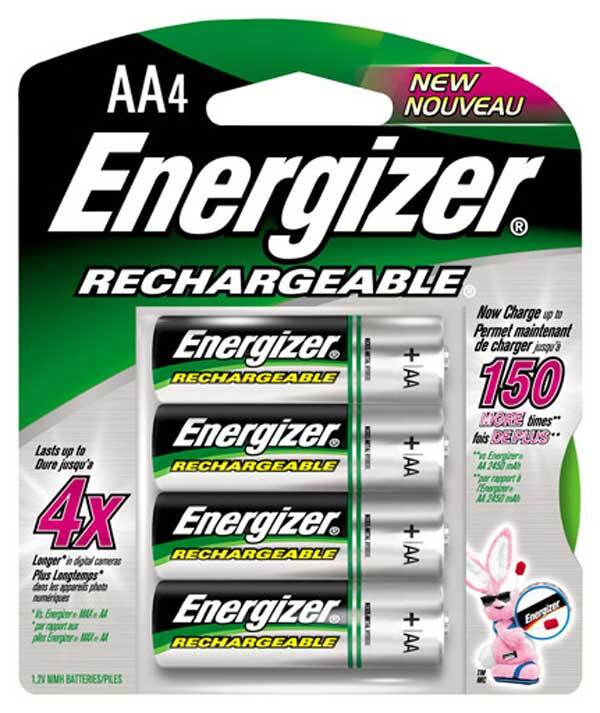 As one of the most popular battery types, the AA battery is said to be the most used. They are versatile in the amount of things they power. Many electronic devices, such as remote controls, children's toys, RC cars, RC planes, and digital, as well as analogue cameras, are powered by the AA battery. These batteries are some of the most versatile on the market. They are available in regular and rechargeable options and are sold in many different places, including supermarkets and online at the auction house, eBay. It may seem like all AA batteries are the same, but they are not. They are made of different materials, have different properties, and several different companies produce them. When choosing a AA battery, one needs to know about the different types of batteries, the difference between each type of battery, and which companies are rated the highest in operation and length of life.
Types of AA Batteries
Most types of AA batteries are available in regular and rechargeable forms. The rechargeable battery is healthier for the environment, but they do eventually need to be replaced once they no longer charge. They do have a length of time that they are operational. Non-rechargeable batteries have a shorter lifespan, but many people view them as more convenient than the rechargeable types.
Nickel-Metal Hydride AA Batteries
These batteries are made from nickel and metal hydride. The abbreviation for this type of AA battery is NiMH. These are a good general use battery and fit into most devices that require a AA battery. Unfortunately, this type of battery has the lowest shelf life and the lowest length of use. It discharges slowly over time if it is stored. It is also unusable at low temperatures.
Low Self Discharge Nickel Hydride
Just as the name suggests, this version of the nickel metal hydride battery lasts a bit longer than the regular nickel batteries. They are still not very powerful and carry the same 1.2 volt charge as the ordinary NiMH batteries but they last both longer in storage and length of use. They also have the same high capacity as the ordinary NiMH batteries.
Alkaline AA Batteries
Alkaline batteries are very common and very inexpensive. These batteries are fairly commonplace and are found in both name brand and generic forms. They are one of the batteries with the least amount of life both on the shelf and when in use. They tend to drain quickly and are meant for lower power devices, such as television remotes and many small toys. These batteries can also leak if not removed from a device in a certain amount of time.
High Drain Alkaline AA Batteries
These batteries are recommended for devices that require a lot of power for a short period of time. They are not recommended for most general uses because they drain quickly. These batteries also tend to leak if not removed from a device regularly. The high-drain alkaline battery does not work well in below-freezing temperatures.
Lithium AA Batteries AA Batteries
Just as the name suggests, this version of the nickel metal hydride battery lasts a bit longer than the regular nickel batteries. They are still not very powerful and carry the same 1.2 volt charge as the ordinary NiMH batteries, but they last both longer in storage and length of use. They also have the same high capacity as the ordinary NiMH batteries.
Nickel Zinc AA Battery
Nickel zinc AA batteries are also called the NiZn battery. This battery has a slightly higher charge than most other AA batteries. They are great for high energy drain devices, such as cameras and game controllers, but can burn out smaller devices, such as lights and other electronics. These batteries usually have a 1.65 volt charge, unlike the 1.2 volt charge that the NiMH batteries contain. This means that they have more power and a longer shelf life
Lithium AA Battery
Lithium batteries are one of the most powerful batteries, but can be extremely toxic. These batteries are good for long-term, low-level use because they do not leak as much as other batteries. These batteries work well in low-power, extended use situations, like a smoke detector or an air conditioner thermostat. It is important to note that this is not a lithium ion battery. Lithium ion batteries are not available in AA.
Carbon Zinc Zinc Chloride AA Batteries
The carbon zinc zinc chloride AA batteries are heavy duty batteries. They are meant for repeated extended use. They are used in many children's toys that need a large amount of power for an extended period of time. Their longer life and heavier charge work wonderfully for flashlights and other devices that need to be used repeatedly.
Summary of AA Batteries
When choosing a battery, it is a good idea to compare them side by side, since batteries have so many different charges, properties, and uses. Buying the right battery for the right device can increase a battery's life, and the life of a device.
Battery

Pros

Cons

Devices

Rechargeable

NiMH

Does not leak

Fits in most devices

Short lifespan

Low power

Does not last long on the shelf

Any device that uses AA batteries

Yes

LSD NiMH

Long shelf life

Does not leak

Short lifespan

Low power

Still drains while sitting, but not as much

Any device that takes AA batteries

Yes

Nickel zinc

Long life

More power

Long shelf life

Can blowout some devices

Cameras

Video recorders

Tape recorder

Yes

Alkaline

Inexpensive

Easy to find

Generic

Name brand

Common

Short lifespan

Low shelf life

Low charge

Low voltage

Any low voltage device

Remote controls

Yes

High drain alkaline batteries

High voltage

Strong

Low shelf life

Drain quickly

Leak

Any device that needs high voltage in a short period of time

No

Lithium

Long life

High charge

Long-term use

Toxic

Smoke detectors

Radon detectors

No

Carbon zinc zinc chloride

Heavy duty

Repeated use

Long life

Long shelf life

High voltage

Flashlights

Children's toys

Remotes

No
Each of these batteries is good for its specific use. This list does not contain all of the AA batteries on the market. Many of these batteries are listed under different names. They are available in generic and name brand options, but contain the same metals and substances. The generics have the same lifespan as the name brands and the only true difference is the name.
AA Battery Ratings
Panasonic batteries rate very high for extended use under high-voltage conditions. They are available in rechargeable and non-rechargeable options, and have a long shelf life. These batteries are followed closely by the Duracell Coppertop batteries for long life and long shelf life. Both are name brand batteries with a well-known reputation for quality. Duracell batteries also offer a way to test their remaining charge without using a metre for testing, which is extremely convenient for checking whether or not new batteries are needed. These two types of batteries come in all the metal forms available. The metal type that they use is ordinarily listed on the battery package.
Rechargeable vs. Non-rechargeable
Many people like the convenience of a non-rechargeable battery. They are less expensive, easier to find, and easier to purchase. A rechargeable battery is not as easy to find but has the added benefit of being charged again when it does not contain any more power. One of their largest drawbacks is that even when they are not in a device, they lose their charge. The charge loss is not fast, but is faster than most non-rechargeable batteries, which means a battery that has been previously charged but not used, may not have any power left. Rechargeable batteries also tend to leak faster than those that are not rechargeable.
Buying AA Batteries on eBay
When you are looking for AA batteries, a good place to search is the auction website, eBay. All you need to do to find batteries is type the search terms "AA battery" or "double A batteries" into the search bar. This populates a list of AA batteries available for sale. Most of the batteries are either new or rechargeable with charging stations. If, after browsing through the list, you do not find what you are looking for you can change your search terms slightly to find another set of listings. Once you have found a listing that interests you, click on it and it displays all of the details about the AA batteries being sold.
Some information that should be detailed in the listing are the metal used in the battery, the battery's standard life, and if it is rechargeable or not. Other things to look for are the seller's policies for shipping and returns. If one of these things are not listed or you would like more information about the product, then you can ask the seller a question before placing a bid or purchasing the item. Also, pay attention to the seller's feedback; a high feedback rating means that the seller has a good reputation.
Conclusion
There are many types of AA batteries available and it is difficult to know which to use for which device. Different devices need slightly different voltages, and the different types of batteries available provide these levels of power and lengths of use. Many of the batteries are all-purpose, which means the only choice is rechargeable or non-rechargeable. Since so many devices run on AA batteries, it is not unusual that there are general and specialty use AA batteries. They power everything from smoke detectors to flashlights to children's toys. Some devices that they power are extremely important for safety and security. This is particularly true of smoke detectors, radon detectors, flashlights, and the emergency beacons used for roadside emergencies. The AA battery can be purchased at many different types of shops, particularly electronics shops that carry devices powered by the AA. They can also be purchased online at websites like eBay.