If you are thinking about purchasing a vintage Akai tape recorder I though a few tips on things to look out for / common faults might be useful.
Akai recorders were the very top end of the domestic market in their day and were even used professionally (they were popular at the BBC for instance). The original range covers several series (1700, 1800, 200, 3000, 4000, GX, etc). The most popular seen on ebay by far is the excellent 4000DS. Other notable ones you will find include; GX-630 three motor machine (which is liable to cost you a fortune!), the 1700 series such as the 1710W or L, which have built-in amplifiers and stereo speakers, and the X series – such as the X-150D. There are several online sites that cover the history of the range if you are interested, including this excellent ebay guide by zselectronics0055 Akai Reel to Reel Tape Decks Guide
All these GX's, X's, D's and W's do mean something and it's quite a lot to go into. The main ones to know are: GX = Glass & Crystal Ferrite Heads and X = Cross Field Heads. D on the end means the unit does not have built-in speakers and needs to be hooked up to a sound system. W or L, such as the 1710W, simply stands for a Wood finish or simulated Leather finish.


My main aim was to cover some of the pitfalls in purchasing vintage Akai recorders, especially the CAMS:
Although built to exacting standards the principal problem with nearly all vintage Akai reel to reel recorders are the cams. The set of four cams (three in some machines) are cast from a bizarre pot metal that self destructs over time!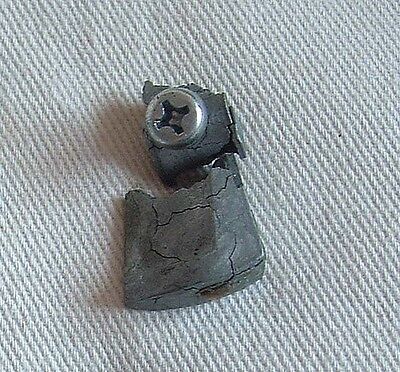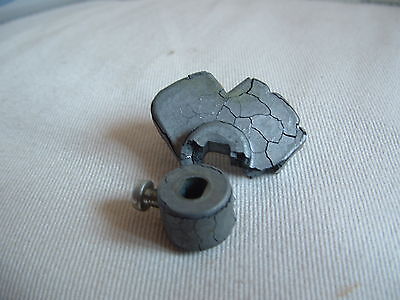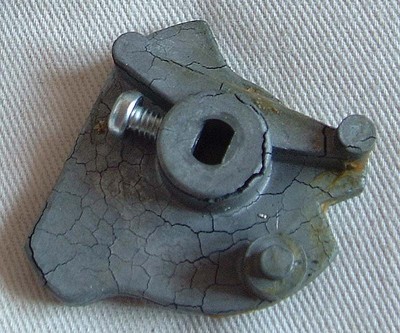 Akai Cams showing extreme but not untypical breakdown
When they fail the machine is usually condemned to the skip or broken for spares. I managed to find a limited source of new cams and have resurrected a few machines, so there is hope if your machine suffers from this common fault.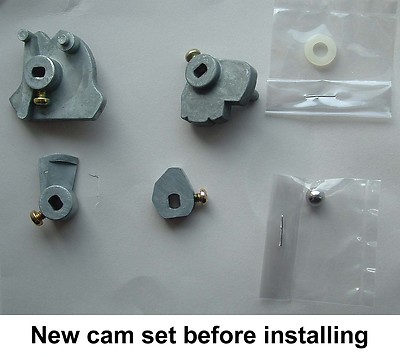 Replacement involves stripping down the play and fast forward / rewind mechanisms. The cams are common to most machines, although some slight modification may be required. For example; the X-Series (Cross Field) requires a small hole to be drilled and tapped on the main Play / Record cam, to accommodate the Cross Field lever. The lever holds back the Cross Field head during play back and allows it to engage on Record – simple but vital. The two most obvious cams are the rewind and play ones at the front, however there are also two important smaller ones on the rear of the machine (one on later machines). The procedure is relatively straight forward, if a little fiddly; just keep track of how it all goes back together. And don't loose the large ball bearing that goes between the two main cams!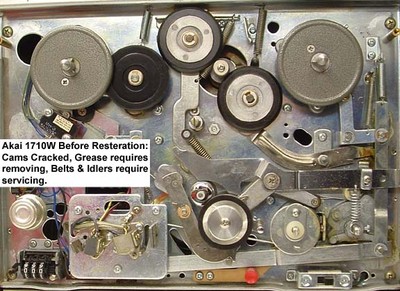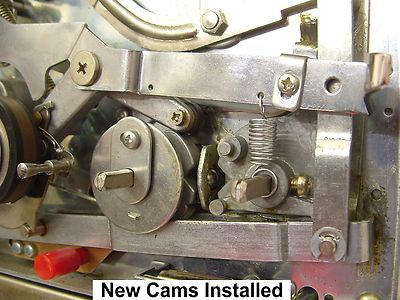 Other things to check, other than the usual that apply to any recorder (head wear, condition, etc) are:
1) Is the speed change sleeve there? From the early 1700 series right up to the 4000 series the highest speed, 7½", requires a sleeve that goes over the main capstan drive.

2) Check the condition of the capacitors. Some are prone to leaking. BUT DO NOT TOUCH THEM! They can contain dangerously high voltages.

4) Does the counter work? A non turning counter is the first indication of worn or damaged belts, although it could mean the counter needs lubricating.

5) Simplest of all – does it play, rewind and fast forward? A slipping or broken drive belt is simple to replace but broken or worn idlers are not so easy. The rubber on these internal drive wheels can wear just like the belts, although this is rare.
As a parting shot: Two core cable is NOT up to modern electrical safety standards! It means the unit is not earthed and potentially dangerous. It certainly won't pass a PAT test. I have not had a problem adding an earth to Akais but it is possible that doing so can cause hum.
I hope this is helpful. Akais are superb machines and if you do get one there is no reason why it couldn't run for another 40 years! If you have any questions or comments please get in contact. Please do not copy or use any of the above pictures without permission.