Hi, if you buy an autograph on ebay, there is a very good chance it could be a fake. Here are a few tips to help avoid buying one of the many fake autographs on ebay.
1) Never buy from any seller using private bidding.
2) Try to only buy from ACAF recommended

dealers until you gain experience.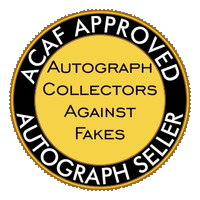 http://groups.ebay.co.uk/clubforum.jspa?forumID=18000025738
3) Only ever accept a lifetime gaurantee, never 14, 21 or 30 days.
4)A C.O.A means nothing.
5) Feedback counts for very little, take it with a pinch of salt.If the buyer knew it was a FAKE, they would not have bid.
6) Educate yourself, you will not get an authentic BRANDO for £30.00, or P Newman, Deniro, Redford, Eastwood, etc for £10 or £15.
7) THINK! If a total stranger walked up to you in a pub and offered you a signed 10x8 glossy pic of Al Pacino for a tenner, would you trust it to be authentic? No? So why do that very thing on ebay?
8) Check out sellers other autographs for sale (and sold), if they have A-list and hard to get autographs week in week out, avoid them. No dealer has Britney Spears, Pacino, Madonna, Ali, etc all the time.
9) If it looks to good to be true, it probably is.
10) A photo of a celeb means nothing, think about it. It does not mean that the autograph you will recieve is the one being signed in the photo. Also forgers download these pic's from the net to fool buyers.
11) If the seller is selling rare and hard to get autographs at good prices, look at the feedback and see if ACAF, UACC registered dealers are buying them. NO? Ask yourself why that is, if they were that good (and authentic), trust me, dealers would snap them up.
12) Join a group like the ebay community group ACAF, GREAT ADVICE WITH A TOP CLASS RECOMMENDED DEALERS LIST.
13) Don't be afraid to ask questions , ask where the seller got the autograph. If bought from a dealer, ask which one.
14) Be very careful with multi-signed items, most are fake. If Harry Potter, Star Trek, L o t r multi-signed posters were that easy to get, every dealer would have them. They all don't, that should tell you something. Remember registered dealers do this full time, it's there chosen career. They will do the private signings and the autograph and memorabilia shows.
15) There has been a big increase in signed football shirts, most are fake. Make sure you only buy from registered dealers until you gain experience, there are a few who specialize in sport memorabilia.
16) A fake autograph is not just one that a forger has produced on his home computer. There are also autopens, secretarials, rubber-stamped, pre-printed. Most A-list stars will use one of these to send out in the post. John Travolta, Clint Eastwood, Al pacino, Paul Newman, Robert Redford are just a few who have been known to use these.
Happy hunting folks and remember. Fake's, together we can beat them.