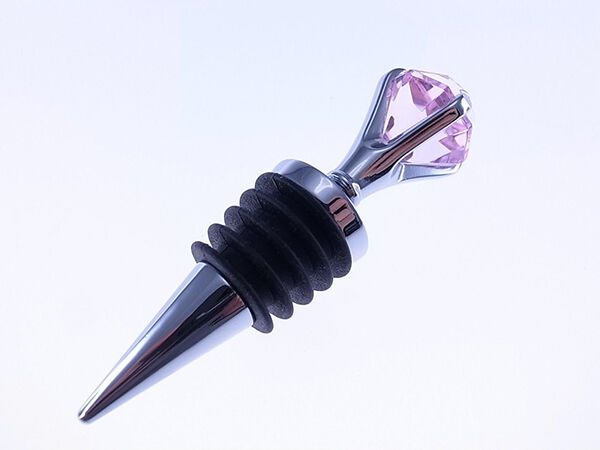 A bottle stopper, also called a bung or just a stopper, is an instrument used to seal the opening of a container. Corks are bottle stoppers made of the material cork, but it often happens that stoppers made of other materials, such as rubber, are referred to as corks. The most common use for corks or stoppers today is with a wine bottle. Stoppers for bottles are available in a wide range of different materials, shapes, and sizes. Besides cork, which is perhaps the most familiar type, they are also stoppers made of metal, including stainless steel, glass, rubber, stoneware, pottery, porcelain, and china. As well as preventing spillages, bottle stoppers protect liquids and foodstuffs from the atmosphere, particularly from dust and from evaporation.
Brief History of Bottle Stoppers
In the early part of the 19th century, most goods were stored in and sold from canvas sacks, wooden boxes, barrels, and pottery jugs. Where bottles were used, for example for alcohol, including wine, and patent medicines, these were sealed with corks or bungs. The demand for bottles and for glass jars grew as cities prospered and people became more affluent, and at the same time techniques were developed to preserve foodstuffs. Jars and bottles for preserves had to be properly sealed, however, and as the century progressed there was widespread investment in various designs for devices to ensure suitable closure of glass items. Although thousands of different types of closure devices were patented, only a few types prevailed. Unsurprisingly, these were the ones that proved to be the most effective and the simplest.
Bottle Finishes and Closures
Simple corks as bottle stoppers endured for a very long time while gradually, throughout the 19th century, as part of the manufacturing process for a bottle or glass jar, glass vessels began to be 'finished' in a particular way. Finishes usually occur at the neck of a bottle, and they are closely related to the type of stopper, cork, or other closure device that can be used, as some closure devices correspond only to certain types of finishes. A screw top for a jar, for example, needs an appropriate bottle finish that it can screw onto. Antique or vintage bottles can often be dated and categorised according to the finish that was used, particularly jars used for preserves and beer bottles manufactured during the late 19th and early 20th centuries.
Corks
Unlike a lid, which normally covers an opening on the outside, bottle corks or bungs are short and cylindrical, and are partially inserted into an opening in order to seal it. Originally, bung stoppers were used to seal barrels, and hardened rubber bungs are still used today in chemistry laboratories to seal flasks and test tubes, although many have been supplanted by laboratory glassware with ground glass stoppers, which are more resistant to chemicals and solvents.
Materials Used for Bottle Stoppers and Corks
Bottle stoppers and corks can be made from a number of different materials. Each has different properties and will inevitably come in a number of different styles and themes. Prices and availability will, quite naturally, also vary considerably, but as eBay has a massive variety of products on sale at any given time, including a huge number of bottle stoppers and corks, it should be quite easy to find the item being searched for. Also keep in mind that some items are more hardwearing than others, and this will affect the overall value of the purchase. It is always advisable to look for products which will last for a long time and can stand up to the wear and tear that comes with frequent use. This will save money in the long term as the items will not need to be replaced so frequently.
Cork
Although many bottle stoppers are 'dressed' with other materials, such as porcelain, wood, or metal, cork has endured as a preferred material for stopper bases, chiefly due to its impermeability and elasticity. Normally, the base is cylindrical or slightly tapered and contemporary preferences for design of the crown vary from place to place. For example, in France stylish chess pieces are very common, whereas corks with a Scottish theme are often decorated with bagpipes, whisky barrels, or Celtic designs.
Glass
Over the years, glass stoppers have retained their popularity, and are used for a wide range of goods, including perfume bottles, decanters, wine bottles, and jugs. Among the impressive selection from which to choose are stylish contemporary designs in coloured glass, often found with metal stoppers at the base, and vintage fragrance bottles made from blown glass with elaborate art deco glass stoppers. Victorian decanter stoppers tend to have cut glass facets that reflect the light - in most cases the stoppers are round, while the decanters may be round or rectangular. Stoppers with contemporary designs are sometimes geometrically cut or have elegant teardrops at their centre.
Porcelain and China
eBay has a wide selection of porcelain and china tableware and stoppered containers include elegant oil and vinegar bottles, sold singly as well as in sets, sometimes with a matching caddy. Occasionally, vintage porcelain cruet sets are available with cork stoppers. It is possible to buy single stoppers and also to purchase antique bottles without a stopper, such as a china perfume bottles, which can be matched with a spare stopper. Wine bottle stoppers for sale are often made of cork or rubber and are topped by a porcelain or china decoration - often a human or animal head. Top brand names available include Wedgwood, Royal Worcester, Capodimonte, and many more.
Pottery
Pottery stoppers and stoppered items range from tableware sets to individual bottle stoppers, often with a cork base and a decorative pottery crown, many in delightful bright colours. Designer goods can be found here alongside charming jugs and bottles, reminiscent of country cottage artefacts. Some stoppers are uniquely European in design, for example from Poland, Holland, or Germany, and occasionally there are vintage oriental stoppers, which are often shaped like animals.
Stoneware
Larger items, including hot water jars with a variety of different types of stopper can be found among the stoneware on eBay, alongside pretty vases and tableware. Replacement stoppers for hot water jars are very useful, as this is an example of how the finish of the jar has to match with the closure device. In many cases, these stoppers are screws that fit snugly into the opening of the jar. Some stoppers for the stoneware jars are made of wood, others have a stoneware crown. Simply follow the link to Stoneware from the 'bottle stoppers' main page and enjoy finding bottle stoppers and corks on eBay.
Conclusion
Whether searching for a special themed gift, replacing a missing stopper or adding to an existing collection, it is easy to find the right bottle stoppers and corks online. There is a great deal of choice and eBay has a wide variety of goods available at realistic prices.