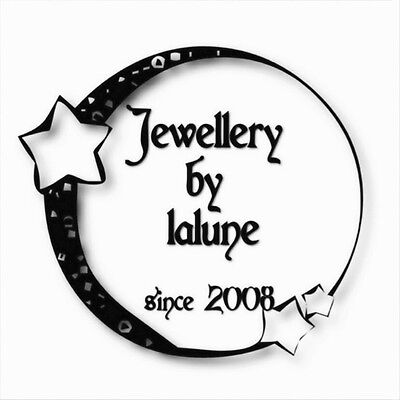 ✨Tashi Delek •Nemaste•Fàilte•Hi & Welcome to my handcrafted
✨Jewellery by lalune✨
...sold at trade prices for people to sell on or personal use
Description
..prices are low not because of poor quality but because I'm doing this not as a business as I am unable to due to disability. I'm a lot of times in bed so art is a great recreational outlet and if I sell anything I order more or repay credit card which I use to buy materials
...which I have hand crafted into unique and original designs from a mix of beautiful Tibetan Silver•. Alpaca Silver• Silver Plate (40% silver 60% copper with .925 top coat)•Gold Plate• Semi Precious Stones• Swarovski (of which I am member of ~ Membership No.
1 5701 38 020
) Crystals. Pearls & Man Made Pearls • Earth saving CCB• Murano Glass• Seeds Beads (usually Coral but occasionally I use Miyuki seed beads)• Wood• Hand Blown Glass• Hand Painted Beads of all kinds• Leather• Hemp• Silk• Cotton• Poly Cotton• Linen• Satin• Stabilized/Treated Stones ie Stabilised, Chalk Turquoise etc• Clear Elastic• Tiger tail• Memory Wire• Ribbon• Voile• Feather etc
...offering necklaces, bracelets, charm bracelets, pandora and shamballa like, earrings, bra straps and health items etc in my ever growing collection of unique designs that have all been handcrafted by me in Scotland
We all like to be a little different and my designs can only be found on my facebook page coming in unique handmade designs where I have only crafted the design or a limited edition piece where there are usually less than 10 pieces or I research indigenous cultures and their jewellery and try to emulate them. I cannot guarantee this at all time because many of my designs have been copied but at least bespoke ones aren't and or most of my jewellery to date.
I source all my materials from all over the world so I can offer you a huge range of different semi-precious beads, Rose Quartz, Tigers Eye, Turquoise, Amethyst, Jade, Tourmaline, Onyx are just a few of the natural stones that have been used in my handcrafted and unique jewellery designs.
They have been mixed with the semi-precious, crystals and pearls to make stunning handcrafted jewellery. In my semi-precious jewellery collection you will find stunning necklace designs and I have earrings, bracelets and some handmade jewellery sets of matching earrings and bracelets to compliment these unique designs. I have crafted all these to the highest standards
If you do not see a piece of unique handmade jewellery that is to your requirements then I can create you a bespoke piece. Simply choose your jewellery designs and which semi-precious stone or crystal you would like your piece made from and I will do my best to create you a unique and original piece of handcrafted jewellery to your own specifications.
Because i now buy a lot if materials when the are on sale and in bulk I can now offer Bridge Jewellery Prices to my gemstones and trade prices to the rest of my jewellery. i do this by not charging for labour as its more important I keep making rather than making money
•If I am at all doubtful about quality of any materials no matter how small I use I then down price even more and put in the Sale baskets
•Please check if items are in stock and that I am making to order•
•If making to order please allow 28 days sometimes longer before I send to allow me to order materials (chains.hooks.wire.silk etc) from all over the world (Singapore.Thailand.HongKong.Nepal.Ireland.Europe etc) and or to allow for my disability. Some items can take me an hour or a month depending on how my health is.
•If not in stock 50% of price as deposit full payment once completed
•I only accept PayPal payments in GBP. PayPal is the safest and most secure option for both seller and buyer
•PayPal does all the work, taking out currency of your country from your account and converts it. They can do one off payments if you don't want to join PayPal, but please enquire with PayPal to make sure•
•International orders are now sent via ebays glibal shipping, which is expensive but safe and secure but I feel as I keep all my prices down you can afford this.
•In the UK mainland I use Royal Mail or courier this will be at my discretion and whatever I use will be at no extra cost to customers what I quote is what I stick to.
•Please check out my eBay as a few items I sell even cheaper hoping to attract more customers thus can bulk buy materials and thereby always offer at that price
Terms of Sale at eBay
1. There will no response requests to end auction early or to quote a 'Buy it now' price
2. Winning bidders will normally receive an invoice within 48 hours of auction close, unless they choose to pay before that time
3. Items are described in full and honestly with supporting photos but in the unlikely event of an item not being as described in the listing, unused, undamaged items may be returned within 14 days for a refund of the item price. A choice of exchange or refund will be offered on successful return within 7 days of receiving. If items are damaged in post photographs are needed as proof before refund/exchange.
4. The price at which I list is the price at which it will sell if there are no other bids
5. All goods are sold "as is" and no warranty is expressed or implied
6. More photographs are available for most items - just ask
7. Payment is expected within seven days of the end of the auction unless some other arrangement has already been agreed
8. Postage charges will be reduced when more than one item is purchased and posted together
9. Royal Mail postage costs include time, petrol and packing materials Almost all items handled by Royal Mail arrive safely and in good time Proof of postage is obtained and will forward that proof whenever necessary to ensure that claims made by dishonest buyers that items have not arrived are unsuccessful I try and post items within one working day and often the same day that payment is received, that excludes Sundays and Bank Holidays, however, Im disabled so rely on my hubby who works varying shifts which occasionally means he cannot get to a post office for 3-4 days, if this happens I will endeavor to contact the winning bidders to let them know
✨I hope this explains all✨
✨Please enquire anytime✨
• »нєαтнєя« •
•