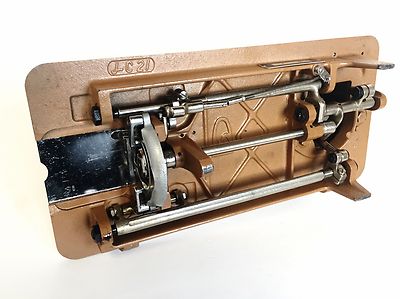 "The Old Ones Are The Best"
We're passionate about sewing and the machines that can perform to the highest of standards. We do not sell plastic toys or flimsy pretender units. We refurbish and sell industrial and semi industrial machines. Machines that are used for sewing leather and other heavy duty fabric. Our machines have a pedigree and a reputation earned through unflagging reliability and the quality of stitch they produce.
Although technology has moved on in the sewing world, sadly quality hasn't... All our modern day equivalents are constructed of plastic, making them unreliable and more likely to break, costing money and time to put right.
Whilst the modern day plastic sewing machines are fine for lightweight work, they struggle on heavy fabrics.
But don't just take our word for it, we have illustrated below why our carefully picked heavy duty sewing machines perform better.
All our heavy duty refurbished sewing machines are built with only the toughest, most reliable parts, making them robust and very reliable!
Machines that you can truly rely on have high-quality components fitted in robust and durable chassis by knowledgeable craftsmen and craftswomen. It is no accident that some of the best machines available are made by companies that transferred skills from other industries.
After opening the top, you can see the the needle bar, shaft and mechanisms are all solid metal! You can be assured that these won't break down and will be able to last you a lifetime!
Clockwork precision and military reliability is the sort of quality engineering that we like in the products we sell. If a machine doesn't meet our standards, we won't sell it and it's as simple as that.
Steel gears, no plastic gearing seen in sight, ready to sew the thickest of fabrics!
Unlike plastic, steel is extremely durable and is commonly used in the construction of railways, bridges, and stadiums... So if steel is good enough for construction, then we are happy to see it in our semi industrial sewing machines!
Our heavy duty sewing machines also feature a high foot lift between 7mm - 9mm, this makes multiple layers and bulky fabrics easy to work with.
After the tensions are balanced, timings set correctly our heavy duty sewing machines will sew up to 3 pound coins of thickness. This includes tough materials such as leather!!
Avoid the false economy of cheap sewing machines: As an investment, either in your hobby or for your business, buying a durable machine makes financial sense. Why put up with inferior-quality stitching and a machine that's in constant need of repair and replacement components? Stumping up for quality in the first place will pay you dividends in reliability and stitch quality for years to come. There is a reason why decades-old machines are still in use today and are a sought-after asset for those who recognise their quality and worth.
Whenever you are looking to buy an industrial or semi industrial sewing machine be sure to look under the covers and beneath the base and give a bit of time to appreciating the substantial nature of the components and working parts. They should be heavy, sturdy-looking parts engineered to a high standard that even the layperson can see has considerable capability.
If you look beneath the surface and see flimsy, shiny, toy-like parts that are fixed in place with plastic or tinny clips then you are looking at a sewing machine intended for light, occasional use.