This guide has been designed for anyone who is new to the world of real nappies. It explains simply how real nappy systems work, including their benefits and answers your questions about common real nappy terminology. This guide is your first step to using real nappies, and for more comprehensive advice about choosing which real nappy is right for you, you may want to visit Choosing your Real Nappies - A Simple Guide.
How a Real Nappy System works: All nappy systems have these three basic elements.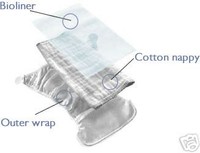 A Liner - This is a layer of non absorbent material placed on top of the nappy to catch any solids and create a stay dry barrier between your childs skin and the wet nappy. It is designed to allow urine to pass through easily to be absorbed by the nappy underneath. The liner then remains dry and comfortable against your baby skin. Liners come in several materials. Disposable biodegradable liners are a mixture of paper and cloth fibres that are designed to be flushed down the toilet with any solids, making disposal very easy and convenient. However, they do not provide a very effective stay dry barrier, although this isnt as important during the day when nappy changes are frequent. Fleece and polyester liners make effective stay dry barriers and are especially good at nightime. Solids also repel relatively easily from thier non absorbent surface into the toilet (as long as it is fairly solid) and they can be washed along with your nappies. Silk liners are also available for sensitive skin, as these contain some natural healing qualities.
A Nappy - This is the absorbent part and it is this part that comes in a variety of different styles and shapes to delight and confuse us. To learn more about the different types of nappies available, please see my guide to choosing real nappies - the link is at the top of this page. However, in general, the nappy will be either flat (terries or prefolds) or shaped (with elasticatation at the legs and waist) and will come in a number of different materials, mainly cotton, hemp, bamboo or flannelette. They fasten with either poppers, Aplix (strenghthended Velcro), a nappy nippa (see below) or held in place with a snug fitting wrap.
A Wrap - This is the waterproof part of the nappy. Wraps are made from breathable waterproof or water resistant materials, which keep the wetness inside the nappy and away from the childs outer clothing, but allow air to circulate around the nappy area. Like the nappies, the wraps are available in a variety of styles and fabrics with Aplix or popper fastenings. Popular fabrics for wraps are PUL (Polyurethane Laminate), Fleece and Wool with every colour and pattern available. A good fitting wrap is especially important to ensure good containment with no leakage and comfort for your baby.
Other items that make up a nappy system are:
Boosters - For older children and at nightime a standard nappy may not be absorbent enough and will need boosting. Boosters are additional layers of fabric (cotton, hemp or bamboo) that allow your child to wear their nappy for a longer period. Usually only needed at night or long car journeys, these boosters are a useful addition to a nappy system.
Nappi Nippa - An ingenious 3 way gripper that replaces the need for a traditional nappy pin. Much safer and easier to use, the nappi nippa grips the nappy fabric and holds the nappy in place securely, ensuring a very snug fit.
Nappy Bucket - For storing dirty nappies you will need a nappy bucket with a tight fitting lid to keep in any smells - at least a 16l bucket is recommended. To make life easier a Laundry Mesh can be used inside the bucket and transfer the nappies to the washing machine with the minimum fuss.
These days nappies do not have to be soaked before washing, and the term Dry Pailing describes the procedure of dry storing your nappies in a bucket until they are washed.
Cloth Nappy Benefits:
Apart from the obvious environmental benefits of using cloth nappies, there are many additional benefits to both parent and baby. Modern real nappies are as easy to use as disposables and becuase they are elasticated in all the right places, they are more reliable at preventing leaks and containing 'explosive poos'. The natural absorbency of cloth means that no exposure to gels and chemicals to keep your baby dry and their soft and gentle texture menas maximum comfort for your baby.
Depending on the nappy system you choose, you could save as much as £500.00 (if not more) per child compared to the cost of using disposables. This saving increases with each child and they can also be sold via the second hand market to recoup some of the initial spend.
Babies who use real nappies often potty train around 6 months earlier compared to babies in disposable nappies as they can feel when they have become wet and instinctively want to make the next step to the potty. This means that you can save even more.
Using real nappies is easier than ever these days, and although it may seem intimidating at first, if you get good advice and choose your nappies well, it is very rewarding. If you have any other questions about using real nappies, or just want to speak to someone who has used them please do not hesitate to contact us - our details can be found at our Nappy Times shop.