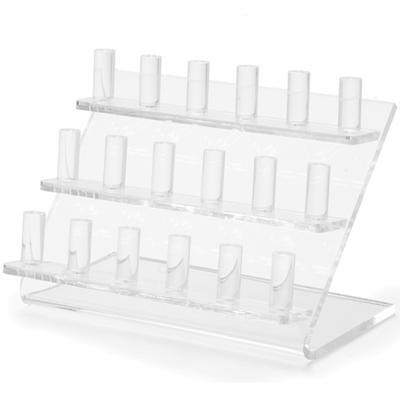 Acrylic glass, or poly methyl methacrylate (PMMA), is a lightweight alternative to glass. It first appeared on the market in the 1930s with the name Plexiglass. It is also known as Perspex and Lucite. This material is often used when extreme strength is desired, such as in the manufacture of aquariums walls, windshields, jewellery, art, and food displays. It is easily manageable, lower in cost, and has many appealing properties. Modified PMMA is scratch resistant and can withstand strong impacts.
Jewellery displays can be made from wood, glass, acrylic glass, metal, and many other substances. Acrylic jewellery displays are an economical alternative to other forms of jewellery displays. The display stand is of utmost importance for vendors, collectors, and home users alike. It helps showcase the features of pieces of jewellery and has a very clean look. A good quality acrylic jewellery display can turn window shoppers into potential customers.
Knowledge of acrylic jewellery displays and their advantages and types is important for buyers who want to make intelligent buying decisions and choose the right jewellery displays. eBay features a large collection of acrylic jewellery displays in different price ranges, or buyers can search for displays in novelty jewellery stores and other places where jewellery is sold.
Advantages of Acrylic Jewellery Displays
Acrylic jewellery displays have numerous advantages. Their increased popularity with the masses is mainly due to their adaptability, durability, and other physical characteristics.
Adaptability and Types
Acrylic is a highly adaptable material that can easily be shaped into any desired form. A good quality display has a very clean, professional look. There are various forms of jewellery display stands that are made from acrylic. Some common types include racks, cases, wall mounts, stands, and holders. These display stands can be used indoors as well as outdoors because they are weather resistant. Extreme sunlight, however, can sometimes turn the transparent colour of a stand to a yellowish colour that does not look very appealing. This problem is due to extended exposure and is evident only in transparent stands. Coloured acrylic stands are not affected by sunlight or rain.
Acrylic can easily be painted with wonderful colours should a buyer want to do so. Although acrylic is not biodegradable, it can be reshaped and recycled into other forms if there are not many cracks.
Lightweight
Acrylic glass is extremely lightweight as compared to its competing display options like traditional glass, metal, and wood. It is, therefore, a great choice for jewellery displays, art show displays, food displays, et cetera. High quality PMMA can withstand strong impacts and is scratch resistant. The lower quality displays, however, are prone to scratches and require extreme care, especially during transportation and the arrangement of jewellery items.
Easy Maintenance
Acrylic jewellery displays are easy to clean. Water and Plexiglass cleaner can be used to remove dust. The use of soft sponges or tissue paper is often recommended to avoid scratches when cleaning, especially for low-quality PMMAs. The surface of the display should be wiped dry and scrubbing should be avoided to prevent any scratches. It is a recommended practice to remove dust and wash the stands regularly to avoid build-up. Separate sponges and soft pieces of cloth can be used for maintenance. Cleaning items should be replaced at regular intervals or after a certain number of uses.
Economical
Acrylic jewellery displays are generally an economical option for jewellery stands with different varieties that range in price from high to low. The higher the quality, the higher the price, and the lower the quality, the lower the price. A buyer should determine the need and budget, first of all. If stands are to be used for long periods of time, buying high-quality PMMAs is recommended. For temporary uses, medium and lower quality displays also perform the necessary function, but special care should be taken with the transportation and arrangement of jewellery on these stands. In the long run, even the high-quality PMMA acrylic jewellery displays are an economical option when compared to competing displays of wood, metal, and ordinary glass.
Durability
Acrylic displays are highly durable. If proper care is taken and falls and scratches are avoided, even low-quality stands can last for several years. The high-quality acrylic jewellery displays are often a once-in-a-lifetime purchase because acrylic glass is not prone to rusting like metals or decaying and decomposing like wood. When compared to glass displays, acrylic stands are found to have much more strength. This is one of the reasons they are less likely to break if they fall onto the ground.
Choosing an Acrylic Jewellery Display
Choosing the right display stand is extremely important. In recent times, with marketing and advertising on the ever increasing rise and with the increasing number of visually oriented consumers in the world, it has become more and more critical to project a jewellery item in the best way possible to reveal the fine details and characteristics of the jewellery and stay competitive. Whether bracelets, rings, necklaces, earrings, or any other types of jewellery are displayed, there is a corresponding acrylic jewellery stand that is readily available to serve the purpose of holding and showcasing the items.
Proper displays also reduce the time potential customers have to spend browsing items, which is highly appealing and can lead to an increase in sales. This is also beneficial for home users as they also want a great display stand that is easy to use to showcase their jewellery.
Several types of acrylic jewellery display stands include acrylic necklace displays, acrylic earring displays, acrylic bracelet displays, and acrylic ring displays. These can be in the form of square trays, luxury display trays, price cube trays, standing displays, or other forms. Many helpful tips are available for choosing the right acrylic jewellery display.
Matching the type of jewellery and the display stand is one of the most important aspects of a correct display. Before making a purchase, always make sure that the display is suitable for a certain type of jewellery. T-style displays and semi busts, for example, are a great option for displaying necklaces because they offer great visibility and can be used to display multiple necklaces at a time. For bracelets, earrings, and other small size jewellery items, an altogether different variety of acrylic jewellery display is more suitable to help reveal and showcase the minor details.
Buyers should consider purchasing acrylic glass frames for events, exhibitions, and expositions, as they offer a lot of space, great visibility, and security. Collapsible and customisable acrylic stands are a recommended option for such places.
Buyers should do some online research on different websites and forums to explore the various available options. Product reviews may also provide valuable insight. These few minutes researching can save a buyer from numerous regrets after the purchase.
How to Buy an Acrylic Jewellery Display on eBay
An easy way to buy an acrylic jewellery display of your choice on eBay is using the search bar on the eBay homepage. You can try entering relevant queries, such as 'acrylic jewellery display' or 'acrylic jewellery stands' in the search bar to see a list of available products. You can then narrow your search results by using any of the several filters or sub-categories that are located on the results page.
One good money-saving practice is to enter your postcode in the 'Distance' filter to see local listings for a desired item. If an item is found in your vicinity, it can save you money on delivery charges if the seller agrees to let you pick the item up instead of shipping it. As soon as your transaction is complete, you can leave feedback for the seller regarding the transaction. Feedback is an important part of the eBay process, and it is highly recommended that you read through the user comments and seller history before placing an order. This can often give you better insight into the quality of the seller and, therefore, the product. You should also read the return policy, as it greatly varies from seller to seller and product to product.
Conclusion
PMMA or acrylic jewellery displays are a great alternative to glass, wood, and metal stands that are used for display purposes. Acrylic glass has many valuable properties. For example, it is highly adaptable, easily managed, economical, lightweight, and highly durable. It can easily be shaped into a desired form that offers a clean, professional look. The various types of acrylic stands include cases, racks, stands, wall mounts, and holders. High-quality modified PMMAs are scratch resistant and can withstand strong impact forces. They are weather resistant and can be used indoors as well as outdoors.
Acrylic jewellery displays are equally beneficial for home users, resellers, and collectors. They are helpful for showcasing the finest details of jewellery items that otherwise would not be as visible, and this can turn window shoppers into customers. eBay has been featuring acrylic jewellery displays for many years in various price ranges. Buyers who prefer to shop locally can search for displays in stores where jewellery and accessories are sold. A basic understanding of the various types of acrylic jewellery stands and their advantages is important for buyers to choose the right displays for their needs. A few minutes of research can ensure buyers walk away happy and satisfied with their purchases.