This guide will look at the buyer experience and how to encourage your buyers to browse longer and spend more in your shop. It follows on and builds on themes from the Setting up Shop on eBay Guide
The main focus of this guide is to look at your shop from a buyers perspective, and to look at strategies to ensure the buyer is presented with the products they are searching for, to pre-determine their buying behavior when they arrive in your shop, and encourage them to either bid or to make immediate purchases.
There are two main sections - First we'll look at the static sections of your shop and how best to utilise them. In the second section of the guide we'll look at how you can dynamically alter your shop to tailor the buyers experience!
Static Shops - Capture Your Buyer!
Promotion Boxes
Promotion Boxes are a fantastic way either to capture a buyers eye with your latest special offers and products which make you the highest margin, or to deliver information to buyers such as highlighting your Postage and Payment Policies. There are five placements for Promotion Boxes and ebay have created content which you can automatically insert, or of course you an create your own content. The areas you can place them in are shown below: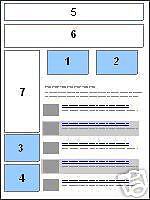 Think carefully about what information you place in these boxes - Don't put your Postage Policy in the top centre box - save this placement for showcasing the products which are best sellers, bargain prices, or that make you the best profit. Think of the top promotion boxes as the "Specials Display" - this is the first part of your shop you can use to enhance buyers interest in your shop and to encourage them to look further at your auctions!
Shop header
Your shop header is where your logo and keywords about your shop are contained. Keywords are essential to attract bidders to your shop. You can minimise the "clutter" at the top of your shop with the minimal eBay header (Featured shop required).
Normal eBay Header

Minimal eBay Header

By eliminating items such as the general eBay search box you can encourage buyers to stay in your store.
Custom shop header display
Your custom shop header is placed immediately below the eBay header.
A customer is looking at your shop and now you want to entice them in. I tend to advertise special offers and popular items in this section to attract buyers to click through to shop categories. Highlight any marketing campaigns you are running - such as postage offers, charity auctions etc. If you offer a gift wrapping service or express delivery let customers know!
Custom pages
Custom pages are an ideal place to hold additional information such as your Terms and Conditions of Trading and WorldWide Postage and Packing details. However they are also a fantastic way to add value for existing customers and find new customers from search engines like Google. They will categorise your custom pages so ensure content is relevant and full of keywords. Some examples could be if you sell say DVD's create a custom page with details of regional codes and the differences between PAL, NTSC and SECAM, if you sell clothing consider a sizing guide with UK, European and US alternatives. Even for more mundane items like batteries you could create a custom page with the differences between NiCd and NiMh and comparisons between the duration of a 2500mAh and 900mAh. If you can optimise your Custom Shop Pages to have the most relevant content to your products then search engines on the Internet will direct browsers straight to your eBay shop!
Don't forget that if you wish you can set a Custom Shop Page as your Shop Default Landing Page. If you do choose to do this it's a good idea to set the Left Navigation Bar (list of your shop categories) to be viewable on this page so that buyers can easily access your auctions. A Custom Shop Page used as a Landing Page gives you full control of the buyers experience when they enter your shop from any of the links eBay provide on the rest of the site.
Listing Frame
The Listing Frame comprises of two sections - Your Shop Listing Header and Left navigation Bar. The Shop Listing Header can contain your logo, a link to add you to their favourite sellers, and a link to sign up to your eMail marketing.
Setting up Shop on eBay
looked at the importance of encouraging buyers to agree to receive future marketing from you. The listing frame is an important tool to ensure each of your listings contains an automatic link to enable them to do so! The Left Navigation Bar holds a search box specific to your shop and some of your shop categories.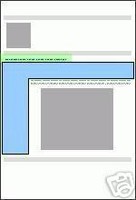 The listing frame serves two purposes, firstly it attracts buyers looking at a particular auction to your shop - both from tempting category names and by displaying shop pages (which can be custom shop pages with rich content, or could be links to your top selling categories. The other important addition is that it holds a shop search facility. By having this placed next to your item description if a buyer decides the product offered is not quite what they want and go to search eBay for an alternative there is a good chance they'll use your shop search and end up with listings soley from your shop, not from eBay in general. Remember that only the top 30 categories in your shop will be displayed in the Left Navigation Bar section of your listing frame so order the most important to be at the top - we'll look at optimising your categories next.
Categories
As well as appearing in the Listing Frame, Categories also appear (if you choose) on all of your Shop Pages.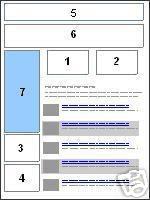 One new feature that eBay have recently introduced are Sub Categories. However, just because they are available to us doesn't necessarily mean that it is best for you to actually implement them within your shop. Too many sub categories can make your shop look weaker. You are already given 30 top level categories. You may choose to use only those, or you may decide that a group of items you have would benefit from being split out within a top level category to use the sub level categories.
When to use Sub Categories
For instance, lets say you sell shoes. You might use the Top Level Categories to outline men sizes, women sizes and child sizes. Within those categories you might want to make it easier for your customers to drill down into your offerings and use sub categories for, say, Brands or shoe styles:
Men size 10
Adidas
Nike
Reebock
Ladies size 6
Court
Mule
Flat heel
Using Sub Categories really only works well if you do have quite a lot of stock listed with plenty of each in each size and again plenty of sizes for each brand (using the above example). If you only have 1 pair of Adidas in size 10 and a further 2 pairs of Nike in size 10 and none of either in size 9, for instance, then it can look a little bare and meagre when using Sub Categories. It can be disappointing for a customer who has clicked into a sub category to only be presented with one or two items.
The optimum amount of stock within a Top Level Category is probably 25 - 50 items before considering splitting out to Sub Categories. The reason for this is your buyers will only have two pages of listings in each category - if you had 200 items in a single category it's unlikely buyers will browse all the pages so split into relevant Sub Categories. Make it easy for your buyer to drill down to find the exact products that they're interested in! Order your categories so that the most popular and most profitable are at the top - only the top 30 Categories/Sub Categories will appear in the listing frame, although they'll all appear in your shop!
Finally KeyWords - Finding buyers from search engines! You can tailor the keywords for each category in your shop and by using subcategories you can refine your keywords for each Sub Category to be highly relevant to the products you have for sale. The more categories you have the more finely tuned sets of KeyWords are available for Search Engines to find!
Dynamic Shops - Control your Buyer
Shop Linking from Auctions
There are a multitude of ways to link from an auction to encourage sales - It may be for clothing sellers to offer a different sized item, or for sellers of cameras models with more features or budget models. Another strong reason for linking is to attract buyers with a 99p No Reserve auction and then include a link to a BIN (Buy It Now) or SIF (Store Inventory Format) item that they can purchase immediately rather than wait for the auction to end! The most successful sellers drive traffic to their own Shop using links, if for no other reason that you then have control of the customer and can use all of the features of your shop such as Promotion Boxes, Shop Header, Custom Shop Header Display, Custom Pages and Categories to define the buyers experience, control and guide them through your items, and reinforce your own Brand and Identity on eBay!
We will examine various types of links along with the advantages of links
Linking to your Shop Home Page
This is the simplest type of link available, and is the default link that eBay offer. Normally it will link to your default shop home page with a list of your auctions. As discussed in
Setting up Shop on eBay
you can choose how items are displayed based on price, newly listed, or items about to end. If you choose a Custom Landing Page you have full control of what items and information greets your buyers.
Linking to a SIF (Store Inventory Format) Item
This type of link is best utilised when you have multiple quantities of the same item. By attracting a customer to an auction with a low start price you can link directly to a shop item where the bulk of your stock is held.
It works especially well when you have items which buyers may prefer to buy in quantity as with the SIF they can purchase your entire stock of that product if they wished. If you have SIF listings for single quantities and another with Lots (e.g. 5 lots of 10 items) then why not include a link to both SIF listings in your auction?
Typical messaging for the link in your auction could be "If you don't want to wait BUY IT NOW in our eBay shop". Don't forget that auctions with the lowest start prices attract the most attention. So even if the auction closes at a lower price than you'd normally desire this could be more then compensated for by higher priced sales from your SIF listing! - Think of it as a "loss leader".
Remember as SIF listings end (or eventually you will want to end, edit and relaunch them) use this type of linking sparingly
Linking to a Shop Category
Rather than linking to a specific SIF listing you may choose to link to a shop category - use this type of link when you want to give buyers a wider choice of products. This linking strategy is perfect for merchandising related groups of products. If for example you sell DVD's and have an auction for an "Only Fools and Horses" DVD consider a link to your "TV Comedy" Category. Someone browsing for one type of comedy could potentially by interested in buying several DVD's from you. By linking them to your store category you can guide them straight to an exciting selection of items that appeal bto them!
Linking to a Custom Shop Search
A Custom Shop Search Link gives even more options than a Category link! If like me you sell computer components you may have categories for Wireless, Routers, Switches, Firewalls, Accessories etc and products from a particular manufacturer may be separated into different categories that best suits each particular component. However a buyer may only be interested in Cisco products, and you can link to a Custom Shop Search which allows you to show all Cisco products whilst hiding products from other manufacturers. They'll still be presented in the relevant Shop Categories, but only products from Cisco would be displayed! You can assist your customers by dynamically customising your shop based on which of your auctions they arrived from!
Combining Links for Immediate Sales
You may not have noticed but in your shop are options for "View: All Items | Auction only | Buy It Now only". You can encourage immediate purchases by combining a link to your Shop Home Page, Category or Shop Search with the BUY IT NOW Only option. This will result in only BIN and SIF items being offered to the customer and is a way of encouraging them to purchase straight away. Having attracted them to your Shop from an auction with an attractive start price you can now offer them ONLY options to purchase immediately at a price that you have preset!
This is probably one of the most under utilised of all the Shop Links available but also one of the most powerful. Your messaging for this link should be of the form "Buy a printer now in our eBay shop". It enables you to offer all the printers you have for immediate sale without the distraction of seeing another item on a 99p start that doesn't end until nine days time! This is a much stonger form of link than direct to SIF listings as you can tailor the products displayed by the type of link constructed without using specific item numbers! Instant sales can really drive your business forward so maximise the opportunities for guiding customers to them!
Encouraging Bidding Activity
This type of link is the opposite of the Links for Immediate Sales - rather than display only BIN and SIF items you can choose to display only items on auctions - combine this with either a shop category or a Custom Shop Search and sort by lowest price or newly listed and your buyer will see auctions with extremely attractive bid prices! This works very well with items such as collectables and encourages buyers to place bids on multiple items. Of course once a buyer has placed a bid and been outbid they are that much keener to place further bids to secure the item!
Linking to a Custom Store Page
This is a very powerful service you can offer to customers! If they are looking at say a Girl Guide badge and you had created a custom store page detailing all of the Girl Guide patches, the era they were issued and the achievement they commemorate, you could link to that custom page from your auctions. Once a buyer has browsed to your custom store page full of rich information (or indeed arrived to it from a search engine) there is content there to keep them browsing and interested.
This is a fantastic achievement as you have now captured their focus and can link back from your custom page to your shop categories and specific auctions where they can make a purchase. As discussed earlier adding content on Custom Shop Pages is a very powerful tool, don't forget to add a link for them to subscribe to your Newsletter and add you as a favourite seller. It may also be worth offering a link to allow them to bookmark your Custom Shop Page in their browser!
Summary
We have spent some time considering the various forms of link available, it's unlikely that you would want to include them all in one auction but experiment with them and think about which type of link will best fit the experience you wish to present to the buyer. What are you trying to achieve (apart from getting them into your micro-site on eBay)? Do you want to offer your buyer a choice of size or style? Do you want to encourage them to make an immediate purchase? Do you want to tempt them with similar items to bid on? Are you offering them rich content on a custom shop page to capture their interest and pull them into your Shop?
We have looked at seven distinct types of link available, but by combining them with Item Display techniques you can guide the buyer not only to the item they are interested in, but can present them in the manner that you choose to predetermine the buyers next actions! Although you have specified your Item Display default settings when you set up your shop, you have the ability to override them with specific links. For instance perhaps you normally have List View but you could choose to alter the appearance of your shop by presenting the items in Gallery View when a buyer arrives from a particular link!
By considering the buyers needs and customising your shop both with rich content, categories and dynamically altering the items displayed determined by which link a buyer enters though you can predetermine the buyers experience and tailor it to maximise their bidding and buying. Different products will require different strategies - some products are impulse buys and you'll want to guide the buyer to BIN and SIF items, for other products you may want to encourage the buyer to start placing bids at the start of auctions to hook them into bidding later. With some products by providing rich content you can capture the buyers interest and they'll happily purchase from you even though the same product may be available at a lower price from your competitors, and of course if you sell consumable products you need to give them an easy positive experience so that they are happy to return to buy again in the future!
We have looked at two important aspects of Shops in this guide - The static features that you can customise to promote your products and the dynamic features you can use with diffferent Item Display options to enhance your buyers visit and predetermine different types of buying behaviour.
Shops are probably the most powerful tool on eBay, make the most of yours to tailor your Buyer's Experience!

Instructions for constructing all links detailed in this guide are set out in the How to create custom links guide


This guide was co-written by
mountcomp
and
iron*lion*zion