An advancement in practical electronics, the gas soldering iron offers many advantages. It may take a little time to get used to the ignition and flame out switch, but learning to use this tool improves the nature of your work. Use the soldering iron anywhere, for multiple purposes, and without sacrificing quality.
Portability of Cordless Soldering Irons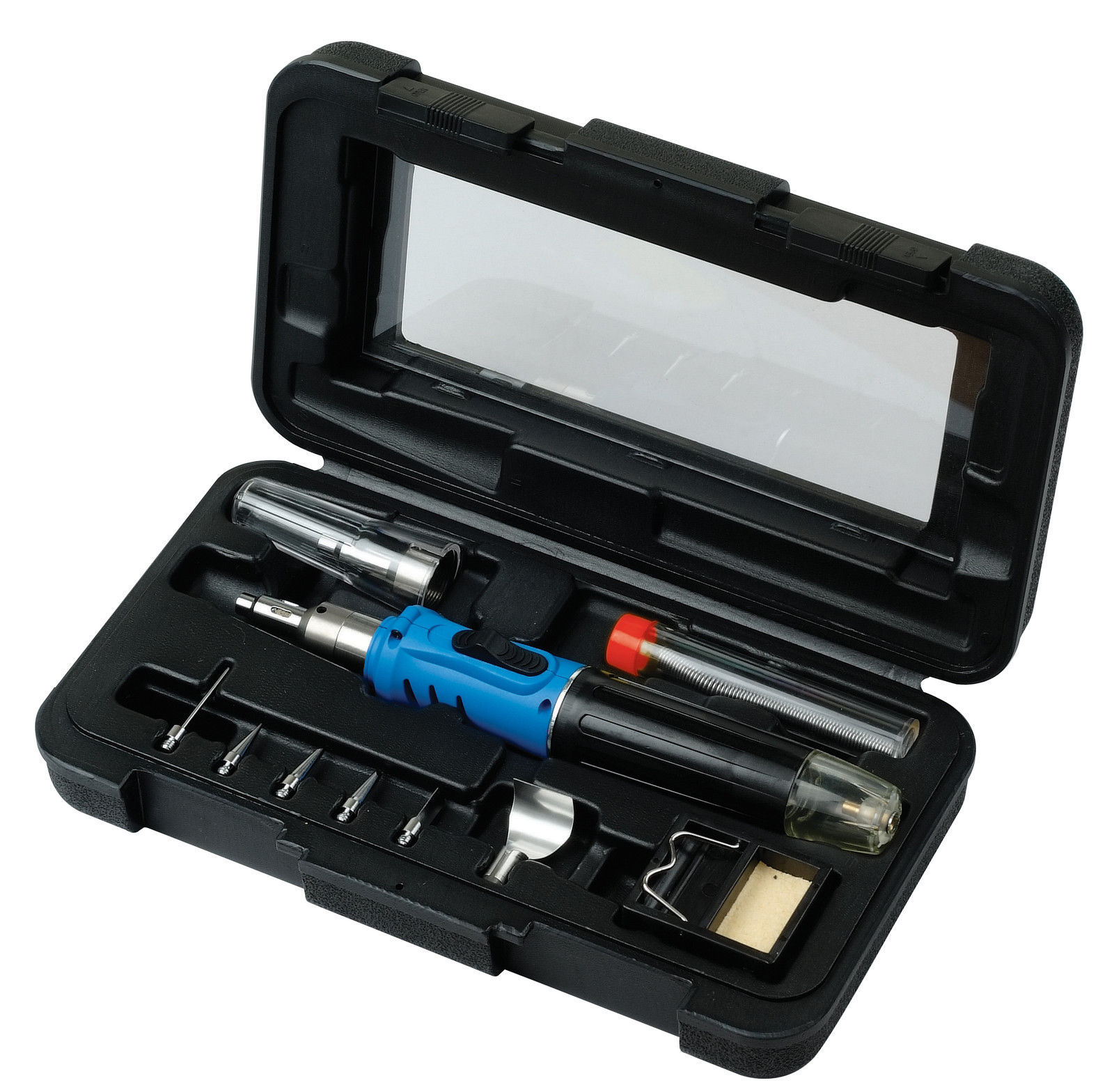 A gas soldering iron is also a cordless soldering iron, making it very portable. Each gas iron uses a compact, self-contained tank of butane gas to provide the flame which heats the iron tip. The built-in tank means that gas irons can be used anywhere, even places without electrical connections. It usually comes with a provided gas soldering iron kit with a hard plastic case. The cordless soldering iron is excellent for professionals who travel to job sites and need to make quick electrical, wire, or even computer board connections with the soldering iron.
Gas Irons Offer Convenience
Along with portability, the gas soldering iron provides convenience to the user. These irons are small enough to hold in the hand, or fit in a small tool case. The cordless nature of the iron means that it fits easily into tight spaces without a hanging cord to obstruct the user's view. The butane tanks are usually refillable and inexpensive. Most modern gas irons use a push button ignition to light the flame for soldering. No need to mess around with a lighter to ignite the butane.
Multiple Uses of Soldering Iron

Gas soldering irons usually allow for multiple uses due to interchangeable tips. The iron fitted with a catalyst unit makes for a mini hot air blower. Additional soldering iron tips allow users to solder, cut, seal, and manipulate various plastics. Some of the tips available for a gas soldering iron include a pointed, chisel, or anvil soldering tip, hot knife attachment, and needle tip. Gas soldering irons can help technicians, researchers, artists, small businesses, and craftsmen in completing a number of projects. Use the iron to repair a computer board, personalise a wood placard, or seal plastic bags and cut nylon rope.
Stronger Heating Elements of Gas Irons
A gas iron's tip is heated indirectly by a butane powered flame. Despite this, the gas soldering iron can get to hotter temperatures than the alternative battery powered soldering iron. The butane flame can reach up to 1,300 degrees celsius (C), while the tip reaches around 450 degrees C in temperature. A battery or cold heat soldering iron reaches about 420 degrees C in temperature. The longer the butane flame is on, the higher the potential temperature of the gas iron tip too.