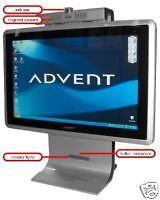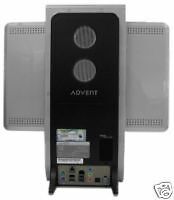 Nice and tidy but like all the other Advent computers, these suffer with power supply problems and more importantly the failure of the motherboard.
Trouble is the whole package is built by a company in Korea based on the "LLUON" series PC
When the motherboard does go wrong, you are left with a rather agonising scenario of repair or throw it away. Generally a computer like this is bought as major investment, but to replace the motherboard is a major job not to mention a major expense. I have discovered that the motherboard costs around £200 + postage and packing, not to mention fitting and then restoring you windows version.
I have not seen one of these things close up but would welcome the chance to see if they come apart like most pc's do, and then see if the lovely screen can be plugged into a conventional pc. If it were as easy as I make it sound, then it is easy to transfer things like the memory,cpu,hard drive etc to a new case with a new motherboard. Then for around the half the money you would have rebuilt your computer,and created an up to date hardware platform to upgrade onto.
Can anyone send me some good quality pictures of one of these computers for my research? if so contact me through my ebay. Thanks Chris