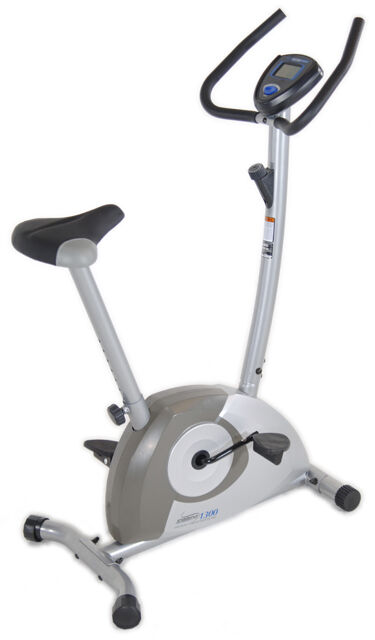 Stationary exercise bikes are an excellent choice for home fitness. They are smaller and more compact than other cardio equipment such as treadmills, and many can be stored easily when not in use. They are created in a broad range of designs, and one can be found to suit the needs of any user, from children to serious road cyclists. New exercise bikes can be an expensive purchase, however, and some quality products may exceed a buyer's budget. Fortunately, many manufacturers create budget-minded models, and buyers also have opportunities to purchase used exercise bikes. Pre-owned exercise bikes can save buyers significant amounts of money, and many products are available in excellent condition.
When shopping, consider the size of the bike, its design, and whether it can fold down or be moved easily. Expensive bikes tend to be stationary, while inexpensive models are lightweight and can be folded up for storage. Look for bikes with the best features, and consider whether the bike uses contacts or magnets for its resistance. Regardless of experience, commitment to indoor fitness, or budget, an exercise bike can be found to match a buyer's need.
Choosing Exercise Bikes
Buyers have several options while shopping for an exercise bike. To narrow the available options, begin by choosing the design of a bike, and then select its features. When possible, ride an exercise bike before buying to ensure it is comfortable and of appropriate size.
Type
There are two primary types of exercise bikes available: upright and recumbent. Each of these has its benefits and drawbacks, so consider both to find the most suitable product.
Upright
Upright bikes are designed in the style of a traditional bicycle. They allow the user to place more body weight on the pedals to handle higher resistance levels, and can consequently increase the amount of work done by the user's body, in addition to the legs. However, depending on the specific design, these bikes can become uncomfortable to ride for long periods of time. Users may encounter stiff backs or soreness on their tailbone.
Recumbent
Recumbent bicycles have back supports, and allow the user to sit in a more natural seated position. These bikes are generally more comfortable to use, but place most of the work on the legs alone.
Features
Exercise bikes are created with a high number of features and options. Although these can increase the cost of an exercise bike, some can greatly assist users in achieving a quality workout. The following table offers a list of some common features included on exercise bikes, along with a brief description of each.
| Feature | Description |
| --- | --- |
| Resistance | Allows users to increase or decrease the effort required to pedal the bike. |
| Display | Provides information about distance travelled, RPMs, time, and resistance. |
| Routines | Different workout routines increase variety and shift workout focus to burning fat, calories, or increasing heart rate. |
| Heart Rate Monitor | Displays current heart rate. |
The display of an exercise bike is one of the most important features. Look for one that clearly displays all information, and allows users to navigate menus and workout options with ease.
Resistance
Stationary bikes are created with two primary types of resistance: contact and magnets. Contact resistance is the type used by traditional exercise bikes. On these models, motion is slowed by physical pressure on the wheels, and increased resistance levels force the contacts to tighten.
Many modern exercise bikes use magnets instead. This creates a greater range of resistance levels, as well as workouts. Additionally, these units are quieter than contacts, and require less maintenance and fewer replacement parts.
Size
The size of an exercise bike is important, as it can greatly affect comfort and usability. When possible, try riding an exercise bike before committing to a purchase. This is especially important for riders who are especially tall or short. Be sure the seat can be properly adjusted to allow comfortable extension of the legs without straining. In general, upright bicycles have a greater range of adjustment, and can be used more easily by people of different heights. Recumbent bicycles may make it more difficult for short users to reach the pedals, while tall users may find they hit their knees on the handlebars or console area.
Price
Exercise bikes are produced in a wide range of prices, from under 100 pounds to well over 1000. Less expensive bikes tend to be lightweight, and are meant to collapse for storage in a corner or closet. Expensive bikes are made from heavier, more durable materials, and cannot be folded for storage. In general, buyers should choose a bike that reflects their commitment to indoor exercise.
Buyers who are purchasing their first exercise bike should consider an inexpensive bike that can be moved out of the way easily, in case it is not frequently used. Buyers who have already owned a bike, used it consistently, and are looking for an upgrade can consider more expensive units.
Buying Used Exercise Bikes
Buyers looking for an affordable, high-quality exercise bike should consider used products. These are available at greatly reduced prices, and many items can be found that are still in excellent condition. Some sporting goods stores specialise in used equipment, and used exercise bikes can also be purchased from private sellers online. When shopping for a used exercise bike, it is important to be clear on the unit's condition. When possible, ride the machine before buying. Check for any noises that are produced, or inconsistencies in the pedalling while riding. Test all modes and workouts of the bike, and be sure the display is functioning properly. With careful shopping, a high-quality exercise bike can be obtained at a reasonable price.
Read Product Reviews
The high number of exercise bikes available on the market can make it difficult to choose. To increase confidence in a purchase, take the time to look for reviews and ratings on a bike's performance. Many fitness-oriented websites and publications offer reviews and discussions about products on a regular basis. These reviews often focus on accessibility and usability, and can be an excellent asset to a new shopper. Additionally, many shopping sites have ratings and reviews of products provided by previous buyers. Dozens, even hundreds of customer ratings can be found for many top products, offering a broad range of opinions. Customer reviews can also offer insight into a product's durability.
How to Buy Exercise Bikes on eBay
To shop for exercise bikes, head to the eBay home page. All types of bikes can be purchased on the site, and are sold by both private and commercial sellers. Begin by entering keywords into the search field. For example, to see a recumbent model, type "recumbent exercise bike" into the field. Search results can be refined by adding additional keywords, or by clicking on any of the category links that appear in search results pages. These links can be used to shop for bikes by type, brand, condition, and even price range.
Once you have located desirable search results, click on the name or image of individual items to see their full listings. There, you can find additional information about the product, including descriptions provided by the seller, specifications sheets from the manufacturer, and additional photos. Be clear on the price of the bike, as well as shipping charges. Sellers list their accepted forms of payment in an item listing, so be prepared to pay promptly for your purchase once you agree to buy a bike.
You can also find information about sellers and their past history on eBay. Item listings show users' positive feedback ratings and the number of completed transactions, which can be used to gain a quick estimate of their reliability. If you'd like additional information, click on sellers' names to open their full profiles. Look for average ratings on their performance, as well as comments left by previous buyers.
Conclusion
Exercise bikes are one of the most popular pieces of home fitness equipment. They are smaller than treadmills and elliptical machines, and many can be folded up for easy storage. Buyers can find a high number of exercise bike designs, and choose from a range of features. Begin by deciding between upright and recumbent models. Uprights allow users to put more of their own body weight into pedalling, while recumbent bikes offer better back support. Look for features like training modes or a heart rate monitor, and choose bikes that have a clear display that can be read easily. Select exercise bikes that are an appropriate size for the user, and ensure that the pedals can be reached comfortably without stretching.
Exercise bikes can be purchased from sporting good stores and online retailers. eBay and other marketplaces also have a high number of listings for exercise bikes, including pre-owned products. Buyers on a budget can shop for high-end bikes at greatly discounted rates to find products within a budget. When possible, ride an exercise bike before purchasing it to be sure it is in excellent working condition. Regardless of a user's commitment to indoor fitness, an exercise bike can be found to suit the needs and desired price range of its owner.