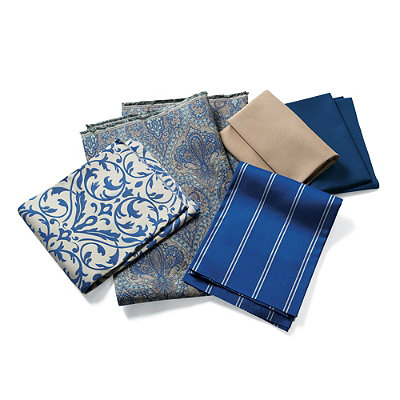 For consumers looking to remodel their home by reupholstering furniture or creating new clothes with fabric swatches, they will be pleasantly surprised with the money they can save by researching affordable fabric. Anyone who shops for clothing or home furniture understands that fabric is at the centre of the buying decision. Fabric can change a drab-looking living room into a vibrant place to socialise. Fabric can also protect living room furniture from spills and over-eager children. The fabric utilised in clothing goes a long way in determining comfort and style. Since fabric comprises the centrepiece of clothing and upholstery purchases, the next question is: do most consumers know how to purchase affordable fabric?
Surprisingly, the answer is no. Most consumers prefer to shop for fabric in person, where the cost of fabric sends consumers out of fabric shops empty-handed. There is a better way to shop for fabric, and that way is going online to find the right fabric seller on eBay. Before consumers go online to shop for fabric, they should become aware of the different types of fabric, the most common uses for fabric, and how to find affordable fabric for both clothing and furniture.
Common Types of Fabric
The first step for finding affordable fabric is to understand the primary types of fabric, and which types are considered the most inexpensive at the retail level. Manufacturers typically weave or knit fabric that derives from either animal, plant, or man-made fibres. Knitted fabrics have better stretching capabilities than woven fabrics.
The following chart discusses the most common types of fabric, as well as fabric affordability.
Fabric Type

Description

Most versatile fabric

Popular for making upholstery and clothes

Abundant supply translates to low cost

Easy to sew

Can be expensive

Often blended with cotton to reduce price

Used for high-end furniture

Can be cost prohibitive depending on demand

Durability makes it perfect for buying used

Woven or knitted

Often used to produce suits and coats

Moderately priced but because of dry cleaning, expensive to maintain

Synthetic woven fabric

Most affordable fabric

Provides durability, but not style
Of the most common fabrics, only polyester escapes the whim of supply and demand. While silk is especially susceptible to supply disruptions, cotton can also increase in price due to drought or blight. Consumers who are interested in purchasing affordable natural fabric should analyse commodity prices before making a decision. If commodity prices increase, wait until the next growing season to see if prices decline.
Common Uses for Fabric
The most common uses for fabric is the production of clothing, furniture upholstery, and drapes. Fabric falls into two main categories: natural and man-made. Some interior decorators further categorise fabric by thread weave. While fabrics from each category can be used to produce clothing, furniture upholstery, and drapes, natural fabrics tend to work best in the manufacturing of clothing, and man-made fabrics work best for furniture and curtains. This is because natural fabrics provide more style elements and man-made fabrics are more durable and stain-resistant.
Furniture and Curtains
Most living rooms and home entertainment areas look bare without the addition of fabric.Whether it is the colour of the drapes or the design on furniture upholstery, fabric enhances the decor in most spaces of a home. However, most consumers shop for furniture fabric by durability and the capability to wipe it clean after a spill. This means synthetic fabrics, which are the most affordable fabrics, are utilised for upholstery and drapes. Consumers who want to add stylish elements to furniture fabric can purchase blended fabric that contains both natural and man-made fibres. Just remember that blended fabrics cost more than man-made fabrics. Nylon, polyester, and rayon fabric blends are the most popular fabrics for balancing appearance and functionality.
Clothing
Clothing made from natural fabric is more expensive than clothes manufactured with synthetic fibres. Designers utilise plant-based fibres, such as cotton and linen, because both fabrics possess the capability to cool the person wearing the clothing. Natural fabrics are highly-absorbent, breathable, and can withstand extreme temperatures. Cotton and linen are the most affordable natural fabrics. Some interior designers incorporate silk into tapestries and tablecloths, but the high-end use of silk outside of clothing is typically not considered worth the extra cost. Silk clothing is more expensive than any other fabric used to produce clothing, as evident by the high prices of silk ties and shirts. Wool originates from sheep, goats, and llamas, and fabric made with wool is typically considered to be inexpensive.
How to Buy Affordable Fabric
What came first, the sewing pattern or the fabric? Despite some fabric experts suggesting that consumers should decide on a fabric before choosing a sewing pattern, the majority of fabric professionals, both for home and clothing use, recommend choosing the sewing pattern first. The sewing pattern determines which type of fabric complements a design, and thus, the cost of the fabric. Buying affordable fabric only requires following a few tips, as well as the consideration of shopping for recycled fabric and searching for fabric online.
What to Look for in Affordable Fabric
Most pattern envelopes include fabric recommendations. Ensure the fabric under consideration matches the recommended fabric on the back of the pattern envelope. Examine how the fabric hangs, which is called fabric drape. Does the fabric feel soft or stiff? Review the information on the fabric label, especially as the information pertains to dry cleaning. Relatively inexpensive natural fabrics can cost more in the long run because of maintenance expenses. Most manufacturers produce fabric in standard widths of either 115 or 150 inches, although consumers can find widths under 45 inches. Make sure to purchase enough width to cover furniture. Above all, take time to find the right fabric.
Buying Recycled and Affordable Fabric
Used fabric connotes low quality, which is why most retailers promote their lines of new fabric. However, recycling fabric has become a booming business that provides consumers with high-quality material at affordable prices. Look for companies that devote their entire manufacturing resources to producing recycled fabric. Many municipalities operate recycling centres, but very few of them specialise in recycling fabric, and hence, produce recycled fabric of low quality. For instance, consumers can find what many people believe to be cost-prohibitive silk fabric at recycling outfits that specialise in recycling high-end natural fabrics.
Buying Affordable Fabric Online
Shopping for fabric online has allowed consumers to find the right fabric at prices that are lower than what they see at brick and mortar retailers. Just remember that colour variations occur among different computer monitors. The colour of a fabric may be red on one monitor and change to light red when analysed from another monitor. Online sellers should provide information that includes fibre content, width, price, and washing instructions. Ensure the online seller has a verifiable email address for business correspondence. Send an email to verify, and if a reply is not received within a few days, look elsewhere for affordable fabric. The website must have a secure order form for credit card transactions and detailed explanation of delivery terms and accepted payment methods. Consumers can find the right fabric sellers online who follow all of the buying parameters by shopping on the leading website, eBay.
Buying Affordable Fabric on eBay
You have many options when it comes to finding the right fabric seller on eBay. Fabric is listed under numerous categories, so the best method for parsing eBay fabric sellers is to specify the keywords you type into the powerful search engine. Keyword searches performed on eBay work in a similar manner as the keyword searches performed on other search engines. For finding a fabric seller, you can specify your search by the material used to make the fabric, such as satin or felt. Specifying keywords on eBay reduces the number of search results, which shortens the time you spend looking for a fabric seller.
One of the search parameters can involve fabric length. eBay separates fabric sellers by the quantity of fabric up for sale. You can type "fabric by the yard" into the search engine to find sellers who offer the right fabric size for your remodelling project. Moreover, you can narrow the dimension parameter down further by typing "red fabric by the yard" into the search engine. Once your specific keywords help you find the right affordable fabric seller, review the enlarged fabric photograph on the seller's product page to verify quality. The seller should provide potential buyers with a description of the fabric, including manufacturer, fibre, and condition.
Conclusion
Purchasing fabric for a living room remodel or clothing fabric can be an expensive proposition. Silk is the most expensive natural fibre, and thus, is checked off of most fabric buyer lists. However, recent innovations have made silk much more affordable, including the integration of silk with man-made fibres and the advent of recycling facilities that dedicate their work to recycling only fabrics. Recycled fabric retains much of the original fabric's composition and appearance, at prices that are lower than the prices found in retail shops.
Consumers can also find affordable fabric by shopping for specific types of fabric. Both cotton and linen provide affordable options of furniture upholstery, as well as the prevalent fabric in clothing. Blended fabric has increased in popularity because consumers see the benefits of blending highly-durable synthetic fibres with comfortable natural fibres. Blended fabrics, once the domain of clothing producers, now have a strong presence in the upholstery and curtain markets. Finding affordable fabric requires more than understanding all there is to know about fabrics. After all, affordability depends on the budget created by the consumer.