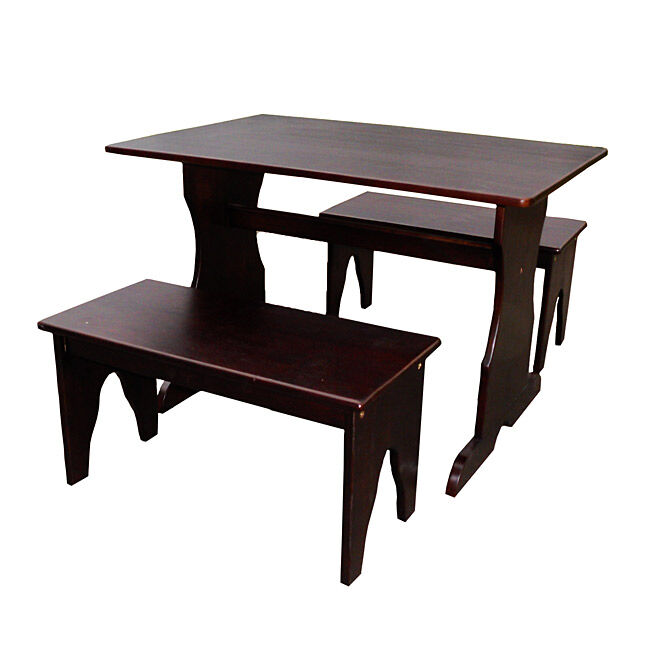 There is no better way of enjoying a warm summer day than having meals outdoors in a pretty garden setting. Garden table and bench sets allow avid gardeners the opportunity to relax outdoors and enjoy surveying the fruits of their labour. Having one of these garden table and bench sets also provides a way of letting friends and family relax while admiring what has been created. A garden can be the perfect setting for an intimate period of easy conversation and a true enjoyment of nature, or the perfect place for a time of serene meditation. Even the famous British weather is no deterrent from sitting in the garden when the right garden table and bench set is found. Affordable garden table and bench sets are available that will accommodate both, and will suit the mood and setting of any garden. Choosing the ideal set for a particular garden can be easily and conveniently done.
How to Choose a Garden Table and Bench Set
The dimensions of a garden or patio are crucial when deciding on which garden furniture to select. Having a too large garden table and bench set in a smaller garden can cause even the outdoors to feel closed in. If furniture is to enhance the surroundings, then it must be furniture of the right proportions. It is sometimes a good idea to do a mock-up of a garden setting and then place paper cut-outs, representing the furniture, in various positions to determine the eventual overall effect.
Assessing the Landscape
The positioning should not compromise the beauty of either the garden or the garden table and bench set. Larger trees in spacious gardens just beg to shelter a garden table and a bench set beneath their branches and to shade the food items on a picnic table. Garden table and bench sets are available in a variety of materials that would look great under, or in the vicinity of, a tree and there is sure to be a garden table and bench set which will perfectly complement the most elaborate landscaping. Sets for the smaller and simpler garden can also work to transform it into a retreat for the soul.
Reviewing Material
Wrought iron or wood are very popular and attractive choices for garden table and bench sets, and they can either create a setting of Victorian charm or a more contemporary look. Vintage garden table and bench sets are available in sizes to beautify gardens of any dimensions. The table below details a few settings in which both the vintage and contemporary garden table and bench sets would be best appreciated.
| | |
| --- | --- |
| Teak Garden / Patio sets are both sturdy and beautiful and both the smaller and larger sets do justice to any garden setting. | These sets are ideal for entertaining on the patio, but would also look good under a gazebo. Discreet garden lighting would bring out the beauty of the teak and create an inviting and luxurious ambience; perfect for a romantic evening and for celebrating a special occasion. |
| Contemporary Stone Oval Garden Table and Bench Set in Natural Colour. | The natural colour and lines of this such a garden table and bench set seem specially designed to be integrated into nature's garden, and would be perfect if set in close proximity to flower beds or denser shrubs or set beneath a tree in the larger garden. Table accessories made from natural materials will enhance the overall look of this particular type of garden table and bench set. |
| Country Garden Style | Country Garden bench and table sets made of concrete in neutral colours would make them ideal for the smaller garden or a secluded corner of a larger garden. They are perfect for spending a Sunday morning reading the newspapers and enjoying that first cup of tea. They would also be perfect in a patio setting where potted plants or ornamental trees feature. |
| Granite Elegance | A table with two benches in granite create simple, elegant lines. Such a garden table and bench set would be made for the patio setting with multiple flower boxes, or a garden surround. Even if these are simple in design, they would be well suited to a more formal table setting as well as the casual picnic style of dining. |
| Solid Oak Wood | Solid oak garden tables and benches with a rustic feel are designed to fit into the natural outdoors. They are ideal for the large patio and for sumptuous entertaining. They would paint an impressive and imposing picture on the landscape of a large garden area without dominating the layout of a garden. The solidness of oak gives this type of garden table and bench set the perfect durability required for regular summer outdoor meals and festivities. |
Materials and Styles
The above details only a small section of available garden table and bench sets. There is, in addition to these, a large selection of wrought iron and wrought iron / wood combinations to be had, as well as garden table and bench sets for children.
Wrought Iron
Any 4 Piece Heavy Wrought Iron Ice Cream Parlour Set will delight children on a family picnic in the garden and allow them the opportunity to entertain their friends on garden table and bench sets made especially for them. Ornate wrought iron designs give a definite sense of the Victorian gardens of old and the smaller sets for children will provide scenes reminiscent of a Charles Dickens novel.
Bronze
Bronze 4 piece garden patio sets are elegant, durable, and extremely attractive, and can be made very comfortable when combined with vintage seat cushions.
Wicker and Rattan
Wicker and Rattan garden table and bench sets have an enduring and an endearing set of features. With the right care, these sets can provide a lifetime of beauty and comfort. They create a warm and hospitable air and seem to invite sunshine. Round rattan tables with stackable all-round benches are ideal for outdoor social evenings that may include card games and will definitely include spontaneous laughter and social chatter. There is something about spending time outdoors that frees minds of troubles for a while and allows them to return to the serene state that nature intended.
Finding Affordable Garden Table and Bench Sets on eBay
By accessing the eBay homepage, options will be provided to select items in various categories. Select Home & Garden from the drop-down list on the left of the page. Click on the Garden & Conservatory picture and select Garden Furniture from the pop-up list. Then simply refine the search by entering the desired items in the Shop by category tab.
Conclusion
Being able to spend time outdoors whenever the weather permits is a luxury available to all who have the foresight to provide, not just an abundance of flora, in their gardens, but a means to sit back and enjoy them as they bloom and grow. Garden table and bench sets allow families to spend more quality time together while lending a decorative air to already pleasant surroundings. It is also a means to make visits more relaxed and comfortable for friends and family while they all soak up the vitamin D that is so lacking during those long winter months. A dose of sunshine is as necessary as a healthy diet, and garden table and bench sets promote the cause. Garden table and bench sets can also be a means of spending romantic evenings in a sweet-smelling and beautiful environment. Communing with nature releases the stresses of the day and initiates avenues of discussion that may otherwise be overlooked. Garden table and bench sets are not only beautiful additions to a garden; they are a healthy way of living.