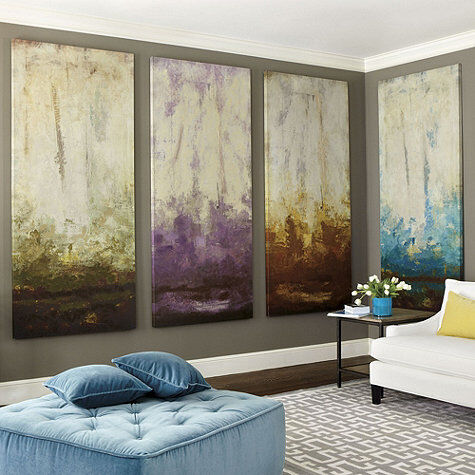 Giclee prints are becoming hugely popular. They are to be found plentifully in:
Art shops
Department stores
Galleries
Online
At any given time there can be around a thousand giclée prints on eBay. One reason for their popularity is the quality that people get for their money.
An original work of art or a limited edition craft print, such as an etching or lithograph, might be out of reach in terms of price. On the other hand a mass produced print or poster, though cheap to buy, might also look cheap in the living room.
Giclée prints fill the gap. They reproduce the original work of art with astonishing accuracy in every detail and gradation of tone and hue. They can even match the surface on which the original was created: watercolour paper, photographic paper and canvas.
Good Value
Although 'affordable' will mean different things to different people, there is a centre ground where most people agree an item offers good value. To enable would-be buyers to appreciate whether giclee prints really do offer good value, this guide will introduce you to:
How they are made.
The advantages they offer over conventional prints.
How to distinguish affordable from cheap.
The importance of careful examining the credentials of the seller and the provenance of the print so as to avoid disappointment.
Introducing Giclée
Side by side with a print produced by the traditional, industrial offset litho method, the giclée print should appear vibrant in tonality and hue with every detail evident; whereas the mass produced prints will look rather dull and lifeless by comparison.
In short, that's because the giclée process is digital and the conventional process is mechanical.
It all began in California when Jack Duganne, a printmaker, was using new IRIS large format inkjet printers to produce proofs of advertisements and illustrations going into magazines on the actual paper on which they would finally be printed.
He then tried using these same printing machines to reproduce original works of art on high quality paper and real canvas. To avoid the everyday connotation of computer generated or inkjet printing, in 1991 he conjured up the term giclée, borrowing it from a French word meaning to spray.
The crucial point of difference in the giclée method is that it is digital. The original painting, drawing or photograph is scanned; the image is proofed then inputted to a large format inkjet printer with eight or more heads to be printed on demand onto the same medium as the original.
Scanning
Scanning or 'origination' is the most crucial step in producing exceptional prints. The original is put into a high resolution flatbed scanner. Every colour and tone of the digitised image has to be examined individually and as a whole. This requires understanding of:
Highlight
Shade
Sharpness
Chroma
Hue
Colour management techniques are used to scan, to screen and then finally to print the image. This colour management demands real expertise and advanced Photoshop techniques.
Proofing
Proofing is carried out on-screen using a colour calibrated monitor. This provides a good reference making minutely detailed adjustments the image. Once the scanner operator (and often, the artist, too) is satisfied with the on-screen look, a hard copy is produced on the relevant medium :
digital fine art paper
canvas, cotton rag (or "watercolour") paper
photographic material
Any further adjustments in tone and hue are then made.
Printing
A giclée printer differs a lot from a standard desktop inkjet printer. Over a metre wide and made by companies such as:
Epson
Colorspan
Hewlett Packard
Using eight to twelve different coloured inks they are able to produce a far wider range and depth of colour than conventional printing.
Microscopic dots of ink are sprayed on to the medium. Rather than arranging dots of inks together to form the illusion of 'continuous tone' colour, giclée print devices actually mix a wide range of colours together to produce vibrant and exact colour reproductions with a range of tones as wide as the eye can perceive.
What to Look For
The big selling point of giclée prints is the ability to print beautifully onto canvas. If the original artist painted on canvas, whether it is a Reynolds or a contemporary painter, you can hang a reproduction on your wall that is impossible to tell apart, save for the texture of brush strokes. Soft cotton rag papers are also used which give a feel of the original if it is a watercolour.
Printed canvas art, whilst more widely available, is still a relatively new product.
Misinformation can often give buyers expectations that don't match the picture when it arrives home. Here are some of the key things to check.
Colour range: The conventional offset lithographic printing process uses four coloured printing inks (CMYK) - Cyan, Magenta, Yellow and Black (K). These are applied in small dots of differing size 'offset' from one another on the surface. If you physically examine the output and look closely, it's clear to see that, what appears to be an image with a full range of colours, is in fact produced using only four coloured inks. In contrast, with giclée printing there is no visible dot pattern. The image has all the tones and hues of the original painting.
Archival quality: There are two kinds of inks used in giclee printing – dye inks or UV inks. Dye inks are used in smaller models of printers that produce giclées. Although brighter in colour, they tend to fade, especially on sunlit walls. UV inks have light stabilisers, mixing the best of pigment and dye inks to produce and maintain authentic colour. They are both light-fast and non-water soluble. These 'archive quality' inks have been laboratory tested to show they will resist fading for a projected 100 years. Sellers who are confident of the quality and durability of their prints should name the type of inks used in their item description.
Colour management: Colour measurement ensures that the colour of the printed canvas closely matches the preview image – the picture on which the decision to buy is based. Colour management requires skill, judgement and a spectrophotometer. If the seller is the person producing the print, you could test them by asking how they implement their colour management.
Genuine article: There is no universal way of authenticating a giclée print. Some prints which are claimed to be giclée prints are reproductions using conventional four colour (CYMK) printing processes. It's not hard to tell the difference in a shop or gallery, but difficult when buying online. If the print is cheap, it may have been printed abroad (e.g. "from China", from Israel") and it may be impossible to verify the process used with the seller. Good sellers should be happy to provide provenance and certificates of authenticity.
Value: The high priced prints will be listed as limited editions. Giclée is a good value route to creating a limited edition. Just as traditional printmakers using hand-made lithography, etching or silk screen techniques will destroy the plate or "matrix" once the last print of the edition is made; the scanned file is deleted from the giclée printer's archive. It's up to the artist to determine how many prints there will be in a limited edition. Unlike fine art print making, there is no deterioration in definition or colour. The 500th print will be exactly the same as the first. You should still expect the print to be numbered and signed. Be sure that you are satisfied with the description of the origin.
Delivery: While there is little chance of a well-made canvas print actually breaking in transit, a lack of care and foresight when packing could mean the print arrives marked, and it may not always be easy to get it replaced. Always check the methods the chosen supplier uses to pack and ship the work. Generous layers of bubble wrapping inside a dual walled cardboard cartoon should be sufficient.
Affordable or Cheap?
The adage that you get what you pay for applies to giclée prints as it does to everything. Does the price appear cheap? If the answer is 'yes', then it may not have been printed in the right way.
Quality has several dimensions.
Is it printed well?
Are the colours vibrant?
Is it stretched around wooden frame?
Is the canvas or paper a good quality?
Is it packaged well?
Will it fade?
Does the seller own the rights to print the image?
What is the image of the print? Is it a Bansky, an old master, a photo of a flower? Whatever it is, does the seller have the copyright to print that piece of art? If you care to, ask the seller if they own the right to print. Of course, there are a lot of works that are 'out of copyright', which in the UK occurs at the end of the 70th year after the artist has died.
The print needs to be printed on a Poly/Cotton or Cotton Canvas material, and 340gm in weight minimum. How is the picture finished off? A canvas print should have a coat of varnish so to protect from fingerprints and allow it to be wiped. If the print has been printed on a solvent printer, then the print will be wipe-able.
To allay doubts and gain reassurance look on eBay for the Top-rated seller rosette. Then click "Description" on the item. A reputable seller will describe the picture's origins, whether it is signed and numbered, what weight of paper or canvas it is printed on, what inks are used, whether the seller as good eBay feedback and can provide a certificate of authenticity.
Buying Giclee Prints on eBay
Canvas/ Giclee Prints are available to buy all over the internet, but the benefits of buying from eBay include access to hundreds of trusted sellers, as well as PayPal secure payment systems. This offers choice as well as protection. Read carefully over the listings that are a good match and study the photographs and details given. To answer any queries, or to have certain details clarified, do not hesitate to Ask the Seller. To buy the chosen product, either place a Bid, Buy it Now or put down a Best Offer.
To begin an eBay search for limited edition prints go to the Art portal under the Collectables heading. Then navigate to the Prints section where there are sub-sections for Antique, Modern and Contemporary prints.
Results can be filtered using the boxes in the left-hand side panel. This will reduce the number of results. Check the box 'Limited Edition' as well as in any other sections such as 'Subject', 'Condition', 'Price', 'Style', 'Medium' or 'Signed/Unsigned'. When the search has been narrowed down enough, and there are several suitable options, the search is still not complete. It is important to spend some time researching the product and gathering as much information as possible before thinking of buying or placing a bid.
There is a search box on every page and also an advanced feature where the search category can be specified. To find prints quicker for limited edition prints search in the "Art" category. For more search tips use eBay's Search Tips page. Use key words to narrow down preferences and carefully read through the search results to check that they are suitable.
If the searches are unsuccessful then save a search on My eBay which will send an email notification when the search is matched.
Conclusion
A quick look at the huge variety of items listed as giclée prints on eBay will prove that the prices of the big majority are within reach. Even limited editions can be surprisingly reasonable in price. In short, giclée makes quality art affordable.