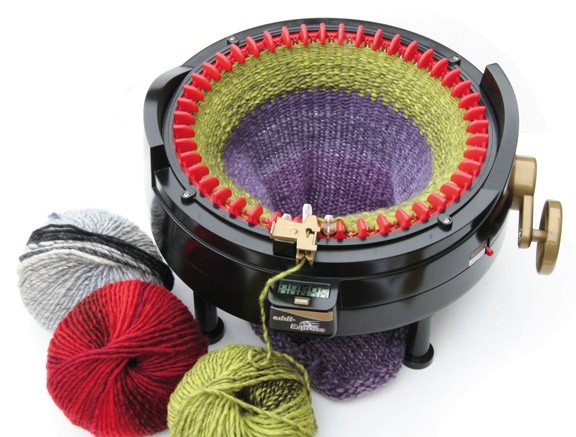 Knitting machines are useful devices that make the process of knitting automatic and easy. These are very convenient for larger projects as well as for those who want to be able to knit faster. Compared to hand knitting, the machines also produce a finished product that has a more even texture due to their precise movements. Depending on the type of machine, different styles of stitching can be selected. The more complex stitches will take longer to complete, but will still be faster than hand knitting.
Knitting is a fantastic way to make an array of custom yarn products. For example, sweaters, hats, and scarves are items that people commonly like to make. Different yarns, patterns, and stitches can be used to to create nearly any look. However, for those with less patience, completing the hand knitted project may feel like it takes too long. The machines can help with this, but there are so many versions of the devices that people need to be able to choose one that is best suited to their projects. They range in size, types, abilities, and cost. Learning about all the options will make the shopping process less daunting. The following sections will lay out the basics of knitting machines and how to find them at a more affordable price.
History of Knitting
Knitting has been around longer than many people realise. Researchers have found primitive knitting tools dating back to prehistoric times. Their technique only included one needle at the time. The first two needle method came from Persia in 256 AD. Throughout the years knitting has evolved in many ways with multiple needs, frames, machines, and looms. Today, knitting is a hobby that is still just as popular as it has been throughout the ages. It offers people with a way to be creative and make something that is useful and gives a sense of achievement.
Yarn Weight System
In order to understand the difference between the machines, it is necessary to first know what all the yarn classifications are. They have various classifications based on the ply of the yarn. The ply refers to how many strands of fibre are plied together to form the thread of yarn. The more strands used, the thicker the yarn is.
| Yarn Weight Classification | Yarn Standard Weight Symbol | Needle Gauge Range | Types of Yarn |
| --- | --- | --- | --- |
| Lace | 0 | 33 - 40 | Fingering |
| Super Fine | 1 | 27 - 32 | Stock, fingering, baby |
| Fine | 2 | 23 - 26 | Sport, baby |
| Light | 3 | 21 - 24 | Double knit, light worsted |
| Medium | 4 | 16 - 20 | Worsted, afghan, aran |
| Bulky | 5 | 12 - 15 | Chunky, craft, rug |
| Super Bulky | 6 | 6 - 11 | Bulky, roving |
The type of yarn to select depends on what's being knitted. More delicate projects require a lighter weight yarn, while things like rugs, require heavy duty, thicker strands.
Mechanical and Electronic Knitting Machines
Knitting machines are either mechanical, or electronic. The mechanical versions come with punch cards that are either pre-punched with a knitting pattern, or blank. The blank cards are are idea for the more experienced knitters who wish to use their own patterns, and not have their creativity limited. Electronic knitting machines come pre-programmed with various stitch patterns. Their biggest advantage is how easy they are to operate. They can run on their own, and most devices come with several hundred pre-programmed stitch patterns to select from. However, electronic machines have the disadvantage of costing more.
Flat Bed and Circular Knitting Machines
Like hand knitting, machines can produce a flat pattern or a circular one. Flat bed devices weave the yarn together in flat sheets. For example, these could make a blanket or cloth. Circular machines produce tubular shaped sheets. This method of knitting produces things such as sleeves, or the bodice of a shirt. There are two types of circular knitting machines: single jersey and double jersey. As the title suggests, single jersey units have less needles, and can only do single stitching. Double jersey machines can make thicker fabrics with double stitching.
Knitting Machines Gauges
There are three types of knitting machines available that are designed to handle different yarns. The kind of device to get depends on what will be knitted. Shoppers can choose between standard, mid-gauge, and bulky machines. The standard sized machines have smaller needles that are set 4.5 mm apart. They are designed to knit with the finer threads that have the 0 - 3 weight symbol. Mid-gauge machines use needles spaced 6.5 mm apart and are ideal with sport, baby, and worsted yarns. For this type of knitting machine, the 3 - 4 size yarns are the best. The bulky knitting device handles heavier projects, such as blankets or rugs. These needles are 9 mm apart and are built for yarn in the 5 - 6 category. All three types of knitting machines are available in in mechanical or electronic form.
Some Things to Consider
When it comes to selecting a machine, there are many things to consider such as features and construction. For example, some machines can have extra parts added on later that changes their capabilities.
Knitting Machine Feature

Description

Automatic Patterning

Allows the machines to automatically place the needles where they need to be in order to start the selected pattern

Available for electronic machines and those that read punch cards

Charting Device

Can come built-in, or purchased later

Allow the knitter to create their own pattern by drawing on a chart, which the machine then follows line-by-line to knit the new pattern

Replacements for the machine's regular carriage

Allow the user to create more intricate patterns with finer threads

Metal Bed

Higher quality; more expensive than plastic ones; can have accessories added on later; standard, mid-gauge, and bulky machines are all available with metal beds

Plastic Bed

More affordable, but are compatible with fewer accessories

Generally only support bulky yarns

Programme Abilities

Some electronic machines can be programmed to add more patterns

Either internally programmed, or programmed through a computer

Flat bed machines are not capable of doing purl or garter stitches

The ribbing attachment enables the machine to perform these patterns

Can only go on the metal bed machines
It is important for buyers to select all of the features they want up front by researching the various kinds of knitting patterns and projects. Purchasing a book about knitting is a great way to do this. A lot of people buy the machine first, and then decide what to make. When this happens, the machine could end up not being compatible with the chosen pattern or the yarn.
Find Knitting Machines on eBay
Knitting machines are not a very common item to find locally. Occasionally there will be a shop that specialises in knitting products, but they are fairly rare, and often overpriced. eBay is a much more convenient place to find every kind of knitting machine as well as accessories and yarn.
In addition to this, using eBay helps you find more affordable knitting machines. There are hundreds of products to compare, as well as the option to look at used machines. Purchasing used products saves money and is a great way for beginners to start out in the hobby. Since some people also end up preferring hand knitting to machine knitting, getting a used machine first is a good way to be safe in case you end up preferring to knit by hand.
To look at the knitting products on eBay, use their search bar to populate a list of products. Type in the keyword, such as "knitting machines", and then click on the search button. Now you can begin working your way through the items and finding ones that have potential. If you wish to view only new or used machines, find the "Condition" section and select "New" or "Used". You can also click on your prefered machine brands, the type of yarn you will use, and you can arrange the list of products by their lowest price first.
Before ordering, double check the postage cost The fee is not always listed because it has to be calculated based on locations.
Conclusion
Both new and experienced knitters are discovering the benefits of using a knitting machine. Whether the device is mechanical or electric, one simple movement of the carriage can produce up to 200 stitches. In other words, a single stitch done by hand, may be the same thing as a whole row stitched by a machine. With the speed and accuracy of a knitting machine, hobbyists can complete their projects quicker and with machine-perfect precision. The machines also open up a whole new world of opportunities with different patterns, yarns, and colours. A more complicated pattern may not seem as daunting when there is a machine there to do it.
Choosing which knitting machine may not be an easy decision, but with a little knowledge about what is available, the process of selecting one will be much less frustrating. After determining what kind of projects to work on, the task of finding a machine that is capable becomes much simpler, and shopping at eBay allows buyers to quickly compare the prices and features between models. Thus enabling buyers to get what they need, at the price they want.