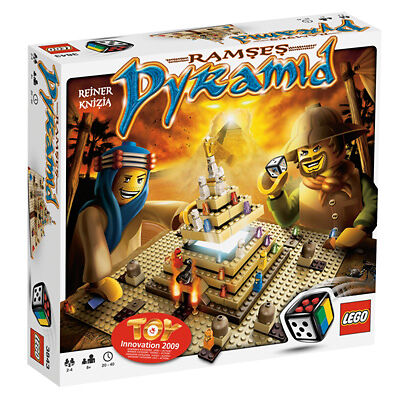 Collecting and playing with Lego is a popular activity with children due to its aesthetic potential and relative simplicity to use. There are plenty of different types of Lego on the market, from the traditional building block pieces to the more advanced representations of such franchises as Star Wars and Disney characters.
Due to its popularity and long-standing reputation, finding the most suitable Lego pieces or full kit isn't too hard. Using eBay is a sensible place to make a purchase as there are thousands of Lego products available within its listings to cater for the UK market.
Lego: A Background
Lego comes in different shapes, colours and sizes which can be attached together and then removed easily if needed. They can be fitted to make a series of constructions which can vary from depictions of real people to vehicles and towns. Since its integration into the children's market during the mid 20th century, it has evolved from simple toy building bricks into more technical pieces.
Approximately there are a massive 19 billion Lego pieces manufactured every year which equates to 36,000 per minute. They are manufactured in Denmark, which is where the toy was invented by Ole Kirk Christiansen in 1949.
The popular and nostalgic manner of Lego has developed it into a collectors' paradise, with the value of some kits stretching into the thousands of pounds mark. However, when looking to buy Lego for the more common recreational use then individual pieces and whole sets can be found for much more affordable prices, especially if looking on the internet and eBay in particular.
Choosing the Correct Lego to Buy
Due to the extreme amount of different kits of Lego available from individual pieces to whole kits, it is an efficient ploy to use the internet to scour the options available when coming to make a purchase. eBay is excellent in this respect as it lists every different kinds of Lego on the market all in the same place – saving a lot of time and effort during the search process.
Consider what level the Lego will be used at and who it will be for. For example if buying for children, then consider their age and if intrinsic kits with hundreds of pieces will be needed to make an investment worth it. Also think about any particular franchise or area that the child may have an interest in and see if the relevant models are available on the market. For example, some of the different licensed themes of modern day Lego sets include:
Avatar
Batman
Indiana Jones
Lord of the Rings
Pirates of the Caribbean
Toy Story
Also look if certain individual pieces can be bought as a separate addition to an existing set. In example, if a model of a town or castle has been purchased then buying different characters to vacate the structure may enhance the experience for children who want to play with it.
Below is a table which highlights the different types of Lego suitable for certain ages.
| Age Group | Lego Type |
| --- | --- |
| Between 0-2 years old | Duplo Lego has been designed for toddlers to play with in the sense that they are a larger and easier to handle. They come in the guise of more playful characters and friendly colour schemes that babies can relate to better. |
| Between 2-6 years old | Duplo kits are also used for slightly older children, but they can come in the form of full kits that require more skills to piece together. For example, train sets or small scale towns can be bought with accessories on eBay. |
| 6 years and older | For the older child then the possibilities are almost endless with the amount of options on the market. Lego Technic is specially designed to suit more advanced users who wish to build more complicated models. |
Advice for Buying Lego on eBay
Lego can be purchased on eBay via an 'auction' or through the 'buy it now' facility. Items on eBay that are listed for auction are often second-hand, with the seller trying to receive as much money as possible for a particular Lego item by pitting bidders up against each other. A small starting price is often listed for these types of items to attract as much attention as possible.
When searching for Lego on eBay, some listings will also be Buy It Now and available to purchase immediately for the asking price. A large number of professional toy and gaming outlets will use eBay as a platform to sell their items and will often use the Buy It Now feature. Remember to look out for the additional costs of postage and packaging when coming to place an order.
Searching for Lego on eBay
There are thousands of Lego products being listed in eBay every day from a whole host of sellers; this can make the search process off-putting as some users won't have a clue where to start. If the particular type of Lego is known, then typing it into the search bar will pinpoint all the relevant items within the market. However, if coming to buy a general Lego kit or piece then use the following steps to pinpoint the desired model.
Type in "Lego" into the eBay search bar on the home page. Thousands of results should appear which should immediately be narrowed down into the 'Construction Toys & Kits' category by selecting the appropriate link in the preference bar on the left hand side.
More choices can be selected in order to bring down the results further by using this preference menu. Use the 'Theme' section to select Lego by what design is needed for example.
The 'Item Type' section is also useful to select either full Lego box sets or individual pieces that can compliment an existing kit.
Advice for Using eBay Successfully
To make sure that a Lego product is bought without problem on eBay then this section will look at how to win an item and how to avoid poor sellers.
Depending on which type of Lego models are needed, it is useful to sort the listings by their condition. So, if after a pristine Lego model then selecting 'Condition: New First' will bring up all the new and unused models on the results page.
Narrowing the search even further by using the preference menu on the left hand side of the page. The results can be arranged in terms of their price, location and buying format.
When looking through the most desired Lego results, then check out the feedback rating of the seller to see how successfully they have sold previous items. If these items have been other Lego kits then this is even better. Many eBayers are competing for trade and will have strived to keep their profile scores in tact so look out for those with plenty of transactions and a 100% positive rating.
Check out the description of the item and its payment and postage details. If suitable and still within your budget then a further piece of advice is to ask the seller a question, if not to find out more about the particular Lego kit then to find out if they are a genuine seller.
For Buy It Now purchases, some sellers will have placed an elevated price for the item to try and make as much as possible. Check out the amount that similar pieces are going for on other specialist toy websites and on the high street. If a 'Buy It Now' item has been available for over 1 or 2 days then it is probably priced too high as no one else is touching it.
Bidding on an auction is a potential way of getting a great deal for the Lego if there is insufficient interest from other buyers. One tip is to only bid in the last moments of the listing; this way others will have less chance to make an increased offer. Bidding too early can push the price up unreasonably.
Conclusion
When coming to make a Lego purchase then firstly consider what type of models are needed for the respective user. Although primarily used by younger children as a playing activity, some older people will collect more advanced models of Lego to pursue as a pastime or simply for its nostalgic value. The internet is the best place to find whichever Lego versions are needed as there is so much of it on the market.
In this respect eBay is perhaps the most efficient website to begin a search on as the masses of Lego kits are listed in one place from a whole host of sellers. The results can be narrowed down to pinpoint the desired models which have the potential to be bought at a more affordable rate than would be found on specialist toy websites or on the high street. Remember to stay safe on eBay by following their safety guidelines for making a purchase.