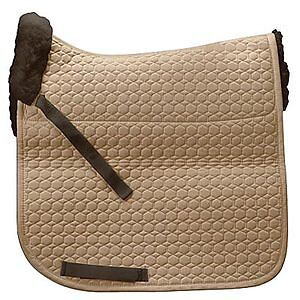 A saddle pad is basically anything you put between the horse's back and your saddle, and there can be many variations of this.
The most usual kind of saddle pad is called a numnah; it is made up of two pieces of strong, soft cotton with an interlining of thin polyester wadding. These three pieces of fabric are bound together at the edges by cotton webbing. The whole numnah is then criss-crossed with machine stitching, to keep the three pieces together and stops them moving about.
A numnah is cut to the shape of a saddle, and it has a central seam down its middle, which again has a strip of cotton webbing running down it, for added strength. Usually there are also lengths of even stronger woven webbing attached to the front of the numnah that you flap back and attach to your girth strap, under your leg, to help keep the numnah in place.
There is also a length of the same webbing, about 6 inches in length that runs along the bottom edge of the numnah, this is for you to run your girth through, again, aiding the security of the numnah.
Being made of cotton, this numnah absorbs sweat from the horse's back, which is more comfortable for the horse, and keeps your saddle clean underneath. After riding you can just put it in the washing machine.
Most people have a selection of numnahs, according to what they are doing with their horse. Each discipline has a particular sort of numnah. For example, is you were going in for a dressage competition, you would use a white numnah, with straight cut panels, to fit under your dressage saddle. But at home, schooling your horse, you would use probably a navy blue or black one, cut in a similar way, that didn't show the dirt so easily. Keep your pristine, white one for competition days.
Show jumpers tend to like more decorative numnahs, which often have contrasting coloured binding fabric round the edges and maybe even the rider's initials embroidered in the bottom corner, but again this would be kept for special outings.
Children's numnahs can be a lot of fun; whereas the basic construction is the same as the adults, any amount of adornment can be added - the pony's name, the child's name, twinkly binding, bright colours, you name it, you can get it. As long as it doesn't hinder or rub the pony, anything goes. However at bigger shows, more serious competitions, most children appear with plainer, more standard numnahs.
When hunting, people often have sheepskin numnahs under their saddles. As the weather is often cold and wet when hunting, this helps keep the horse's back warm. Though called sheepskin, and they probably were in the old days, now these numnahs, even though they look like sheepskin, are in fact made of specially combed wool, that is teased out so it has a short pile. The woollen fabric is lined with cotton, and has all the same webbing attachments as a cotton numnah. They are designed to look very smart, with just an edging of wool running round the edge of the saddle. The joy of these is that you can wash them, on a wool cycle wash, in your machine, after each use.
Some numnahs are square in shape and have more polyester padding in them. Some people prefer them because washing is even easier; it is all a matter of choice. But please be aware that this sort can make the horse quite hot underneath it.
How to Wash a Saddle Pad
Using an old broom or hand held brush remove all excess hair or dirt.
Vacuum clean the pad to remove all visible hair
Place the pad in a pillow case or something similar and place in a domestic washing machine.
Hang the saddle pad on a washing line to dry naturally in the sun/wind.
If the saddle pad is extremely dirty or sweaty, it should be soaked in water and non-biological washing solution until all heavy dirt is removed. Scrub off any stubborn dirt using a hand held brush or broom, and then follow the above procedure. Please refer to manufacturers' labels for specific guidelines. Larger saddle pads may need to be hand washed to prevent any damage to the machine or saddle pad
Different types of Saddle Pad
Different countries use different saddle pads. Argentinian polo players use a folded cotton blanket under their saddle, as do cowboys; again this is a cultural, historical tradition.
If the horse for some reason has a rubbed or sore back, after a rest and some treatment, a gel saddle pad could be used. This saddle pad is a piece of thermo-plastic elastomeric gel, encased in a cotton cover, and shaped like a numnah, that can sit snugly under the saddle. The gel warms up as it sits on the horse's back and follows the contours of the back so that it offers pressure relief. It is really an aid to recovery and no meant to be used all the time.
To help a horse that has maybe lost condition or has some muscle wastage or if the saddle isn't fitting correctly, you can buy relief pads. These are shaped like a short numnah and have removable shims in both the front and the rear, aimed at adjusting the balance and fit of your saddle. The curved spine allows the pad to be pulled up into the gullet of the saddle, relieving pressure across the spine and wither.
Most numnahs and pads have a piece of fake sheepskin wool sewn on at the wither, to help prevent any rubbing there. All numnahs and pads should be pulled up into the gullet of the saddle, when being fitted, so that they do not strain, and rub across the horse's back.
The latest technological advance is the gel saddle pad, which is a fantastically flexible and useful substitute for many of the older materials and styles.
There are various different sizes and shapes to suit the horse's back, the saddle fitting and any discomfort from which the horse may be suffering.
How to buy a Saddle Pad on eBay
You can find saddle pads quickly and easily on eBay. While you shop, don't forget Saddles, Other Tack, Grooming & Health, Bridles, Supplements & Treats and Food. Click the Sporting Goods portal and click Equestrian.
Categories
The Categories list on the left side of each page will help you narrow down your listings by item type. You'll find links for Books & Magazines, Driving, DVDs, Horse Wear & Equipment, Prints & Art, Rider Clothing & Accessories, Stable Accessories, Trophies and Videos. As you refine your search you'll be able to narrow down your choice by subcategory.
Product Finder
Use the Saddle Pad Finder to quickly narrow down item listings by brand, model and condition (new or used).
Keyword search
Search eBay listing titles for specific words. For example, if you want to find new Saddle Pads type the keywords "Equestrian Saddle Pad new" (without quotation marks) into the Search box. Click "Search title and description" to expand your results. Visit eBay's Search Tips page for more tips on searching with keywords.
If you can't find exactly what you want, try browsing eBay Stores or tell the eBay Community what you're looking for by creating a post on Want It Now, or save a search on My eBay and eBay will email you when a matching item becomes available.
Buy a Saddle Pad with Confidence
Make sure that you know exactly what you're buying and understand how eBay and PayPal protect you.
Know your item
Read the details in the item listing carefully.
Remember to add delivery costs to your final price. If you're buying a high value item, check that the seller will insure it until it is delivered to you.
If you want more information, click the "Ask seller a question" button on the seller's profile or the "Ask a question" link at the bottom of the item listing page.
Always complete your transaction on eBay (with a bid, Buy it Now or Best Offer) otherwise you will not be covered by eBay Buyer Protection.
Never pay for your eBay item using an instant cash wire transfer service like Western Union or Moneygram. These are not safe ways of paying someone you do not know.
Know your seller
Research your seller so that you feel safe and positive about every transaction.
What is the seller's Feedback rating?
How many transactions have they completed?
How many positive responses do they have?
What do buyers say in their Feedback?
Are they positive about the seller?
Most top eBay sellers operate like retail shops and have a returns policy.
Do they offer a money-back guarantee?
What are their terms and conditions?
Buyer protection
In the very unlikely event that you do not receive your item or it is not as described, eBay Buyer Protection your purchase price plus original delivery cost.
Conclusion
There is a very wide selection of different saddle pads available on eBay. They vary depending on the materials used and the typical situation in which they are used. The main benefit is to improve the level of comfort for the horse and conditions for the rider as a result. If a horse is injured or the saddle is no longer the correct shape, saddle pads can help in the rehabilitation process or delay the need to invest in a new or used saddle.