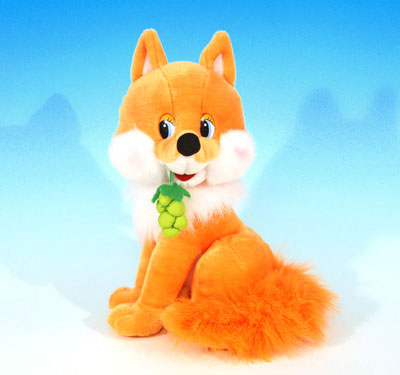 Fluffy Friends for Even Friendlier Prices
There's many a family photo of a youngster clinging fondly to a well-cuddled best friend. Whether the lucky critter is an Alligator, Elmo, Monkey or Parrot Puppet, soft toys are some of the earliest friends to comfort us as children. eBay provides an unrivalled range of affordable soft toys,, whether new or pre-loved. This guide provides some advice for those embarking on the hunt for them.
Anticipating Growth
As children grow, their basic abilities in seeing, hearing, chewing and grasping begin to improve.
Suiting different toys to stages of a baby's growth can help stimulate development.
It may not be affordable to keep buying new soft toys every few months to match a child's rapid growth
It's useful to keep in mind what range of skills a toy may be aiding a child develop
the more the better
For instance, how about a soft toy rattle with multiple colours, textures and a motion activated sound stimulate many of a baby's developing senses?
Soft toys come in a huge range, from giant toys that are metres long to tiny tigers that can be tied to a pram. From the huge range of affordable soft toys listed on eBay, there's bound to be something that any child would treasure at every stage of their young lives.
A Soft Toy for Christmas, or for Life
Infants can have a startling capacity to make toys mucky in the blink of an eye. Fortunately, soft toys are most often manufactured with this in mind, and many are machine-washable.
Many soft toys display their cleaning options on a small label attached to the toy. Sometimes sellers will list the cleaning information in the item description, but if it's not and a buyer is unsure if the toy is machine washable, again it is best to double-check with the seller before buying by using eBay's "Ask seller a question" feature. Remember, both the outer fabric and the toy's stuffing need to be able to sustain a good wash with detergent.
A toy which is well made and can be put in the wash pays for itself quickly when compared to a toy that breaks after one use. Look out for quality when searching for affordable soft toys; it really is a key consideration. It may be that paying slightly more for a quality item with the potential to last well will save buyers money in the long-term. A cheaper toy will often spoil more easily. At the end of the day, it comes down to personal judgement, and if a child has a unique ability to lose their toys, perhaps quantity over quality may be the way to go.
Batteries
If the soft toy needs batteries, check whether or not a fresh set are included with the toy or sold separately. Replacing batteries can drive up the cost of soft toys.
Also consider that soft toys such as rattles and squeaky hand puppets can still produce noises but don't require regular maintenance.
Keeping Youngsters Safe
Many soft toys are purchased with a youngster in mind. It's important to ensure any toys intended to give to children were manufactured with young mouths and fingers in mind too. Fortunately strict standards exist to advise that a toy is safe for a child. The symbol to look out for is the CE mark. The CE mark is not an independently certified safety mark (though those are available), but signifies that the manufacturer or importer declares the toy to meet certain safety stipulations. These include:
Physical Properties
Must be sufficiently strong to withstand the stresses to which it would normally be subjected;
Be designed & constructed so that any edges, protrusions, cords, fastenings or moveable parts do not inflict injury;
Toys & component parts intended for use by children under 36 months shall be of such dimension to prevent accidental swallowing or inhalation;
Toys & their packaging must not present a strangulation or suffocation risk;
Flammability
Toys are to be composed of materials which are not readily flammable and inhibit the spread of flames.
Paint and Protective Coatings
Levels of Antimony, Arsenic, Barium, Cadmium, Chromium, Lead, Mercury and Selenium must not exceed specified maximums.
Electrical Properties
Toys must not have a power source exceeding 24 volts and must be adequately insulated and protected to prevent shock or burns.
Hygiene
All toys must meet hygiene and cleanliness requirements to prevent the risk of infection, sickness & contamination.
Radioactivity
Toys must not contain radioactive elements likely to be detrimental to the health of children
It's important that any toy that will spend time with an unsupervised child adheres to these rules. Look out for the CE mark before purchasing a soft toy, which should be displayed on the toy or its packaging along with the name and address of manufacturer or importer.
If a buyer is at all uncertain if a toy meets CE standards, contacting the seller to ask is a cinch, simply click the "Ask seller a question" button on their profile.
Second Hand Safety
eBay offer a fantastic selection of used and vintage plush toys, and second hand can often be more affordable than buying new. There are many bargains to be had as people sell the toys they no longer need onwards.
Safety is an important consideration when buying soft toys second-hand. Many vintage items were produced before the CE mark became a standard and in these cases it is down to the buyer to make a decision on whether or not a soft toy may be safe for the child it's for.
Check the photos of each item to ensure that the material and its stitching are still in good enough shape to take the wear and tear of being played with by an infant. Watch out for detachable small parts, especially buttons, eyes, noses and pieces of ribbon and string; all of these pose the risk of choking if swallowed.
Finding second hand toys is easy with eBay's search features which allow buyers to narrow down by type, so get searching and grab a bargain.
From the Minuscule to the Massive
Part of the joy of soft toys is the huge range of sizes they are available in. Smaller items are often more affordable, but it can be easy to grab a giant bargain from eBay too. Size isn't always immediately obvious from pictures of an item, so double check the item description for height information to avoid purchasing a soft toy bigger or smaller than initially anticipated. If are at all unsure, ask the seller.
How to Buy Affordable Soft Toys on eBay
Now that you've worked out which soft toys you want, find them quickly on eBay.. To start shopping, go to the Toys & Games category. Click the Soft Toys & Stuffed Animals portal.
Categories: The Categories list on the left side of each page will help narrow down the listings by item type. There are links for Disney & , Unbranded & , Walt Disney & , Russ & , Gund & and Steiff & . As you refine your search you'll be able to narrow down your choice by subcategory.
Product Finder: Use the Soft Toys Finder to quickly narrow down item listings by type of Sub-Type, Brand, Theme, Status, Type, Material and Age.
If you can't find exactly what you want, try browsing eBay Stores or tell the eBay Community what you're looking for by creating a post on Want It Now, or save a search on My eBay and eBay will email you when a matching item becomes available.
Buy Soft Toys with Confidence
Make sure that you know exactly what you're buying and understand how eBay and PayPal protect you.
Know the Item
Read the details in the item listing carefully.
Remember to add delivery costs to the final price. If buying a high value item, check that the seller will insure it until it is delivered.
For more information, click the "Ask seller a question" button on the seller's profile or the "Ask a question" link at the bottom of the item listing page.
Always complete your transaction on eBay (with a bid, Buy it Now or Best Offer) otherwise you will not be covered by eBay Buyer Protection.
Never pay for an eBay item using an instant cash wire transfer service like Western Union or MoneyGram. These are not safe ways of paying someone you do not know.
Know the Seller
Research the seller to feel safe and positive about every transaction.
What is the seller's Feedback rating?
How many transactions have they completed?
How many positive responses do they have?
What do buyers say in their Feedback?
Are they positive about the seller?
Most top eBay sellers operate like retail shops and have a returns policy.
Do they offer a money-back guarantee?
What are their terms and conditions?
Buyer Protection
In the very unlikely event that you do not receive your item or it is not as described, eBay Buyer Protection covers your purchase price plus original delivery cost.