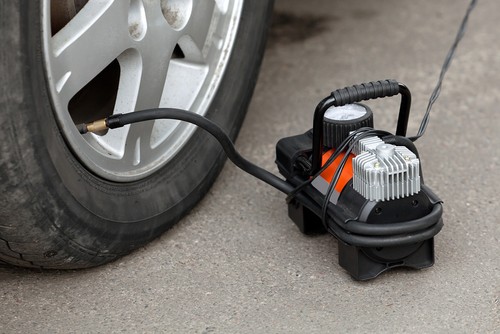 By definition, an air compressor is an apparatus that turns engine power into powerful air. The energy of the air is then emitted in pressurised bursts to operate air tools or inflate tyres, the latter a common functionality in automobile use. Air compressor engines are powered in one of two ways, by electricity or petrol.
An air compressor is composed of three parts: a motor or engine, a steel storage tank, and a gauge. The engine powers the air, which it squeezes into the storage tank. The tank then expels the air with enough speed and pressure to power air tools and, in the case of automotive use, fill tyres. Obviously, an electric air compressor requires a power source; therefore, its use is generally restricted to garages, powered job sites, and other places wired for electricity.
When buying an air compressor for automotive use, shoppers need to evaluate their options in terms power source and portability. Standard cubic feet per minute, or SCFM, and horsepower, or HP, are other important considerations. Learning about the available types and specific products and their uses can enable buyers to make the right selection as they shop for air compressors in the popular online marketplace, eBay.
Uses of Air Compressors
As any auto buff knows, keeping an air compressor in the boot is an action that rewards over and over. Not only is an air compressor a handy and quick way to inflate a tyre, it can also be used to operate smaller air tools, such as spray guns, nail guns, wrenches, and more. This added functionality can prove helpful when performing auto repair or maintenance in a home garage. Other automotive needs served by an air compressor include side-of-the-road fixes, professional auto garage tool operation, and car repair.
Air Compressor Grades
Air compressors come in three grades: consumer, contractor, and commercial. One must take into consideration the purpose of an air compressor while choosing from the three types.
Consumer-Grade Air Compressors
The consumer-grade air compressor is ideal for simple needs around the house, such as inflating footballs or bicycle tyres, blowing up air mattresses, and filling pool loungers and lifesavers with air. This model is smaller than its brethren, making it a popular choice for automotive travel and on-the-go needs. Despite its smaller stature, however, the consumer-grade air compressor still produces enough wind power to run small tools. Portable consumer models are favourites for automotive use.
Contractor-Grade Air Compressors
Contractor-grade air compressors range in size from the handheld to the wheeled; the latter model, a cart-like contraption that attaches to a vehicle for easy and lightweight towing. As its name implies, a contractor model fits neatly between the consumer and commercial types in terms of its uses and capabilities. This unit can perform around-the-house tasks just as well as a smaller model; however, it provides the increased functionality necessary for a job site, including multiple tool operation. Contractor-grade air compressors are sufficient for most roadside repairs, making them a favourite with automobile owners and repair persons. A contractor model may also be sufficient for smaller building site and construction projects.
Commercial-Grade Air Compressors
For those needing to operate multiple high-powered tools, the commercial-grade air compressor is a must. This model is known for its reliability, as it provides 'round the clock compressed air in any setting. Not only do they have high power, but commercial air compressors also utilise top-of-the-line technology to deliver maximum performance.
Auto repair shops are popular sites for commercial-grade air compressors. These products are also commonplace in manufacturing shops and professional building sites. The more powerful commercial air compressors can even be used on oil-drilling rigs or at amusement parks, where they fulfill the power needs of large machinery and even roller coaster rides.
The chart below lists the main types of air compressors. A comparison of the different types is also provided.
| | Pound-Force per Square Inch (PSI) | Horsepower Range | Portability | Power Level |
| --- | --- | --- | --- | --- |
| Portable/ Consumer | 90 | From 1.5 HP | Generally lightweight, carried by hand | Smaller tools, tyres, household inflation |
| Contractor | Mid-range | Mid-range | Can either be carried by hand or towed via a wheeled cart | Bigger tools, roadside repairs, small building jobs |
| Commercial | 150 or more | Up to 6.5 HP | Free-standing | Multiple tools and powerful equipment, such as that found in auto repair shops and on large job sites |
If day-to-day automotive use is the primary purpose of an air compressor, then a buyer should keep the focus on portable or consumer models. As the names suggest, contractor and commercial models are mainly used by professionals in the field.
Performance Ratings on Air Compressors
Before making a purchase, a buyer should consider his needs, matching the compressor's power with the tools he needs to operate. Air compressor performance is measured in standard cubic feet per minute, or SCFM; this can easily be matched to the tools' listed power needs. SCFM needs can range from 0 to 5 on the low end, or up to 10 or more on the high end. It should be noted that SCFM is not a steady measurement, that it varies during operation; therefore, it is important to allow for a buffer when matching tools to a compressor.
Be aware that SCFM is not the same thing as horsepower. Whereas the former designates the power of the compressed air output, horsepower measures the power of the motor. In general, standard horsepower ratings for air compressors are between 1.5 and 6.5 HP. Note, too, that a greater HP may require a higher-voltage power source.
Factors to Consider When Buying Air Compressors
Armed with a general understanding of air compressors that are suitable for automobile use, including tyre inflation, a prospective buyer needs to make a few determinations.
Budget
While the air compressor's features and functionality are, of course, important, determining how much to spend is a good first step. The old adage "you get what you pay for" certainly applies to tools like air compressors. Therefore, it is important to be realistic, perhaps opting for a compressor with a slightly higher price and more features or choosing one with fewer features or lower horsepower for a better price.
Intended Use
If obtaining an air compressor for automotive use is the primary consideration, then smaller, more inexpensive models are more likely on the docket. In this case, the buyer should conduct a thorough review of consumer air compressors and perhaps even small, portable ones, depending on personal needs. Of course, if the air compressor is also to be used for additional projects, including garage, household, or out-of-home uses, a contractor-grade unit may be desirable. In all likelihood, unless one plans to use the air compressor in a professional garage setting, a commercial model which is heavy, bulky, and generally stationary need not be considered.
Standard Cubic Feet per Minute
Obviously, an air compressor that is used primarily to inflate tyres or operate power tools in a home garage needs fewer bells and whistles than one in use at a large job site. Whatever the use, a good rule of thumb is to calculate the maximum SCFM that may be needed. To do so, first identify the tool with the highest PSI and SCFM, and then add 50 per cent to its SCFM number. Finally, select an air compressor with a tank large enough to produce that amount of SCFM.
Horsepower
After identifying the necessary SCFM, the next determination comes down to horsepower. While the SCFM amount has the most effect on horsepower, another calculation to consider is PSI. A buyer needs to choose carefully, though, as horsepower in air compressors varies from 1.5 to 6.5. In general, 1.5 to 2.0 is sufficient for home garage or leisure travel use.
Portability
Unless the air compressor is intended for use in a professional auto repair facility, portability is going to be important. Use in a home garage or on the road requires a unit that is easy to transport, suggesting the need for a consumer-grade or portable unit. For auto use as well as use at smaller work sites, a contractor-type model may be a better option.
Power Source
Air compressors can be powered by either electricity or petrol ; in some cases, a portable air compressor may be operated by plugging it into a car's cigarette lighter socket. In a personal or professional garage, plugging in the unit is going to be preferable to adding petrol, as the former option is more economical, convenient, and quiet. However, as electrical power is rarely guaranteed while on the road, an individual purchasing an air compressor for automotive use needs one that operates on petrol. Note, however, that a petrol-powered air compressor should only be operated in well-ventilated areas to reduce the risk of carbon monoxide poisoning.
Buying Air Compressors on eBay
To find the right air compressor for automotive use, as well as for any other tools or projects you want to power, you may wish to search the Vehicle Parts & Accessories section of eBay for the product. From the unfiltered list of results, you can easily compare air compressors by make, model, price, and description. From this view, you may wish to sort results by price, thereby viewing only those products that fit into your budget. Assuming you have researched not only the types of air compressors but also the reputable brands, viewing eBay's inventory by manufacturer is another action you might want to take. The online marketplace has for sale plenty of products from different manufacturers.
In many cases, the choice between identical products comes down to factors such as seller feedback, price, shipping terms, and return policy. Short of viewing only air compressors offered by eBay's Top-rated sellers, it is recommended that you take the time to review all of these factors. Be sure to include the cost of shipping into the unit's total price. And, if the seller accepts returns, you can feel extra confident in placing an order on eBay .
Conclusion
Many motorists do not think of leaving home without a spare tire, jack, jumper cables, and crowbar, tools that reduce the risk being stranded by the side of the road. An additional consideration, however, is a portable air compressor, which can be used to inflate tyres and maintain mileage efficiency. A range of air compressors is available in the marketplace, from portable and consumer models to those intended for contractor and commercial use. In general, unless buyers plan to use air compressors at garages or work sites, they need to focus their search on consumer and portable models.
Another big choice comes in the power source of the device, specifically, petrol or electricity. Again, if the air compressor is intended mainly for on-the-road use, a buyer must focus the search on petrol-powered devices. While prices may vary, experts recommend purchasing an air compressor from a reputable brand over seeking to save a few pounds on a lesser-known brand.
Armed with a well-researched shopping wish list, smart buyers often turn to eBay for its wide selection, affordable pricing, and buyer security.