This is a review on how to stop getting ripped off with fake reproduction air crew europe stars below i will point a number of things to look out for.
Right number 1 is on nearly every fake repro air crew europe star if look at the end of the "W" (bottom right corner) on "crew" it should match exactly with the line underneath it.
2. no breaks to the VI
3. The points on copies are usually rounded and blunt.
4. The pebbling in the back ground should stand out and not be flat or faded.
5.The bottom point of the V on VI should match exactly to the W (crew) on top lst left point.
6. The "GRI" should be sharp and should stand out and The G should not blend in with the outer circle there should be a space.
7. If you look at the letter "A" in air and the ending letter "E" of Europe if you put a ruller across they should be in line with each other and match.
8.With the letters The Air Crew Europe Star on origianls the letters look squared of with copy's they look more round and more flat and less detailed.
9. If you look at the centre of the crown were the pips are count them on originals there should be 4 1/2 pips the last one being the 1/2 a pip with copy's they are 5 full pips also look at detail with the crown it should be sharp not flat andpoints should not be round.
10. Air crew europe stars were never issued with the soldiers name and rank on them.
11. The rings that hold the ribbon are usually brass
below you can compare the original with the reproduction.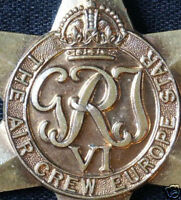 Above is original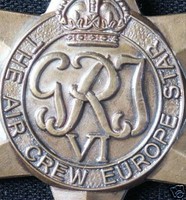 Above is a copy