Kerbsidemotors! guide to buying and fitting alloy wheels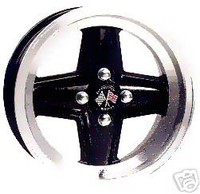 Alloy wheels are a great way to change the look of your car. They can add value if you are trying to sell it and
increase performance and handling. As prices of new ones come down second hand sets become even more affordable!
So here is my guide to buying a set for your car and common mistakes people make!

Make sure they fit!
Fitting wheels off a go faster version of your car etc. from the cars manufacturer saves a lot of hassle as they are strong and cheaper than aftermarket ones. But as they are from the manufacturer, they can look a little naff! If you have seen a similar set on a similar car this takes a lot of effort out of it but if you have not you will need to do a bit of research.
You need to know the Pitch centre diameter (PCD). The PCD dictates how the wheel bolt holes line up so it is important that this is correct. A PCD of 4x100 would meant 4 bolt holes drilled through the centre of a 100mm circle.
Another common PCD is 5x114.3 5 bolt holes drilled through the centre of a 114.3mm circle.

If this is different on your chosen wheels you won't be able to bolt them on! I have made a list of the ones I know at the bottom of this guide. Also consider whether your car has metric or imperial hubs. Real Minis & old MGs have a PCD of 4" which is pretty close to 100mm but not exact so you couldn't swap one with the other.

Next thing to think about is Offset. This is the distance between the centre of the wheel and the edge of the rim. This has to be pretty much the same on your new wheels as your own as it will effect the way your car handles.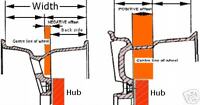 Positive offset is when the hub mounting surface is toward the front or wheel side of the wheel. Positive offset wheels are generally found on front wheel drive cars and newer rear drive cars. Negative The hub mounting surface is toward the back or brake side of the wheels centerline. "Deep dish" wheels are typically a negative offset. Another reason to be aware of the offset is if the wheel is offset too far one way or another it may contact the wheel arch or suspension.
Front wheel drive cars usually have more positive than negative offset. If you overdo it you will increase bump steer which will make the car very difficult to drive on uneven surfaces. Vauxhalls are notorious for this. They have to have heavily offset wheels otherwise they are almost impossible to drive!

Finally, consider the overall diameter. Unless you just want to look good don't go over 3 inch increase. Obviously, speaking to owners who have fitted larger wheels will help you decide how much of an increase your car can take. If your car has ABS fitting anything over 1 inch larger will effect the ABS function and may make the ABS light come on. Vauxhall Vectras are bad for this. Small or light cars may benefit from smaller diameter wheels too as the tyres will take less time to heat up if they have a smaller area.The easiest way to do all the above is pop round to the sellers and ask if you can try one of the wheels on to make sure they fit first! Remember to try them front (to clear the calliper and wheel arch) and rear (to clear the shock absorber and wheel arch).

Damage.
Its not just kerb damage to worry about. Check to see if the wheel is buckled. If you can fit your hand through the spokes, lay it flat, reach through and check the gap is pretty equal all around between the rim and the floor by sliding a sheet of paper against the rim all the way round. Also, stand the wheel up, take a step back and look for flat spots. Check the bolt holes. They should be round. If the wheel has been left slack the holes may have elongated. Using the wrong wheel nuts can mess them up bad too.
Kerb marks, dents, flaking laquer and cracks can all be repaired but it depends on the selling price as to whether it is worth it. Minor damage and worn tyres aren't worth losing sleep over but can be useful for negotiating price!
If you buy wheels with diamond cut rims or centres they will corrode unless they have an inch thick coating of laquer on them! Even ones supplied by the car manufacturer. They just don't last, its just the way they are. Also beware of alloys with polished or chrome finish. These wheels look great but only if you keep them clean. Are they really worth the bother.
Flaking laquer/ paint round the rim may indicate worse beneath the tyre. This causes leaks around the rim. Rubber tyre valve necks also leak easier on alloys than steel wheels. Also, if your alloys have the longer type rubber tyre valves, its best to get them changed as G force bends them outward when you go fast and can pull them out! Best get the alloy/ steel valve necks.

Get your nuts!
Some alloy wheels have steel inserts and use the standard wheel nuts. Others have a spinning spacer on the nut/stud. If you use standard nuts on wheels without an insert the nuts will cut through your alloy and it will fall off! As the seller isn't going to need them, make sure you get the original nuts. If they don't have them there are usually sets on ebay. Demon tweeks and Europa spares also sell the more common sizes.
Tell your insurance.
Don't let insurance companies put you off. I have told my insurance every time I have changed the wheels on any of my cars and I have never been charged any extra. However, if you don't tell them and you crash, the insurance company will not pay up as you didn't tell them. No, really, they won't!
Common PCDs
95.25mm MGF and Rover Metro

98mm Alfa Romeo, Fiat, Lada and Lancia

100mm BMW 4 stud, Daihatsu, Honda 4 stud, Kia, Mazda 4 stud, Mitsubishi 4 stud, Nissan 4 stud, Seat, Skoda, Subaru, Renault 4 stud Vauxhall, Toyota 4 stud & VW
101mm (4") Mini, MG, Austin Metro
108mm Early Audi 4 stud, Ferrari (5 stud, so don't think you can stick a set of F50 wheels on your Fiesta!), Ford 4 stud, Jaguar X type, Peugeot early Porsche 4 stud, Renault 5 stud, Early Saab, TVR and Volvo
110mm Later Saab and Vauxhall 5 stud
112mm Later Audi, Merc and Ford 5 stud
114.3mm Honda 5 stud, Lexus, Land Rover Freeloader,Mazda 5 stud, Mitsubishi 5 stud, Nissan 5 stud, Rover 600 and 800 and Toyota 5 stud
120mm BMW 5 stud and New Range Rover
120.65mm Jaguar
130mm Porsche 5 stud
139.7mm Isuzu trooper, Mitsubishi 4x4, Nissan 4x4 and Toyota 4x4
160mm Transit
If you liked this guide please vote for it and have a look at the other guides we have written.
If you thought it was a big load of pants please email us any tell us why!

Our car stuff for sale!